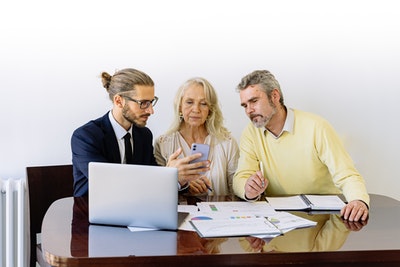 The financial advisory space is rife with competition. Moreover, there is always a chance that people trust their own judgment and online resources for making money decisions.
But the wealthy are always in a better place with an expert guiding them.
They have the right suggestions to make money grow and be safe for the long haul.
As a financial advisor, you will have to invest a great deal of effort to acquire clients and retain them for good.
Everything boils down to standing apart as it can get you attention and trust. Here are some ways you can make a mark in the crowded space.
Know your target audience
Knowing your target audience empowers enables you to do more with less. Building the client persona entails understanding their demographics such as age, gender, locale, financial status, and profession.
Once you have a clear view of the ideal client, consider finding your niche instead of wading in broader waters. The popular niches for financial advisors include retirees, divorcees, widows, entrepreneurs, company executives, and medical practitioners.
This way, you can go narrow and get more business.
Focus on client expectations
Defining your target audience helps you get a great start with outreach and marketing.
But you have to focus on the expectations and needs of individuals to deliver an exceptional client experience. Two entrepreneurs may have different challenges and long-term goals, so you cannot suggest the same solutions to them.
Listen carefully, dig deeper by asking questions, and take a personalized approach to serve every single client.
Seek support to scale
Stagnation is the killer for financial advisors, so make sure you scale down the line. But you need not do it on your own because the last thing you want is to get attention away from your clients just to drive growth initiatives.
Fortunately, you can find a platform that offers wealth management support for advisors to help them scale. It includes advice on lending, risk, legal, and compliance. Look for one that also provides marketing support and assistance from an experienced operations team.
Attend events
Standing apart is about being visible and showcasing your expertise, and attending industry events can cover both fronts.
Even better, speak at meetings to share your knowledge, experience, and success stories. Events also help you with networking and connecting with the industry stalwarts.
Work on maintaining these relationships as these experts can give valuable recommendations down the line.
Prioritize client trust
Nothing matters more than winning client trust as a finance expert. But gaining trust in money matters is the most challenging thing. Even a small error can get you a bad reputation, and word spreads faster than you imagine.
Try giving your best to every client and double-check facts before providing financial recommendations. You may make mistakes at some point, but covering them is a blunder. Be upfront and suggest remedial measures to retain the trust of your clients.
Succeeding as a financial advisor is hard work, but you can achieve the goal with a responsible approach. Go the extra mile for every client. Also, strengthen the core of your business to stay ahead of the competitors.