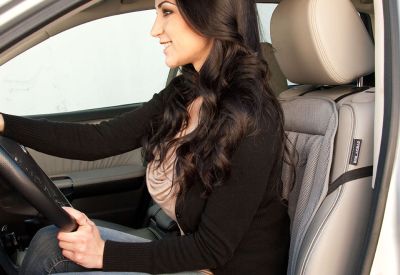 Most car manufacturers only focus on the safety of drivers when putting together the car seat. Hence, car cushions were made to promote drivers' safety and comfort.
This invention lessens the pressure and discomfort in the driver's tailbone, thighs, and legs.
Therefore, the driver can maintain a better sitting posture. An example of a manufacturer specializing in drivers' safety and comfort is Everlasting Comfort.
They have many products like Everlasting Comfort Car and Truck Seat Cushion – Memory Foam Wedge Chair Driving Pillow (Black), Everlasting Comfort Coccyx Memory Foam Seat Cushion, etc.
But other than the benefit of driving with comfort, some other features can be found by users in-car cushions. Some of these other features are examined below.
1. Improves Visibility
Driver's visibility is an important safety feature in the car. Short people have been able to fit well into driving positions with car cushions. And already tall people can see the road ahead of them better.
This feature has become even more pronounced in large vehicles like vans and HGVs. They need their visibility to see pedestrians, cyclists, and other motorists in such vehicles.
Furthermore, the improved visibility of car cushions is important to avoid road bumps, navigate turns, and avoid portholes.
2. Temperature Control
Another way that the benefits of a car cushion extend beyond safety and comfort is its cooling and heating feature.
Depending on the foam layer of the cushion, drivers are directly comfortable with the temperature regulation. But this characteristic of a car cushion goes beyond the heat regulation possessed by many cushions.
A cushion can have other features like massaging, cooling, or keeping the driver warm. However, not every cushion has this feature.
This benefit is often gotten from cushions that have electrical functions. Hence, drivers interested in the feature need a power source to plug their car cushions into.
3. Seat Protection
Car seats are prone to wearing, tearing, and other damages caused by sharp objects, liquid substances, and overuse. You can spend less on maintaining your car seat by getting a car cushion.
By getting a cushion with high-density foam, you can prevent your car seat from collapsing under pressure. The most popular and excellent high-density foam is memory foam found in Everlasting Comfort cushions.
This type of foam offers pressure-relief qualities. However, some manufacturers have foams that retain heat. Therefore, picking a memory foam cushion with a gel or breathable cover is best.
4. Mobility and Dual-Use
Mobility is one of the most important features of any product. Hence, car cushion manufacturers have taken the initiative to make portable car cushions.
Because they are portable, they are mobile. You can travel distance with them by including them inside your backpack or attaching them to your luggage. Also, they are multipurpose.
You can use car cushions at the office, at home, and in many other places.
Conclusion
The driver's comfort is the most pronounced benefit of car cushions because manufacturers often leave that feature out when designing car seats.
However, drivers can enjoy many more benefits from car cushions.
These benefits comprise better visibility, temperature control, and seat protection.