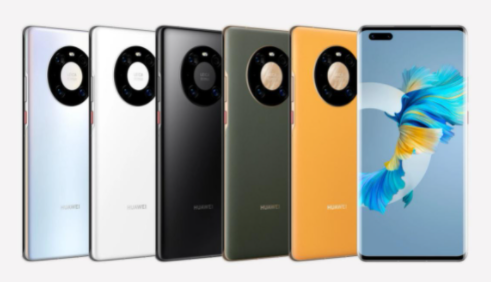 Huawei Mate 40pro is the latest phone to come out of Huawei's ever-growing lineup. This new device has some great features that are sure to please just about anyone! Let's take a look at what makes this phone so great.
Design
Huawei mate40 pro has a central axis symmetrical design that fully demonstrates the elegance of order in the rational world.
The iconic starring pattern, which is based on space, invites you to embark on an infinite quest for knowledge. With an 88° ultra-curved ring screen, the rounded corners are just right, slim, and flexible.
It has a 90 Hz refresh rate and a 240 Hz touch sampling rate. Your operation will be extremely smooth, no matter if you're scrolling or switching applications.
The IP68 dust and water resistance rating makes you feel at ease when washing the dishes in the sink or getting caught in sudden heavy rains.
Performance
Huawei Mate40 Pro has a flagship chip loaded with black technology and innovation-Kirin 9000, which is currently the world's only 5nm 5G SOC. This flagship chip includes a highly powerful core. It incorporates over 15 billion transistors in just a fingernail's width, making it the best in its class.
And it has a 3.13GHz A77 architecture large core, three 2.54GHz A77 architecture cores, and four 2.04GHz A55 architecture small cores. It is presently the most powerful mobile processor on the market. Kirin 9000 has a 24-core Mali-G78 GPU, which has greatly improved its performance and secured the current title of Android camp processors' most powerful processor.
In terms of AI, the Huawei Mate40 Pro features two big cores and one tiny micro-core NPU, allowing for enhanced AI computing power and intelligent scene processing capabilities. It also provides more consistent support for multi-scene and multi-device coordinated operations across screens because of its three strong cores.

Camera
Mate40 Pro is the world's most powerful camera phone. It has a Sony-modified 50-megapixel 1/1.28″ outsole sensor. The light input and sensitivity of the sensor have been improved by the RYYB filter array used in CMOS technology.
The main camera has a set of excellent characteristics and incorporates CMOS four-in-one 2.44μm large pixels, eight-core all-pixel focusing technology for an eye-catching performance in the highlights and shadows of real images when shooting during the day.
Furthermore, the algorithm recognizes the subject when shooting in a backlit scenario and adjusts it through an algorithm, allowing you to capture a bright film with a good look and feel.
The 20-megapixel ultra-wide-angle lens on the Huawei Mate40 Pro has a 1/1.53″ super-large photosensitive size and a 123° super-wide field of view, allowing us to utilize the phone's wide-angle camera as well.
System
Huawei Mate 40 Pro uses the brand-new EMUI 11 operating system.
Huawei has made a significant upgrade to the system dynamic and transition animations in EMUI 11, and it has collaborated with the 90Hz high refresh rate screen on the Huawei Mate40 Pro so that we may naturally and effortlessly feel the sense of touch and delicate flow of the screen in both the EMUI 11 interface and third-party applications.
Battery life
It boasts a larger 4400 mAh battery that lasts all day long. It also supports 66W Huawei wired fast charging, 50W Huawei wireless fast charging, and can be charged in the morning and have sufficient power before leaving home. It's a fresh start for everyone.
Huawei Mate40 Pro has all of this, in addition to a large battery and super-fast charging. The ultra-low temperature charging technology, for example, can charge the Mate40 Pro normally while maintaining a temperature of minus 5 degrees Celsius, allowing you to use your phone as usual.
The Huawei Mate 40 Pro is, without a doubt, the top flagship this year. Its look, feel, picture quality, and performance all meet the standard of Huawei's yearly flagship. If you are an existing Huawei customer, the Mate 40 Pro will not disappoint you.
If you are a user of other brands, its performance will not lose to other flagships. Do not miss huawei mate40 pro christmas sale and experience this amazing phone right now!