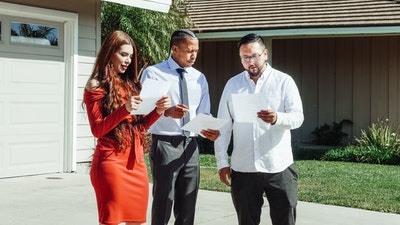 Whether you're buying or selling a condo, apartment, or family home, the home buying process can be very intimidating, especially if it's your first time.
In this case, hiring a real estate agent can make things easier by buying a house for sale and getting under contract quickly. This allows clients to devote more of their energy and time to handling other important things.
Finding a real estate agent is fairly easy. You can choose them based on a quick Internet search, real estate flyer, or word-of-mouth referral.
They also come in different shapes and sizes, with various backgrounds, experiences, and personalities. Working with the best agent can feel like winning a lottery, especially if the agent has the potential to get more money, save time, and protect the client's sanity.
Every real estate deal needs a quality agent. Sadly, not all are lucky enough to get the best agent for a house deal. If it's your first time buying or selling a home, you need an agent who's resourceful, investor-focused, and with good people's skills.
Before beginning that agent search, here are the telltale signs you should watch out for when dealing with a bad real estate agent.
1. Poor communication issues
Like in any business or professional transaction, maintaining good communication is among the top skills a customer or client is looking for, and when you're looking at how to become a real estate agent there is no exception. This is particularly true in real estate, as communication can make or break massive opportunities.
One of the most common complaints among home sellers and buyers is working with an unprofessional agent with poor communication skills.
Communication issues range from delayed responses, unanswered inquiries, lack of updates, and misinformation. Some agents also have a habit of sugar-coating situations by telling only what the client wants to hear.
In this digital age, there are plenty of messaging platforms out there to make communication easier in business transactions. Clients should also consider that agents are also handling other clients and often work long, inconsistent hours.
But agents should never use this as an excuse and let their clients wait for too long. Telling a client that you will return their message or call will not take more than ten seconds. This will give the client an assurance they will hear from you within the day.
When looking for an agent, make sure they understand how urgency is important in a hot housing market. They should be proactive enough to send updates to avoid missing opportunities in finding the best house or offer you really want.
2. Too much pressure
The real estate market is a highly competitive business, and every client needs an agent who's aggressive enough to represent your best interest in every negotiation.
But working with an extremely aggressive agent can also get you in real trouble by pressuring you to accept a low-ball offer or a house you don't really like or can't afford.
This type of agent clearly puts their self-interest before their client. They want to get as many commissions as they can to earn more from their clients as shortly as possible.
Agents should never pressure their clients to buy a house they really don't want. If the agent is pushing you in a different direction, one that goes against your interest, consider this as a huge red flag.
State laws require real estate agents to disclose any conflict of interest with a property. Failure to do this gives the client the power to submit a legal complaint and file a lawsuit.
A real estate agent's job is to act on behalf of the client's interest and make sure they're satisfied with the outcome of the transaction.
3. Dishonest agents
Misrepresentation is one of the most common lawsuits filed against real estate agents. This type of case involves misstating the material features of a property, covering up repair issues, or exaggerating the pristine conditions of the property when it's not.
While real estate agents are known for their selling skills, this approach can be punishable by law.
A bad agent tends to pull out plenty of tricks to impress a client and earn more money. They can lie about the clients they worked with, the number of properties they sold, and even their previous experience in real estate.
If an agent is making false claims, lying about disclosures, or showing any signs of unethical or dishonest behavior, don't hesitate to walk away.
Now you're aware of the signs of a bad real estate agent, it's time to be more careful on your next search. Choosing a real estate agent is a highly critical decision that can make or break the state of your house investment.
Before agreeing to work with an agent, make sure to consider their personality, experience, and communication preferences.