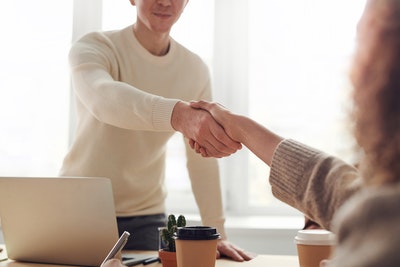 Wondering how to get attention for your business and generate leads? The first logical solution is increasing your marketing efforts.
But if you're not a marketing expert, it's difficult to evaluate which practices can bring fast, noticeable results.
Here are three key strategies you should start implementing as soon as possible to gain new clients for your small business.
1. Hire Digital Marketing Gurus
The Internet has changed the way businesses become visible on the market. And it's now the busiest meeting place for businesses and clients. Learning the ropes of digital marketing to make your business stand out on the Internet takes a lot of time and patience, however.
If you're a busy lawyer looking to grow a small law firm, learning about terms such as search engine optimization, conversion rate, or website analytics will seem like starting a new career.
It makes more sense to hire digital marketers able to implement market-proven attorney lead generation strategies that speak directly to the target audience.
You can also read about various digital marketing strategies online, but there's always the risk of implementing them clumsily.
Digital marketing experts can help you build your brand online quickly and can demonstrate quantifiable progress. By building your online presence using professional standards, they can bring you, clients, for months and years after their work is done.
2. Leverage Your Existing Network
When looking to expand your client base, a good strategy is to reach out to people in your network and ask for referrals. Word of mouth works incredibly well if you're operating in a niche market or your services target your local community.
Happy clients can recommend you to their friends, family, colleagues, or social networks.
This strategy can go even deeper. For example, if you sell bicycle repair services, most of your clients are probably part of online and offline cycling groups.
So, give them an incentive to talk about your business with their cyclist friends. Offer discounts in exchange for reviews or give a small commission for referrals.
You can also offer branded merchandise as a gift to your loyal clients; this can spark discussions about your brand in their circle of friends.
Don't forget that for the referral system to work, you must go above and beyond and delight each client with the quality of your service. No one recommends an average service to their friends.
3. Harness the Power of Social Media
The number of people on a social media platform at any given time is astounding. The right content can bring your business in front of thousands of potential clients.
Social media platforms like Facebook, Twitter, Instagram, Reddit, or LinkedIn are highly-effective promotional tools, but your results may vary according to the time, money, and effort you put into your content.
The good news for small business owners is that you can gain clients using social media without making huge investments. A timely-placed link or photo can generate more visits to your website than a paid campaign.
Nobody can predict behaviors on social media or tell you which content has the potential to go viral or not. You can experiment with social media for free or at a low cost.
Use these ideas to devise a client acquisition plan for your small business. You will see immediate results in terms of engagement and revenue.