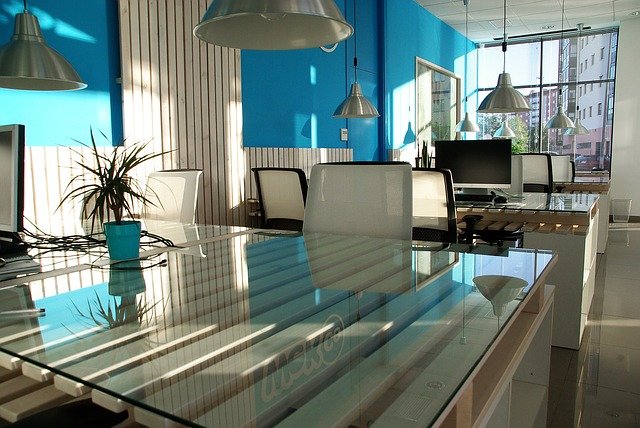 Have you recently secured your first office space for your employees?
Whether you are a start-up, a small business that is now expanding or you're shifting away from a remote workforce, walking into a fresh office space can be a bit overwhelming from a design standpoint. You want to create the kind of environment that encourages productive employees, but how do you go about doing that?
Here are some of the basic tips that will help guide you as you set up your first office space for employees. You can make sure your design is a hit from the get-go.
1. Create a Layout
The first step in setting up any office space is to create a layout or a plan. This will be the blueprint that drives all your decisions moving forward.
The layout needs to take into account how many employees you have now if you will be hiring more shortly, how many workstations are needed, what kind of workspaces you will offer (private, open, or a combination), and whether you need a general meeting space, a breakroom and so forth.
While the layout can be tweaked as you design the space, it's meant to help pull your vision together so sticking as close to the plan as possible is wise.
2. Factor In Storage and Organization
In any office space, storage and organization are both imperative to ensure everything runs smoothly. If employees don't have a proper place to store documents, supplies, and tools then you can bet it will negatively impact productivity.
Typically, it's best to provide a variety of storage and organization options. These can also be tweaked later on as needed.
3. Ensure Employee Workstations are Ergonomic
Productivity is always going to be a priority, which means you need to create workstations for employees that are comfortable and follow ergonomic guidelines.
This allows employees to work for long periods without pain and discomfort. Did you know there is an ideal ergonomic desk height that helps to prevent pain, discomfort, and aching? These are all conditions that can impact an employee's ability to work.
Branch Furniture offers office furniture that allows for an ideal ergonomic desk height. You will find a variety of desks and chairs that will work in all kinds of workspaces, no matter the size and configuration you're looking for.
4. Play Up the Natural Light
If the office has windows, this is a feature you will want to highlight. Natural light can help to create a more positive vibe in the office space, increase productivity, cut down on utilities and make the space feel bigger and more open.
The last thing you want to do is put large furniture in front of the windows or cover them with heavy window treatments. Typically, the best window treatments in an office space are blinds so employees can regulate how much or how little sun is pouring into the space.
5. Choose the Ideal Paint Color
Are you stuck on the color palette? Unsure of what would be best for office space? You want to pick something that sets a professional tone but is also pleasing to employees and clients.
Designers have identified several colors as being ideal for office space as they help to encourage creativity, focus, happiness, alertness and calm. These colors include:
Light blue
Off-white
Brown
Teal
Pastel yellow
Gray
Purple
Peach
Light green
Just be sure to pick one color only so the space doesn't get too busy. You want to keep things sophisticated, professional, and calming.
6. Décor Adds Personality and Interest
You wouldn't dream of redecorating a room in your house without adding décor pieces and the same can be said for an office space. This is what gives it personality, makes it more pleasing to the eye, and creates the environment employees want to spend time in. You can use the color palette as inspiration and then keep things very simple and sleek.
Some of the more common décor pieces to use include area rugs, wall pictures and hangings, small art pieces, lamps and indoor plants.
7. Ask Employees for Their Input
The final tip is to ask employees for their input. Rather than make guesses as to what will work for them and what they need, why not ask them? You may wish to do this during the planning process or get feedback once everything is in place. Sometimes it takes a few weeks of working in a new space to get to know it and identify areas that could use some adjustments.
By using these tips, taking your time to plan out the design, and thinking things through from an employee's point of view, you'll find that the process doesn't need to be stressful. It's all about creating a space that is professional and productive for all.