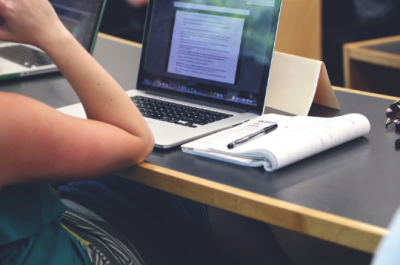 You don't need to spend years at college to become a top business owner. Inspirational names like Steve Jobs, Richard Branson, and Bill Gates didn't finish college, and look what they become.
Saying that though, one of the best ways to improve your business knowledge is to learn.
Educating yourself about different business practices will help you become a better business leader and ensure the best chance of your success.
Education is the Key to Growth
They say that you should continue to learn throughout life, and not just while you're at school. Learning doesn't have to come through a formal environment, there are ways you can learn every day that improves your knowledge and skills without you even realizing it.
Activities such as reading the news, reading business articles and watching online talks and seminars can all teach you something that could improve the way you run your business.
Make time in your day to do some reading – websites like Forbes and Entrepreneur contain some excellent business news and features, while the Washington Post and New York Times are great sources for everyday developments in business.
When you take the time to learn, you'll yield better results for your business.
Learning is Flexible
Learning today is more flexible than ever. You don't need to spend four years at college if that isn't something you want to do.
You could become a Master of Commerce by taking an online course or try your hand at short courses to help you improve your knowledge of social media and other business areas.
Learning can be done on the move, at a time that is suitable to you. If you're juggling a job but want to learn new things to progress your career – this is one way you can do it.
Some employers might even grant you leave to undergo training and education as they realize the benefits it can have on your personal development, as well as the business.
Learn in a way that suits your lifestyle and other commitments, but make sure that it doesn't get pushed to the side.
It Will Help You to Fill in the Gaps
If you are setting up or running your own business, there may be some areas that you have no knowledge of from your previous experience.
A knowledge of finance is vital to running your own business, and if you don't know enough already – you can learn.
The same goes for elements like marketing and human resources, these are elements that are important for ensuring your business' success, but you might need to educate yourself to help you learn more about them.
Even if you plan on hiring employees who are specialists in certain areas, it will make you a better business owner if you can have a good overall knowledge of your business.
Business education is important, as is having a good knowledge of money. By taking advantage of the benefits of being a lifelong learner, you can make a worthwhile investment in yourself and your business and ensure that you're always up to date with the latest developments and changes in practice that will make you a more successful business leader.
Are you investing your education for your business?  I know for me I'm still doing this for my business on a regular basis.  So how about you, share your thoughts and comments below.
Cheers!