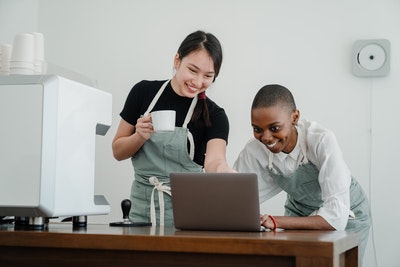 If you've ever been an employer or a manager, you will know that hiring new staff can be a long and arduous process, especially if you have a lot of different candidates.
And although it can be hard to find the right person to fill the position at your place of work, there are a few things that you should when hiring new people
#1 Write out a great job advertisement
If you want to hire the right candidate for the job, you need to lure in people who would work well in the position that you are offering.
Even though it can be tedious to write out a detailed description of the job and what the duties of the job will be for the right candidate, you need to make sure that you do this.
People who are the right fit for the job are going to read the whole job description, so it is a great way to make sure that you only interview the best candidates for the job.
You also need to think about the name of the position when you are looking to hire a new employee.
These days, most people tend to find jobs on the internet, so the easier it is to find your job listing, the more chance you will have of finding the right person.
For example, if you are looking for a Copywriter for your company, it is a good idea to mention the word 'Copywriter' somewhere in the job title, so that it is easy for people to find your position when they are looking for this kind of job. Do this will help you to get noticed by the right candidates so that you will fill the empty position quickly.
#2 Consider your recruitment strategy
If you are going to be hiring new employees you need to think about your recruitment process and the strategies you will use to find the right candidate.
Most people like to get to know their candidates via email or through their resume and cover letter, but usually, there will be an interview over the phone or in-person so that you can get to know your candidate in person.
These days, there are a lot of companies that are having video interviews with potential job candidates instead of face-to-face, in order to protect their current staff.
This is good for people who need to fit in a lot of interviews throughout the day, so sometimes it is a better option than meeting someone in person. It is also great for people who are looking to hire remote workers so that they don't have to travel to the interview.
Thinking about these things before you start to interview or hire new employees is always a good idea, so you should talk to your business partners or any advisors before you start to interview potential candidates.
#3 Get to know your candidates
If you really want to hire the right person for the job that you are looking to fill, you need to get to know your candidate.
Because you will know the workplace dynamic, specifics about the job, and what you will need to excel in your workplace, you should be able to tell when someone is going to be good for the job and when they are not.
Going over the resume or CV of the candidate is extremely important because it will give you a snap-shot of what they have done in their working life and any experience that they may have.
You should also always call any references that your candidate gives you because they will tell you what kind of person they are and how they will go once they get the job.
#4 Find an employment lawyer
If you are running a business on your own or you just want to make sure that you are doing the right thing by your new staff members, it is a good idea to find an employment lawyer to help you navigate the laws around employment.
Employment lawyers have extensive knowledge of commercial law and they know about any fair work procedures and standards that you should have in place in your workplace.
Employment lawyers can help you to draft and review contracts for employees, help you deal with human resource issues, and help you to create any policies or procedures that you want to enforce in your workplace.
Employment law advice can be harder to come by than other legal advice, so it is best to look for a commercial lawyer who knows about this area, as they will be able to help you the most when you are looking to hire new employees.
There are a lot of things that you need to do when you are looking to hire new staff members. At the end of the day, you won't know how someone will work until they are actually on the job and have settled into their role.
Some people may be great in their interview but not so good on paper, so remember to be careful when you are looking to hire new employees.