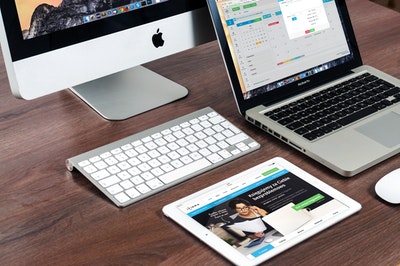 If you are considering website building as a full-time or part-time job, then go ahead. There are a number of reasons to turn your website building passion into a full-fledged business.
The high demand for websites in this tech-savvy world.
Web designing is a convenient job option.
Building a website involves flexible working hours as per your leisure.
Website designing has a huge potential for income.
It doesn't need any capital investment and you can start earning immediately.
A step-by-step guide to earning by website building
The steps to make money by building websites are given below:
Learn to web design first
Even if you are an amateur, you can learn about website designing.
You can learn from several online teaching platforms such as Skillshare, Udemy, Free Code Academy, etc. if you don't understand CSS and HTML, then you don't need to learn about them to build a website.
There are free online platforms that can help you with website designing without prior knowledge in it like WordPress, Wix, Squarespace, etc. Just drag and drop and create stunning website designs.
How to make websites
Well, Adobe Photoshop is highly recommended when you talk about designing a website portfolio. But it is paid software.
However, you can go for the free ones like Sketch, Canva, PicMonkey, and AdobeXD. If you know CSS, then Wrap Bootstrap is a great option for you. But, if you don't have any coding knowledge, then WordPress, Wix, and Squarespace are best to build your website portfolio.
Look out for clients
Once your website business starts, you should look for clients. You can find potential clients online for free at places like LinkedIn, Fiverr and Upwork. You can also target local clients like restaurants, stores, and more.
Make sure you speak in a persuasive manner connect wisely with your prospects to sell your skills. Also, ensure that your clients leave a review after the task is done. It helps in establishing repute.
How to decide about your service charges
When starting, don't reveal your prices to your prospective client. Ask their budget and then negotiate accordingly. It prevents you from getting underpaid for the task.
However, if the budget is very low then move to another client. If you are charging on an hourly basis, then a $50 minimum is recommended. However, a lot of people decide a flat price for the complete assignment.
You can increase your charges as your business flourishes.
Make your own business blog first
When you have a business blog, you can earn more money with website building. Create content that is customer-oriented and problem solving and advertise your web designing services.
With an established platform, you can get a good number of clients.
Conclusion
You can earn $3000 per month with website designing from one client or from 2 or more clients, depending on your fees and website building speed. You can charge on an hourly basis or offer a flat price for the assignment.
If you are going for an hourly basis then $50-60 is good while for a 3-page website project you can charge flat around $1500-2500. If your website designing skills are great then this business will be highly lucrative and rewarding for you.
You can even earn more than $3000 a month.