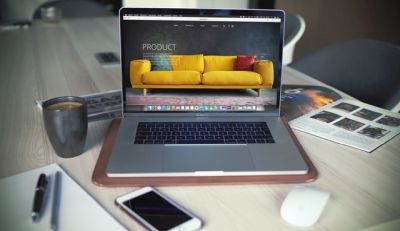 This year, the buying behavior of society shifted dramatically. COVID-19 and the resulting lockdown have driven consumers away from bricks and mortar stores and online.
While it could be argued that this trend was already occurring, the pandemic has artificially accelerated the process, giving businesses no time to pivot their selling strategies.
Many small businesses, selling handmade items from stores, markets, and concessions, have found themselves without customers and unable to reach them due to having no online selling platform.
Setting up an online store is now relatively easy thanks to the availability of selling platforms.
The good news is, you already know a lot of the information that you need to sell successfully. You have a business name, product line, and storage.
These simply need to be adapted and scaled for online sales. Many selling platforms are designed for non-technical people to be able to use, but you may need to engage with some specialists such as an ecommerce advertising agency or an SEO company.
Choose your platform
There are a few options when it comes to selling online.
You can use your own website powered by an e-commerce platform such as Shopify or WooCommerce or choose a third-party marketplace such as eBay, Amazon, or Etsy.
Setting up your own online store
If you already have your own website that receives strong traffic, then you may want to set up an online store on your existing site.
This option could work for you if you already have potential customers coming to your site. It allows for greater control and you aren't fighting to be seen with other brands in the same marketplace.
This option isn't ideal for everyone. You will require some technical skills to set up and maintain your online store. You also won't be able to leverage the brand name and marketing power of well-known marketplaces like Amazon and eBay.
Using an online marketplace
For those who don't have their own online presence or traffic, then a marketplace such as Etsy, Amazon, or eBay.
There are many advantages to going down this route. They already have a huge number of visitors to their site and offer retailers a comprehensive range of marketing systems.
It's not all upside though, you will have less control over your shopping setup and you'll have to try and made yourself stand out among thousands of other brands too.
Shopify or WooCommerce?
There are many platforms available to choose from but the two main ones are Shopify and WooCommerce.  Both plans have their advantages and disadvantages.
Shopify is a hosted platform. Which makes it suitable for you if you don't have a website already. The convenience of the platform does mean that you are not able to exercise as much control as you would like.
Main Shopify features:
Full support 24/7/365
Optimized for all devices/browsers
Accept multiple forms of payments
Blogging capabilities
Easy to use, drag and drop builder
Unlimited orders
Multi-language support
SEO
Review system
Social integration
Digital products
Inventory
Shopify pricing starts at a relatively low monthly price but as you scale or add apps to your subscription, the price can start to climb.
Before you commit to Shopify, think about how much it will cost you as your business scales. However, you might want to trade off against the ease of use that Shopify gives you.
By contrast, the WooCommerce system works as an extension to your existing WordPress website. While you need to have more technical capabilities, you also have full control.
Set your shipping and returns policies
If you are selling through your own site then you will need to investigate, cost, and set your shipping and returns policies.
Don't deviate from these as you will need them for protection against complaints or legal actions.
Today, many customers expect free shipping and returns. You may have to absorb some of this cost or take it into account with your unit pricing.
Get your marketing plan together
Customers won't just flock to your website because you've put some good products there. Now the hard work starts. You have to get your name out there and attract customers to your site.
If you're needing to pivot your business to an online model quickly, then budgets are usually tight. But you can still successfully market your e-commerce store.
This can be done in a number of ways including:
Search Engine Optimisation – ensuring that your store ranks well on search engines such as Google and Bing. Quality traffic to your site should be the main priority.
Social Media – identifying where your target market is and engaging with them on the right social media platforms such as Facebook, Twitter, TikTok, Instagram, etc.
Influencer outreach – using the popularity of online personalities and industry thought leaders in order to reach their followers.
Content marketing – blogging and content creation in order to drive customers into your marketing funnel.
Email – establish regular promotional and drip campaigns.
PPC and display advertising – whereas SEO can take time to see results, PPC and display advertising can get you targeted traffic flowing quickly.
Your plan should be mapped out for at least a quarter in advance, ideally, it should be a year. Pay special attention paid to the holidays and other times of the year such as Black Friday.
Conclusion
It can be daunting to move your bricks and mortar business to an online model. But you'll be comforted to know that technology designed to help you is extremely user friendly and can support you through the process.
If you don't have the time or the expertise to be able to do it yourself, there are many digital agencies and consultants that can help you in the process.
Once you have set up your e-commerce store, you need to keep on top of the promotional activity in order to keep a stream of traffic to your site.