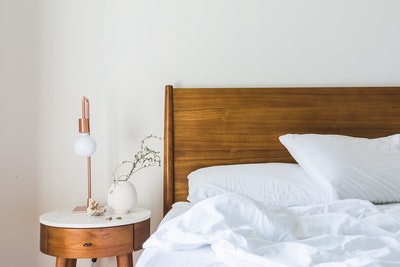 Remodeling a master bedroom is among the most important projects for any household, and, without the right guidance, you might end up spending more than you would like to!
However, it is possible to create a simple but sophisticated room with just some DIY skills and patience!
If you have been thinking about taking on this project for a while, this is the best time to do it. Indeed, we are all likely to spend winter indoors, also because of the travel restrictions still in place.
Given the current situation, you might as well have a beautiful master bedroom where to spend lazy Sunday afternoons and weekend nights in.
Painting Matters!
The quality and look of your bedroom walls can make all the difference. Indeed, scruffy surfaces and worn painting can make the room look run down and uncared for.
Repainting the walls, ceilings, and frames is a job that you can complete with just a weekend of hard work, and it is inexpensive. So, you can already breathe new life into your bedroom with just a small budget!
If you need guidance for the best color combinations, opt for timeless, subtle colors that can bring out the elements and details you will be adding to the bedroom later on.
However, opting for natural or neutral tones can help you achieve that feeling of calm or relaxation that you would want for your private paradise.
Doors and Window Frames Make All the Difference
Doors and window frames are the elements that are subjected the most to daily wear and tear. A quick repaint might be enough to make them look like new, or you might decide to ask a professional to fix new frames.
While this is a more expensive option, it can increase the value of your home over time.
If you have decided to complete a more in-depth remodel of your bedroom at another point in time, you might decide to just repaint them and get them a new look that fits best with the new style you have picked for the bedroom.
Buy a Bedroom Set to Count on an Already Beautiful Design
Finding, selecting, and buying the right furniture for your bedroom can be an extremely challenging task.
Of course, your personal taste and preferences matter, and picking the right style can already be tricky. However, several other factors need to be considered in the choice, such as the measurements and size.
Indeed, you don't want to overfill the room, but you also have to include everything that can make the room more comfortable!
If you are not a bedroom design expert yet, the best choice is to invest in a high-quality bedroom set, such as the Allegra Collection. These sets are designed to create a harmonious result in any bedroom, and they can easily be customized to better fit your space's needs.
Change Up the Curtains
The curtains can make or break a room. Drapes that are too heavy or stopping the light coming through the windows might be detrimental for the room's atmosphere, turning it into a gloomy, darker living space.
Oppositely, lighter curtains can still shelter you from direct sunlight, but still, pleasantly illuminate your bedroom.
In turn, natural light can be an essential aspect to consider if you are looking to restore your natural sleeping pattern. Moreover, during shorter winter days, natural light can help you save on lighting and electricity in your room.
Ultimately, swapping your curtains to lighter ones can already make a difference in the look and feel of a master bedroom!
Add a Focal Point
Each room needs a focal point – and it should be an essential aspect of the decor and aim at capturing the interest of anybody coming into the room. If done well, using a high-quality piece of furniture or a mirror as a focal point can also help hide the room's imperfections.
So, if you have opted for a quick, superficial makeover this time, investing in an item that is visually interesting and sophisticated can help you improve the look of the room without having to change much!
Invest in Timeless Details
If you are trying to save on your bedroom redesign, picking cheap furniture and appliances might be a fatal mistake.
Indeed, these are designed to only last for very limited time frames, and they are not designed to stand the test of time!
Instead, investing in high-quality materials, linen, furniture, and flooring can help you have a long-lasting master bedroom that will remain stylish throughout the years.
Even if this might require a more significant initial investment, it can be extremely beneficial for your budget later on!