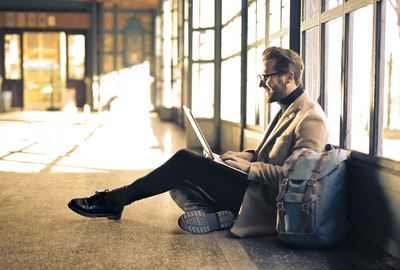 The world is online. Almost everyone you know is well connected to the internet and uses it every day for a number of functions. We use the internet for finding businesses and products, to make bill payments, or even do some online shopping.
There is a huge economy online with incredible amounts of money changing hands every day through online services and business. The barrier to entry in this market is small, and anyone can join it.
Let's have a look at some solid ideas for online startup ideas for the adventurous amongst us.
#1 Small Tasks and Micro Jobs
Freelancing has taken on a whole new meaning in the modern world. We all have a skill we can offer others and services like Fiverr make it possible for us to do just that quickly and easily.
List what you can do for people and what it will cost them in an easy tiered approach and people can hire you to perform micro-jobs for them.
Popular categories include artistic works like drawings and logo design to things like coding and developing apps. Even musicians offer their services on these small task boards.
#2The Gig Economy
A step up from the small task and micro job service is the gig economy. You're likely to think of services like Uber or Postmates and similar roles in this category, but it's much more varied than that.
There are services that will connect those looking to hire gig workers in just about any field.
Driving and delivery might be the biggest segment, but you'll find any sort of freelance work you can imagine, right down to specialist developer work, engineering, and even an entire service dedicated to hiring freelance chefs for special occasions and events.
#3 Become a Virtual Assistant
Virtual assistants do much of the work a regular assistant might do – running the day-to-day administrative tasks of a professional or business, only virtually.
The business might not have a need for a full-time assistant, and thus the virtual assistant makes more sense.
Expect to be doing things like booking flight and travel itineraries, settling bills, arranging meetings and schedules, and doing reimbursements or purchasing.
#4 Design and Build an App
The app markets on the world's most used devices like Apple and Android phones and tablets are worth billions of dollars in sales each year.
If you have a unique idea for a productivity app or game, you can plan and develop it for sale on the Apple App Store or Google Play Store and collect a hefty percentage of every sale of your app.
Many unassuming developers have struck it wealthy with seemingly simple ideas for a new app.
Don't forget, you'll want to make sure your app passes functional testing with a service like Global App Testing to get good reviews and increase the number of users willing to splash out and purchase your next big app or game idea. Global App Testing can help you release a high-quality app anywhere in the world.
#5 Amazon FBA Business
Amazon FBA businesses are becoming big business and can be quite profitable for those with a product to sell. FBA, or Fulfilled by Amazon, in which your product can be sold using Amazon's logistics and delivery network.
It's a quick and easy way to expose your product to not only a wide audience, but also to back the fulfillment with the power of the world's biggest e-commerce company.
You'll get your own listings on Amazon's website, and when customers purchase your product, Amazon will package, ship, and deliver it to your customer. It's a great way to get into the world of online retail and get your product out into the world.
#6 Web hosting Reseller
There is an incalculable number of websites on the internet today, and each one needs to be hosted somewhere.
Many web hosting providers will allow you to resell their hosting from a portal you can brand with your own company logo and name and set your own prices for their services.
Essentially, you're selling their service for them and managing all the payments and customer service and making some money doing so. You'll need a pretty solid understanding of web hosting principles, but it can be quite a lucrative startup without much of an investment.
#7 Stock Photography
The shooting and sale of stock photography is nothing new, and online services that will list and handle all the transactions for your stock images make this easy if you have some photographic equipment and knowledge.
The biggest providers of stock photography like Shutterstock and iStock Photo allow anyone to list stock photography on their platforms and make a percentage of sales from their work.
There is an opportunity around every corner for motivated entrepreneurs to make their mark in the online economy. All you need is some knowledge and a good idea, and you can make a living – or at least augment your income – with an online startup.