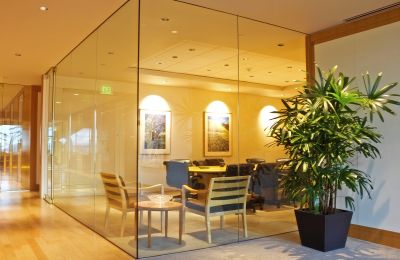 Cleanliness is a must. Recently a lot of stress has been laid on hygiene and cleanliness due to the coronavirus.
Even though cleanliness has been forced on everyone due to the situation, people should understand its importance anyway. Incorporating cleanliness into your daily routine will bring a wonderful change to your lifestyle and will only get you positive results in every sphere of your life.
Since it's hard for people to actually maintain cleanliness in their offices, we have compiled 5 habits that you should incorporate into your lifestyle that can automatically help you maintain cleanliness without making it a struggle.
Let's have a look at these 5 habits.
Door Mat
Research recently proved that shoes carry almost 65% of all the dust that you get into an establishment. You come back into the office from a small break and walk with the same shoes all around the house, getting dust and dirt everywhere.
Simply buying an effective doormat and making a rule to rub your shoes on it before entering can reduce the dust and germs around your office by 65%. All you need to do is get a smart doormat with a refreshing message or a catchy design to make people look at it for a moment.
So when you come back from the office you will never forget to give the rug a good old belly rub with your shoes. This practice alone will show you the difference it makes within days
Sort and Store
It might sound easy but deciding what to keep and what to throw away is not at all an easy task.
There is a constant fear of having some use for a presently useless item in the future. It would be amazing if you could decide on this quickly but if you can't make a decision about what to keep and what not to then you need to focus on storing those items neatly.
Having them thrown into big boxes together is never the solution. You need to sort them out and pack them in Clear Plastic Packaging Tubes or glass jars which you can reuse. The basic point is to make everything look neat.
Delegate Work
You don't have to do all the work alone if you don't work alone. There's probably less mess around the office if you're working alone but if you have employees or colleagues then things are different.
The smart decision would be to simply delegate the work to all the people in the office. Politely set a daily task for them. Maintaining cleanliness becomes much easier when you have extra pairs of hands helping you out.
Spend on Cleaning Items
An office is a place of work and your employees don't get paid to keep the office clean. Even though it's a part of basic hygiene you can not force it on anyone. What you can do is you can purchase an interesting cleaning item that the people at your office will have cleaning with.
There are many such interesting sprays and mops available online and you should make it a habit to spend generously on such products if you want to maintain proper cleanliness in and around your workplace.
Maintaining cleanliness at your workplace is very important. Every person in the office should actively participate in keeping the place clean. A clean workplace will always generate more profit and keep stress away. So follow these steps in case you find it hard to keep a place clean.