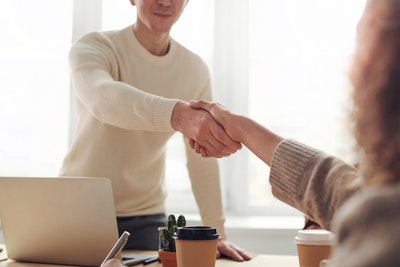 If you'd have asked people twenty years ago what they looked for in a job, they'd probably tell you that a decent salary is top of their wish-list.
And while that hasn't really changed, we're all looking for a little bit more now.
Wellbeing and quality of life are being prioritized, and rightly so — after all, there's no point in being paid well if you don't have the vacation allowance to enjoy your hard-earned dollars on, or if you're unhappy and stressed out by your job. And there's a long way to go before you can spend your retirement traveling around the world.
Perks — also known as corporate perks — are "nice-to-have" additions to your employee salary and standard benefits package. These can make life much more pleasant for you as an employee and can be a deciding factor between one job or another. But what perks should you be looking for during your job search?
In this post, we'll be looking at three great perks that you should look for in your next job. Read on for some inspiration (and to find out what you're missing!).
Commuting Perks
Commuting might not be the first thing you think about when you ponder the possible perks that a new job could offer. Let's face it, commuting isn't exciting, and the thought of extra holiday allowance or bonus packages is much more appealing.
However, it's definitely something you should take into account. Commuting is a huge — and often negative — part of our modern working lives, whether it's taking crowded public transport, driving through frustrating rush-hour traffic, or trying to be more eco-conscious by riding your bike into work (and having to battle whatever weather is thrown at you).
Any kind of commuting perk is definitely worth considering. Perhaps your new employers offer a commuting package, such as covering your commuting cost (which can be super expensive). Maybe they're trying to be more sustainable as a company and they offer a "cycle to work" scheme with discounted or subsidized bikes to encourage employees to commute in a more eco-friendly way.
If it looks like your potential new job will involve lots of driving — whether it's commuting or having to travel around — then see if your employer offers a fuel card. As noted by iCompario, fuel cards can save you time going through receipts and filling in expense forms, as well as save both you and your employer money.
It's worth seeing if your employer will offer flexitime or remote-working options too, to help you avoid getting stuck in rush-hour traffic and give you more hours in the day.
Health & Wellness Perks
Health insurance is one thing, but having an employer that cares about your physical and mental wellbeing and offers supporting perks is the next level up.
A good company will offer health and wellness perks to its employees, and this is definitely something you should look out for. Not only will it hugely benefit your life (both in work and outside of work) but it's also a clear indicator that a company has good intentions and strong values at the core of what they do, rather than just seeing you as another cog in the machine.
Look out for physical health perks such as a subsidized or discounted gym membership, in-house gyms, free work lunches (with healthy options), and healthcare. These hold benefits for both you and your employer — healthy employees who eat well and exercise perform better at work and are less likely to take sick days.
Mental health and wellbeing are just as important. Some employers will offer perks that tackle the tough stuff in work, such as stress management courses or resilience training. Others may offer free access to counseling or therapy, on-site massages or have their own meditation rooms to de-stress in.
Family perks
It's definitely worth investigating the family perks available when you're looking for your next job.
You might not necessarily have a family or be thinking about that yet, but if you plan on staying in this job for any length of time, then it's something you should bear in mind. It's comforting to know that should you choose to have children, you can carry on earning and pursuing your career at a company, taking advantage of good maternity/paternity leave and childcare support.
Fertility treatments like IVF or home insemination can be super expensive, and some employers now offer fertility help for their staff as a perk.
Likewise, if you've got a family already, then moving to a company where you can progress and support your family but still spend time with them is a surefire win. Some employers offer flexitime or remote work so that you can fit your hours around the school run and small children, or have an onsite nursery, or offer help with childcare.
These things all add up and make life as a parent much easier, as well as ensuring that you're a happier and more productive employer.
There are tons of different perks available out there; you just need to know that they're there in the first place.
Knowing that these are options available to you — and that there are employees all over the world that are benefitting from these perks — can be a huge game-changer.
So when you're looking for your next job, keep these perks in mind: they can make not only your job but your home life much better, and they're a strong indicator that your potential new employer is caring and conscientious.
What perks are you looking for in your next job?