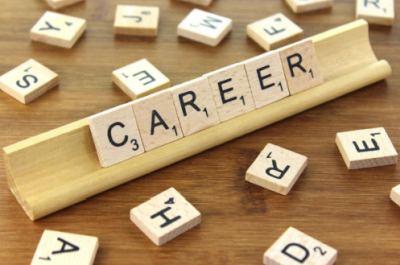 Knowing what you want to do and knowing how to go about it, is something not many people are lucky enough to know themselves.
Whether you are just starting to think about college or you middle-aged, there is career advice here for everyone. A career change can happen at any point in your life, and following some of this advice can help you change direction too.
Chances are, you will change jobs and interests at various points in your life, and this is really common. Trying jobs out, or trying something new, doesn't necessarily mean forever, so don't be afraid to try new things.
This is some advice for those questioning what they want to do or those who have no idea. There are so many careers out there, to all different kinds of interests, and all different kinds of people.
This means that there is something out there for everyone. So don't worry, read on, and know that loads of people feel this way, and go on to in great careers in things they never even dreamed of doing.
#1 Do Something You Enjoy
This is obvious advice, but most people don't choose to study or go into things they think they might enjoy.
There are so many factors that can drive your career choices: money, supporting your family, or perhaps you think that doing something more vocational will have better job prospects.
If you don't know what to do, do something you enjoy. When you start a job or enrol on a course that you are genuinely interested in, you are much more likely to do better at it. You want to get up in the morning, and don't mind putting in the extra hours.
You can plan all you want in life but plans almost always change because you discover so much on the way. When you try something you enjoy, you will work with and meet like-minded people.
This kind of networking means you could discover career paths you never knew you existed, or even meet people you could go into business.
Being in an environment you are interested in, being taught by people who know much more about the subject or career than you, means there are lots of people to ask advice from and ask them what they chose to do with their skills, for example.
Any course or career has commercial and more niche aspects to it, and no experience is really a waste. If you don't like it, you can talk about your change of interests on your next CV. Doing something is so much better than doing nothing, and you will acquire so many skills along the way that will be useful in many other contexts.
#2 Get Funding
Depending on what subject or career you are interested in, there are lots of funding and scholarships schemes out there to help you get started. This can range from being a minority of some kind, or even individuals can pledge money towards the studies of people who fit the profile.
If you want to go into the army for example or be a doctor, governmental vocational careers can come with the advantages of being partly funded. These can range from Aviation scholarships and grants to help with becoming a medic in the navy.
Do your research on what grants and scholarships could be applicable to you. Doing voluntary experience, and showing the funding bodies that you are serious about your career choice, will definitely help your chances of getting funded.
Check out what is available to you, and what grants are out there. You might just discover the perfect career path for you, and the best path to achieve your goal.
#3 Just Try It
So many people become stuck because they are unsure about trying something new, or are not sure if this is what they want to do for the rest of their lives.
But you just have to try it. Nobody knows if something will work for them unless they try it. Yes, some people discover what they love the first time around, but this is very rare. Trying out various careers will mean you have a wealth of experience and varying skillset.
This looks good to employers and makes you a versatile asset to any business.
Try things out, often means working for free. If you can get paid for the role, that's great, but if this isn't an option, then work for free.
Obviously, this should be part-time work at most, but it means you can get a taste of a career you might potentially really enjoy. Work shadowing and internships also mean that you aren't costing the business, or company any money at all.
Because of this, you are more likely to get picked up into more niche job roles, or potentially more interesting careers. Often, if the internship goes well, they might even hire you afterwards. Many businesses choose to do this to make newbies into their ideal employees.
Don't be afraid to try things out, and even work for free too. With no contract and no wage, you can stop at any time if you don't think it's for you.
#4 Network
Ask around with family and friends, or get talking to people in bars or coffee shops. Who you know really can find you a career.
Even if your family isn't in the business you want to go into, there are plenty of chances to meet people and network. Be open to talking to people, and ask them about their careers.
Even if they don't know of any opportunities, asking around can put you in the right direction. Some advice from people, in all different kinds of roles, can't hurt your job search either.
Whatever point you are in your career search, try some of this advice to help you along the way. Everyone's career path is different, so try lots of different things and see where it can get you. People rarely know what they want to do, they only find out by trying it out.