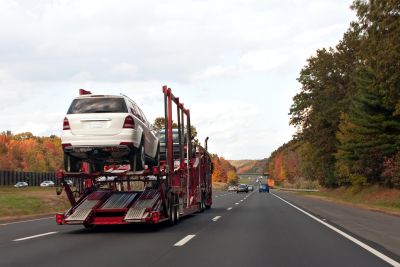 Whether you're a travel fanatic or moving to another state with all your belongings, you'll need a transportation service. Packers and movers are the very first thing that'll come to your mind when thinking of shipping your stuff.
But, does your packer and mover transport your car as well? Or perhaps if they do, are they professionally qualified for the job?
All these questions should bother you when you are planning to shift from one place to another. Especially if you own a car and need it moved along as well. A rather, more suitable option to look forward to is a transportation service that is entirely dedicated to towing and transporting vehicles.
But, how do you find the right service provider? Of course, just any transportation service won't suffice. Your car is a precious belonging and if it sustains any damage while transportation, it would be very distressing.
In this article, we've jotted down a few tips from the professionals to consider when transporting your car. So, without any further ado, let's take you through them, swiftly.
#1 Begin Your Search With Google
The foremost thing that you can do is to look for the service providers within your area. Since every transportation service has its local conformities, it is best to look for the ones that are stated near your pick-up location.
And to start your search, you can use Google. The popular search engine is highly suitable for finding local businesses. Furthermore, you can also check if the transportation provider offers a drop at your desired location.
For example, you can search for 'car transportation near me' to find the most suitable transporter for your car. Moreover, if you can specify the pick and drop locations, you can further refine the search results.
#2 Consult With Details Of Your Move
Once you have a list of transporters that operate near your location and provide service along the transit route of your choice, the next thing is to confirm with them over the call.
Since online ads and displays can be deceptive sometimes, it is best to ensure the possibility over a phone call.
You'll need to provide the transporter with certain details including the make and model of your car, its weight, your pickup and drop locations, and more. Confirming these details with them over a call can help reassure your prospects.
#3 Explore Reviews Before Deciding
The next best thing that you can do is to study their reviews. People usually share their experiences with businesses on Google.
Going through these reviews can give you confidence, so you have a great experience and won't be deceived by the transporters.
Look for the ones that can offer a quick resolution to problems and are available throughout the transit process for consultation. After all, you wouldn't want to lose track of your car.
#4 Do Cross-check Your Budget
When you're moving out of state, to another location, you're already burdened by so many expenses. To top these up, you wouldn't want your transporter to cost you too high.
And you certainly wouldn't want to burn holes into your pocket. Cross-checking your budget with the transporter is, therefore, indispensable.
#5 Ask For Insurance Cover For Transit
In case you're too worried about your car and fear it may sustain damages during the transit, you need not worry.
These professionals are topped with all the necessary equipment and know what precautions they need to take care of while transporting your car.
Additionally, if you still worry, you can ask your service provider to offer an insurance cover for the transit period. Having insurance can reassure that even if your car is damaged during the transit, you are paid for the total repair of your vehicle.
By now, you must have a list of tentative transporters you can hire. However, there are certain things that you can do on your own, to ensure safe transit for your car.
#6 Preparing Your Car For Transportation
When you plan to transport your car from one city to another, you may need to prepare your car. Here's a list of precautionary steps that you can take.
Avoid Overpacking
Keep this as a rule of thumb- Never Pack Heavy Objects In Your Car. According to some experts, such as https://geyerstowing.com/auto-transport-services/, packing heavy furniture items into your car can cause unnecessary damage to it during the transit.
These items will keep on tossing within your car, and may even break a window or two. Moreover, packing such heavy items in your car will only increase the overall weight of your car, which will eventually affect the cost you incur for transportation.
Make Sure You Take Out All Your Belongings
Traveling across borders whether state or city or country is itself a cumbersome task. Though you may enjoy the scenic beauty along the way, yet it is tiresome.
You won't wish to be bothered because you forgot your wallet or your phone in your car. The troubles can quickly escalate as your car is in transit. So you can't even get it back until the cargo reaches its destination.
Just to make sure that nothing of such sort happens to you, double-check your vehicle for any important documents or belongings. After all, being precautious is far better than having to regret later.
Keep The Gas To Minimum
Another safety measure that you can take before you put your car up the trailer is to empty your gas tank. Or perhaps leaving it to the minimum can also suffice.
The transit can be pretty rough for your car. Moreover, roads are always filled with dangers, unanticipated. And you wouldn't wish your car to burn down to ashes if anything has to happen. Keeping the fuel to a minimum helps ensure the same.
Additionally, if it gets stolen on the way the thieves can't drive it too far. So, its anyhow a great idea to keep the gas at its lowest.
Clear The Driver & Passenger Seats
Loading and unloading your car from the trailer requires steering it through the procedure. Or sometimes the transporters may also require to drive it down or up the trailer. Keeping the driver and passenger seats clear will only help them. So, they can easily access the drive controls and maneuver your car, if needed.
Having to move from one city to another is a tiring task. Packing the stuff before moving and later unpacking the same after you've moved, keeping track of your belongings and ensuring that everything is transported safely, without damage- these tasks may seem small but can be very tiring when the distance is too long. Proper preparation and care are the only things that can help you get through the phase.
Although moving to a new place is exciting for almost everyone, the associated stresses cannot be ignored. Especially, when you are to move something as expensive as your car.
These luxuries are hard-earned, and witnessing any damage to them can be very distressing. So, when moving your car from one city to another, seeking help from a professional transporter can be very beneficial.
All you need to ensure is that the one you hire fits your requirements. Of course, a transportation service needs to be reliable and trustworthy. The best thing you can do is to keep all your conversations documented and keep a record of the same. So that you don't face any discrepancies at a later stage.
Rest assured, you can choose the right fit for transporting your car using the aforementioned tips. And along with that, you can assist them for a better experience by following the preparation tips shared, as well.
Are you planning to ship your car?