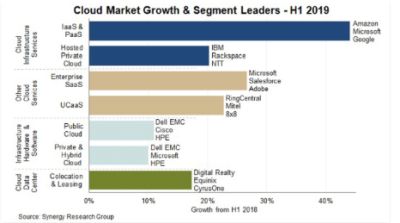 As a business owner, fostering a good business-customer relationship can help build brand loyalty and also define your company's level of success. However, given today's competitive business environment, the business-customer relationship tends to be one-sided.
This is because customers don't have to strain following you when they can readily get what you are offering. And that's why most businesses today are looking to hire salesforce consultant to provide solutions that will result in positive relationships that are beneficial to both parties.
But before we get ahead of ourselves, it's important to mention one thing.  Technology has permeated almost every aspect of our lives, including the way we do business. It has made the purchase of goods and services easier, and the way organizations communicate with their customers alike.
And that's where technology and salesforce come in. Together, they can help your business to predict market trends and quickly make the necessary adjustments before your competitors do.
In this article, we are going to look at what salesforce is, what it does, its importance to your business, and factors to consider before hiring a salesforce consulting services provider.
What is Salesforce?
Simply put, it's a cloud computing service as a software (SaaS) company specializing in customer relationship management. The company's services allow companies to track analytics, provide customer support, and easily connect via cloud storage.
According to a 2019 report by Synergy Research Group, the cloud computing market generated revenues in excess of $150 B, which represented a 24% growth from the previous year.
Key services provided through the Salesforce cloud include Software as a Service (SaaS), infrastructure as a service (Iaas), SaaS ICT infrastructures, and platform as a service (PaaS).
Of these four services, SaaS is one of the most widely used services taking up a 75% market share of the entire customer relationship management (CRM) market.
In terms of growth, it is estimated that cloud computing will generate over $389 billion by 2020 for Salesforce customers. During the same period, the CRM market will grow at an annual rate of 11% due to the increasing number of users accessing the platforms using multiple devices.
How Can Hiring A Salesforce Consultant Increase Your Business ROI?
Purchasing salesforce doesn't automatically translate to success because a successful roll-out entails many moving parts and requires proper training.
However, through the technical and non-technical advice of a salesforce consultant, it becomes easy to implement Salesforce CRM.
5 benefits of hiring a salesforce consultant.
#1 Saves Time
Hiring a Salesforce consultant helps in the faster implementation of Salesforce CRM.
Instead of spending countless days trying to figure out things, a consultant can service your environment and even perform maintenance remotely.
As a result, you are able to focus on your core business as well as take full advantage of all the perks of Salesforce, while the handle your non-core business aspect.
#2 Expert Decision Making
Another reason you should consider hiring a salesforce consultant is that they help you make faster and well-informed decisions.
When a business is expanding, there are many decisions that need to be taken to integrate CRM into the existing processes. In this regard, salesforce consultants help you make operational, expansion, and integration-related decisions.
As such, an investment in Salesforce consulting services is sure to pay off as it helps eliminate any trials and errors, as well as ensure that the decisions you make will positively impact your business.
#3 Impartiality
Because consultants are third-party in nature, they help paint the whole picture and give an unbiased expert opinion without fear or favor.
Additionally, their ability to ignore all the nitty gritty and overlook company politics allows for streamlined and seamless implementations of CRM.
#4 Simplified Customization
The requirements of any business entity are inherently pegged on its size, the market space, and end-user deliverables.
By leveraging the wealth of experience of salesforce consultants, a company is able to deliver customizable solutions to meet the needs of distinctive establishments across several verticals.
#5 Encourages User Adoption
Easy user adoption is critical in improving ROI. However, with a coherent implementation plan, enough training, and an in-depth understanding of the Salesforce platform, a company can significantly improve productivity and increase Return On Investment.
For this reason, hiring a salesforce consultant for your project will help your workforce develop the necessary skills and equip them with tools to augment the user adoption rate.
Tips for Hiring the Best Salesforce Consulting Partner
One of the best ways to succeed in you salesforce CRM project implementation is to hire the right consultant. But with hundreds of Salesforce Consulting Partners, choosing the best can be hard.
Below, we've created a list of things to look for before hiring a consulting partner:
Expertise
Simply hiring an experienced Salesforce Consulting Partner isn't enough. On the contrary, you need to hire an all-rounded individual or company that can handle successfully handle your entire CRM project.
And since you will most likely work with your consulting partner in automating your sales and customer support process, they need to have a sales expert. This sales expert provided real-world insights and expert advice on the latest trends in sales strategies, allowing for the successful implementation of your project.
Another area that you need to probe is the aptness of your consulting partner in project management. As well as being harbored online, salesforce CRM implementation also tags along real-world implications that cut across multiple departments.
As such, your partner's experience in project management experience will help make sense of both the online and offline aspects. Moreover, it also ensures strict adherence to deadlines and provides assurance that your service provider is proactively committed to training your in-house team, long after the project is delivered.
Lastly, a good salesforce consulting services provider should have at least one salesforce developer or a team of developers.
After all, they are the backbone of any salesforce consulting company Ukraine. While it ensures that the team is experienced in a multitude of technologies such as custom software applications development, salesforce platform integration, and data mapping configuration.
You don't want to compromise on your project delivery by hiring someone or a company that is just learning how to become a salesforce consultant.
Implementation Methodology
The partner's implementation approach is another important factor to consider while hiring a salesforce consulting partner.
One of the best practices is Agile-based incremental delivery as it considers phases and iterations, ensuring that your project is delivered within the set deadline and budget.
This approach also encourages a  high collaboration degree between your in-house team and the provider— which often yields better results.
Ongoing Support
After-implementation services are important as the project delivery itself. Before signing in as a Salesforce consultant, ensure you set the ground rules about how they support your business once the project is delivered.
Working with a consulting partner who maintains a laser focus on after-sales updates without de-prioritizing your support will help your organization stay ahead of the curve — and competition.
Budget
Prices of salesforce support tend to be all over the map, making it almost impossible to establish the exact cost of a project.
As a business, it is important to discuss your budget with the service provider from the very start to avoid running out of resources mid-way the project. While at it, try comparing companies that fall within your budget range as opposed to choosing just a single company and sticking with it.
This is because the most expensive choice does not automatically means it's the best, and the opposite is equally true.
Pricing
The salesforce consultant's salary can run into insane figures. In the US, for instance, the average hourly salary of a salesforce consultant is $53, with the average annual salary being $100,587.
Now, you may be tempted to think that this qualifies under budget. However,  when it comes to ongoing support, this rate can significantly go up.
Depending on your working arrangement—hourly or project-wise- ensure you have a clear understanding with the consulting of the pricing that will be billed.
Expressly setting down the pricing terms can help minimize friction and save you some of your hard-earned money.
Best Locations To Hire a Salesforce Consultant
In a 2019 interview with CRN, the CRM leader's channel chief indicated they were looking to scale up the number of salesforce consultants with an additional 250,000 Channel Partners.
As such, when it comes to sourcing first-rate salesforce consultants, it pays to remember the good old saying, "Birds of a feather flock together."
One of the best places to look for a salesforce consulting partner is Ukraine. This outsourcing powerhouse boasts close to 200,000 highly skilled IT professionals, and more are graduating each year.
On top of that, the cost of living and wages are relatively low, giving your company an opportunity to boost its development capabilities, as well as enormous cost savings.
Final Thoughts
Salesforce is a powerful customer relationship management tool that is used to enhance the overall effectiveness of a business. Its integration with your existing system is a vital strategic decision that required a clear roadmap if the predetermined milestones are to be attained.
As such, if you are planning to implement a new CRM system or even update an existing one, having a qualified Salesforce consultant is important.
These qualified professionals will help you by offering technical and non-technical advice to effectively execute and implement your CRM system.