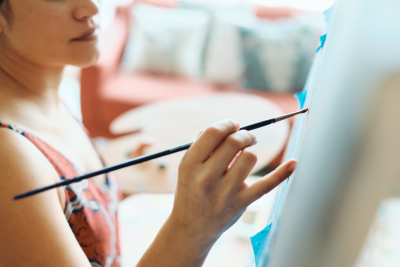 So you found the perfect hobby that works for you but it is easy, and this is why having a real passion for your chosen hobby, will help you turn it into a profitable business or career in the end.
It's something that you enjoy doing in your diet downtime from work, and it's something that brings you a lot of joy in your life, this is a beautiful thing and something that some people never managed to do.
Finding your "thing" and doing it to the best of your ability regularly, it's something that will enrich your life beyond measure. Finding exactly what you are good at, it's something that takes people a long time usually.
Some of us to find our favourite hobby at an early age, but don't always recognise it as something special. We all remember kicking a ball about, or doing some drawing in our bedrooms, but what type of hobbies can progress into a full-time career?
And are these hobbies, something that should be turned into a job, or are they something that you should keep as a hobby while working elsewhere?
Only you can decide, but here are some ideas and thoughts on whether we should turn our hobbies into a career, or whether we should keep them as hobbies.
With some information from people who have been there before.
#1 Finding Your Thing
So finding your thing isn't as easy as it sounds. We may think that we enjoy certain things in life, such as talking to people on the phone, or sales, but can quickly discover when we take a job doing these things, that it isn't as straightforward as we think.
Enjoying something regularly with little pressure isn't an excellent indicator of whether you would feel the same repeating this daily with the stress of earning your money through it. So to find your specific hobby, you have to try many different things, putting yourself out of your comfort zone will enable you to discover things you may never have thought of before.
And if you do find something quickly that you love, then you are onto a winner. Even try and support when you have never exercised in your life, can bring some shocking results to you. It isn't always easy getting out there and trying something new, but it may be the best decision that you make.
There are many business people who advocate for trying everything until you find the thing that you enjoy most, but it really cannot be stressed enough that trying new things can only broaden your horizon.
It's all about getting the balance right and spending time on this. It may not even be a completely new thing, it may be something that you gave up as a child, so don't forget to revisit past experiences to See if you can rediscover your love for these things.
#2 Making Money?
One of the biggest ways to work out if the hobby you have can be turned into a career, is to discover whether you can make money from it?
Many hobbies can be turned into services for example photography, whereby you charge the people for the service that you offer, this is obviously a great way to earn money, and if you know, there is a market for your services in your local area or the region that you cover for example you will find that there are many opportunities to earn money from this hobby.
There isn't much scope for earning residual income on this one. Unless you are providing fine art prints that people find desirable for their home, you may struggle to discover what the actual amount of income you can make from this particular one might be.
It is sometimes easier to find out what the income might be from home-made items. For example, many people enjoy making jewellery, woodwork, and pieces of art that they can create at home. And once they have set a price for each individual item, worked out how much it takes to create each item, and ensure that everything works out well financially.
So there are many options, and making money is obviously the reason for turning it into a career or a business, but doing plenty of research will help you discover if it is a profitable business or profession, or not.
#3 Is it Your Passion?
Doing the same thing day in and day out, sacrificing in certain areas of your life to progress your business, and not spending as much time with your friends and family while you are getting the company off the ground, needs to be worth it.
If you have a real passion for something, then it makes this a lot easier as a sacrifice for something you love to do is much easier than ending up resentful. You have plenty of opportunities at your fingertips, and if making money from your passion is one of these opportunities, then you are fortunate indeed.
But it is easy, and this is why having a real passion for your chosen hobby, will help you turn it into a profitable business or career in the end.
For instance, if you love social media browsing, you can actually make money as a social media commenter for brands needing to boost their social media presence via exchange websites. Earn money by posting videos and clicking or sharing the posts of other social media users. Who knows, you can become a social media analyst or influencer and start your own social media business in the future?
You have to be keen, you have to be committed, and you have to be bold when setting up a business or becoming self-employed. Because it's a rollercoaster ride like no other.
#4 Taking the Plunge
So once you've decided that you are going to take the plunge and turn your hobby into a business, there are many things that you need to consider such as the finances, you may need to look into the compare business loans options, and you may need to work out where you're going to base your business.
You may also need to consider your stockists and marketing people, you will also need to work at your website and your marketing materials, and of course, need to put a business plan together.
Furthermore, as you grow your business, don't hesitate to seek professional help. For instance, you can outsource your web design and development for your eCommerce store. There are many talented freelance web designers you can choose from. A freelance web designer can create a new website or online store for you at a fraction of the cost when you hire one from a web design agency.
The same is true when you hire a digital marketer. You can hire a freelance social media marketer or a content writer to create social media posts and organic blog content for your business.
All of this takes time and plenty of energy, so as long as you are prepared, and work hard, you should overcome the taking plunge challenge, and be well on your way to some form of success, hopefully.
#5 Expectations
Managing your own expectations is essential. You may absolutely love this hobby of yours, but when you turn it into a commitment that you need to make, and you start to lose some of the fun of this hobby, it can become very disheartening.
If you manage your expectations effectively, then they should prevent any vast feelings and upset. Being prepared is key here, and speaking to others who have been in your position before is essential.
This will help you manage your own expectations, and those expectations of the people around you as well.
There are so many resources available, and even websites that can walk you through the whole process quite easily, if you aren't sure who to speak to find your way to Google and work out who is here before and what their advice is.
#6 Potential success
Like many people, before you, you have the potential to be very successful when you choose a hobby that you love and turn it into a form of income. And since you do enjoy the activity or product that you are putting out there to the public, it puts you in a very favourable position.
Not many people absolutely love the job that they do, and finding the right work for you is essential. Not forgetting that many people have come from nothing, with just an idea and a little bit of knowledge in the right place.
It's important to learn how to work on your business not in the business to attain success. These two are different. Working on your business can help you make strategic and holistic decisions regarding recruitment, employee engagement, customer engagement, and maintaining data-driven and profitable sales and marketing tactics. On the other hand, working in your business means spending time on repetitive tasks that business owners can assign to employees.
You have a massive opportunity in front of you, and your potential success is essentially what you put into the business. At the end of the day, making the right decision is on your head, and taking all the advice in the world is going to help you.
But ultimately you know yourself, you know the industry, and you know exactly what you need to do to make it work. So try not to delay and doubt yourself, and you should find things much more comfortable than you first thought.
What a strange situation to be in to be doing exactly what you want and being able to earn money from it at the same time. Few people can say the same, and turning your hobby into a successful business, is living the dream.
Final Thoughts…
So once you have taken into consideration finding your thing, making money from it, realising whether it's the right thing for you, and actually taking the plunge, you will find yourself on a path well travelled by other entrepreneurs, and no doubt there will be many hurdles along the way.
But if you follow these pieces of advice, and do your absolute best, then you will find yourself in the best situation you possibly can. So many people have failed by not being prepared, and not really having a passion for what they do.
But you don't have to be one of them you can do your absolute best, get the support that you need, and thrive if you work hard and do the right things.
Have you considered turning your hobby into a business?