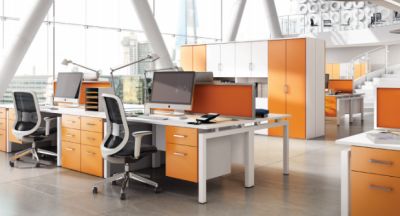 As a manager, health and safety HAS to be on your mind. It's your job to put your staff first at all times, and that means providing them with a clean and safe office environment. Hence why a large amount of your monthly budget goes towards office cleaners. You certainly wouldn't like to face the legal or personal repercussions of letting this slide. Even if no one fell ill, your employee morale would drop pretty fast.
Sadly, your cleaning budget could be the first thing you cut if you're going through a tricky financial spell. Better that than your production costs. But, wouldn't that leave you in real trouble from a safety standpoint?
Not necessarily. Of course, you can't cut your cleaners down to once a week without some thought. But, you should be able to manage this with ease if you put the right precautions in place. This could see you cleaning up your finances by dropping that cleaning company to one night a week or so.
But, what exactly are the precautions you need to make this work?
#1 Work on Workstation Hygiene
When you could afford cleaners every night, the chances are that you and your team got lax with workstation hygiene. We're talking dirty plates and empty packets all over the place. It wasn't a problem when there was always someone else to clean up. But, as soon as you cut this service, the mess could start to build.
Don't let it happen by being clear about the need for workstation hygiene. While overall health falls on you, individual working areas belong to your employees. As such, you're well within your rights to stipulate the need for members of your team to clean up after themselves. This won't cost you anything extra, yet it'll go a long way towards keeping your office cleaner for longer.
#2 Replace Those Carpets
Carpets in the office can be a breeding ground for bacteria and dirt. Without a cleaner taking care of these every night, you can bet office health would soon start to suffer. But, you can tackle this by replacing those carpets with concrete or laminate flooring.
This is easier to keep clean in general, and it prevents the growth of bacteria. If you're worried about what this means for office appearance, don't be. There are plenty of stylish laminates out there. You could even opt for stained concrete which keeps the space looking the part. Then, you can enjoy the benefits of an easier-to-clean floor which needs far less attention.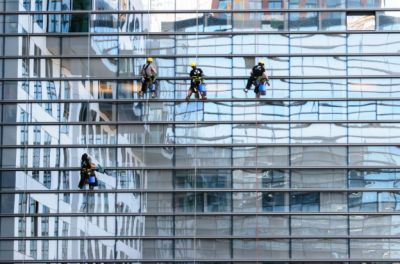 #3 Make Use of Communal Cleaning Services
If you operate within a shared office space, it's also well worth making use of communal cleaning when you can. It may be, for example, that you can all arrange to put in together for regular window cleaning.
You may even find that you can get a good deal on a company who already clean in your office building. This could save you a small fortune, all while keeping your office sparkling clean.
What are you doing to clean up your business's finances?