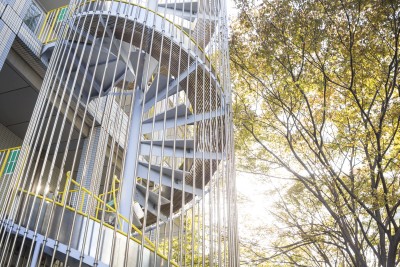 Stairs are quite an essential part of many homes as well as commercial spaces. To start with, the provide a way to move from one floor to the next. But there's so much more than that when it comes to counting its functionality. When stairs are designed appositely, and in a unique way, it can add a flavor and style to the home.
Coming to metal stair railing it seems to be the first choice of both residential and commercial spaces today. When the metal railings are designed profoundly, it adds a unique blend to the ambiance. When it gets blended with the interiors of the house along with the colors, your house upgrades to a sleek and chic one.
With a wide array of handrail options easily available today; you can pick a style or trend that admixes with your personal taste.
The most challenging task, however, is to ensure that you get stair railings for your home or space, but within a budget that's not soaring high. For sure, there are tons of styles, designs and metal fabrics available. But getting the job done cost-effectively, at the same time getting the best out of what you've paid is what we all look out for.
Metal railings for the stairs are definitely a great way to upgrade your home, without getting a hole in your pocket. Along with not having to spend much on its installation, you need minimal maintenance too.
To know more about how can you save more with metal railings, please keep reading below.
#1 Highly versatile
Whether you want a spiral, straight or even a curved staircase, you can get it all in metal form. One of the best things about metal is; it provides you the ability to design according to your needs and style. In fact, at a very cost-effective price, it can also get easily customized. You can modify and design it as per the fit you wish to achieve.
There is nothing to worry about space restrictions too. Even if you live in a studio apartment, you can still fit the metal stairway in the smallest corner of your room. All of this can be done at a very reasonable price.
#2 Installation is quick and easy
Installing a wooden stair railing can turn out being a little long and might need professional help. However, in the case of metal stairs, the case differs completely. These tend to be highly flexible when it comes to working with them. This is why the installation gets quick and in no time.
Once you get it installed, you can simply start to use it. There is no time to wait for time. Also, the overall construction and installation charges are not high.
#3 Smart financial choice to make
Metal railings are any day a more practical and sensible option to choose from.
Not only can it get installed and customized quickly, but the overall cost is also quite economical too. Also with the advancement in steel fabrication techniques, it has been the most inexpensive material to build stair railings, chosen by both manufacturers and consumers.