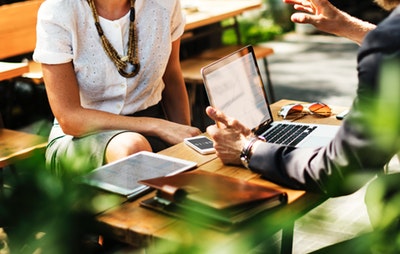 It's very easy to assume that outside space is a waste of space for business. But this isn't true at all. Having an outdoor space is a great opportunity to create a calming environment your employees can enjoy, your clients will love and your competitors will be envious of.
All you really need to make your outdoor space special is a few plants, a seating area and patches of shade to protect anyone working outside. A commercial landscaping service can build and maintain this space for you so you don't even need to worry about looking after your plants.
Not convinced yet? Here's why you should look after your outdoor space at work.
Get Some Fresh Air and Light
Natural light is really important for everyone's health. Getting just a bit of sunshine every day can boost your Vitamin D levels, improve your mood and even help you sleep at night. Going outside to hold a meeting is an ideal opportunity to make the most of these benefits but it will also reduce distractions.
The vast majority of office buildings are all about air conditioning. This is fine but it doesn't even begin to compare to the health benefits of going outdoors. If you plant up your outdoor area, you can improve the air quality and create a calming space. And in such a stressful world, what more could you want?
Vary Your Work Space
It's fair to say that we all spend too much time at our desks. Because we are so still for much of the day, our backs hurt, our imagination falters and our motivation crashes and burns. In other words, staying in one place might be convenient but it certainly isn't doing much for your business or your employees.
By encouraging people to move around and work in different places, you can encourage much more creativity. An outdoor space is ideal because it is completely different to the inside of your office. Why stay cooped up and wishing for sunshine when you could be outside enjoying it?
Putting plenty of seating into your outdoor space, both around tables and more relaxed loungers will encourage people to come outside more.
Boost Your Green Credentials
Businesses must think more about their impact on the environment and how they can offset their carbon footprint. Creating an outdoor garden with plenty of plants can help to begin this process and you can enjoy the benefits too. Bringing clients to your small patch of green is a really impressive thing to do, especially if your garden is on a roof or reclaimed patch of land in the city.
When you are planning your garden, do think about which plants are easiest to maintain and keep for a long time as well as what will be aesthetically pleasing. You might also like to think about how you can make your garden work a bit harder. Why not plant some herbs that your staff can nibble at and add to their lunches as well as plants that introduce lovely scents like lavender.
Are you looking to add outdoor space to your workspace?