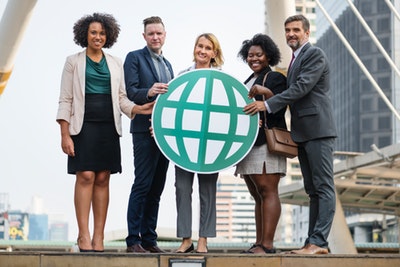 After building up a loyal national customer base, expanding your business overseas may be the next step in keeping your company growing.
This offers unique opportunities to increase your target audience and your profits, as well as many other attractive benefits like cost savings and diversified product offerings.
However, growing your business within your home country is a challenging and risky task, which means that doing so on a global scale can seem daunting.
Before you start tapping into overseas markets, consider these seven important factors.
#1 Timings
Registering a business in another country can be a little different from the process that you're used to. The biggest change is the time it takes.
While some countries, like New Zealand, take as little as a day to complete this process, others, like South Africa and India can take up to and more than a month.
This doesn't mean that you should overlook these places, but you will need to set a realistic time frame. Other factors, like the office space available, also play a part in timings.
#2 Talent
Unless you plan to run your business using robots, you will need to staff your new location.
In some cases, this is much easier than building a team back home, as you have access to an international pool of talent, allowing you to find individuals with different skills and experience which could benefit your company.
Picking the wrong location, however,  could make your job much harder. For this reason, you should choose a county with plenty of talent that you need.
#3 Funding
Growing a business will always be an expensive endeavor, but the costs only rise when you start looking internationally.
Because of this, you must ensure that you have the funds you need for the job. In many cases, this will require you to apply for a loan.
You have many options when it comes to funding, including asset-based lending for small business. You can also consider crowdfunding campaigns, grants, investment competitions, accelerators, and so much more.
#4 Regulations
You may comply with the rules and regulations of your own country, but when you expand your business into another one, then you must make sure that you do so for theirs too.
Laws regarding tax, shipping, employment, and more will all differ from place to place, so it's imperative that you do your research, as well as seek legal advice and support.
The last thing that you want to do is break any laws and get yourself and your business into trouble after all.
#5 Marketing
Marketing plays a major part in the failure or success of your products and business overall. For this reason, you need to invest time and money into promoting in your new location, just like you do in your original one.
However, you shouldn't assume that what works in your country will work in all of them. Little differences in language and culture mean that a once successful campaign could fall flat overseas. You need to tailor your marketing strategy to the local audience.
#6 Language
To succeed in another country, you need to get comfortable with the culture from the very beginning. Every aspect of your plans should be consumer-minded, especially when it comes to language.
Although many people all over the world speak English, that doesn't mean that every member of your target audience will. Failing to realize this could risk alienating a lot of people.
Because of this, you must ensure that all business materials are in the language of the locals.
#7 Payments
Offering multiple ways for your customers to pay is incredibly important. This is why most businesses allow payments with major brand cards as a minimum, and many others also offer contactless and digital wallets as payment methods.
When you begin selling abroad, you need to remember that the buying habits of customers can be different. This means that you may need to offer alternative payment methods. You also have to accept the local currency as payment.
Choosing to expand your business overseas is not a decision that should be taken lightly. It's an exciting and potentially lucrative move, but, without the proper planning and research, can quickly turn into a nightmare, and a costly one at that.
To be successful, you need to consider all of the important factors above and use them to craft a solid and precise global expansion strategy. If you do everything right, you could find that your new venture exceeds even your greatest expectations.
Are you thinking about expanding your business overseas?