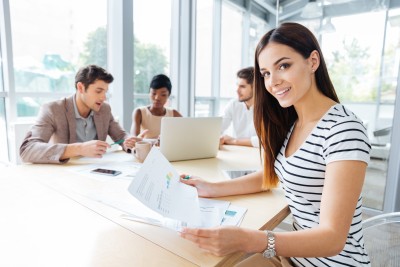 Amazon Web Services (AWS) is a cloud-based platform that offers over 50 services to help you launch and grow your online business, no matter how small or large it is.
Whether you're a startup or a big business, there are so many ways to make use of online AWS training. You have unlimited access to sources and pay them as you go along.
Here are five of the biggest benefits of using AWS to help your business grow.
Improve Your Startup
If you want to launch a startup, you should check out some of the startup services that AWS offers entrepreneurs such as AWS Activate.
This program provides a student with hands-on training and the resources you need to grow your startup. It also comes with AWS Promotional Credit and AWS Support which you can use to fund your startup.
You're also connected to a large network of developers and entrepreneurs that have used AWS to grow their own businesses.
Using a combination of data tools and storage management, you can boost traffic and scale your online brand efficiently.
Develop Your Website
An AWS certification can help you increase your online presence. AWS Elastic Beanstalk allows you to create your own mobile app by choosing a name and platform your online environment.
You can also host your website on the AWS platform with the option of running it with or without a Web server. AWS also provides you to register and name your domain for your website.
Create Mobile Applications
Your website is up and running, but what about your mobile application? AWS can help you with that as well. Thanks to online AWS training, you can learn how to build and launch your first mobile application.
You can configure features for each of your mobile apps by developing analytics, backend logic, content delivery, data storage, push notifications, and user authentication.
AWS also allows you to test each of your mobile apps on any device so you can improve its performance.
Expand Your Storage
Storing data can get complicated, especially if you feel as if you're always running out of space and money to store all of your company's information in one place.
AWS offers various storage options that provide you with the storage you need. You have control over who has access to your storage. You can use this storage for analytics, archive applications, big data, and transcoding.
Build Big Data
As your business grows, you'll need big data to support the variety, velocity, and volume of your data. AWS provides services that allow you to scale any size data application such as clickstream analytics, data warehousing, internet-of-things processing, fraud detection, recommendation engines, and serverless computing.
The great thing about this service is that you can access the things you need and only pay for what you're using.
Thanks to these additional resources and services from AWS, you won't feel alone in launching your business. AWS can help grow your business into an amazing corporation easily and efficiently. You won't feel alone or behind with Amazon Web Services since it guides you every step of the way.
The best thing about AWS is that it's provided at a low cost. The advantages beat out the disadvantages of this powerful tool.