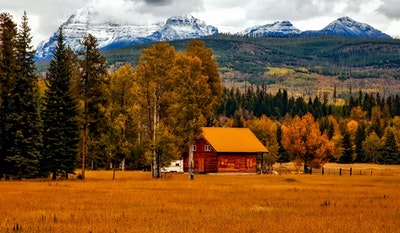 The large-sized properties available for sale in the state of Colorado are characterized by fields, hills, and beautiful mountain views. The clear skies and perfect temperatures make this area a great environment for human inhabitants as well as wildlife.
However, there are some things you should know before you buy.
Background
Colorado is known as the Rocky Mountain State. The atmosphere does not fail to impress visitors and residents. Due to this fact, it's no surprise that the state is the top destination for retirement. Retirees typically search for farms and ranches in cities such as San Luis, Canon City, and Craig.
There is plenty of land for sale in Colorado. Amazing building sites can be found in this area as well as recreational opportunities that include hunting land.
Sapinero Ranch Property
A sample property being offered on "landandfarm.com" in Colorado, costs nearly $2K for 911 acres of land on a Sapinero Ranch in Gunnison, Colorado near US Highway 50. The active sale features undeveloped land, hunting land and pasture and ranch.
The land is private and accessible year-round. It features elevated views that rise to a height of 8,400 feet. It is also in close proximity to the West Elk Mountain Range, the Lake Fork of the Gunnison River Basin, Curecanti National Park, and the world famous Pinnacle Rock formation located on the shores of Colorado's largest body of water, the Blue Mesa Reservoir.
Additionally, only 2 miles away there is convenient access to Colorado's finest freshwater fisheries that hold many of the state's vast fishing records. In contrast, the forests in this area are just as interesting as the water life. There is rolling terrain, gamble oak, and a  sage and pine forest that inhabit the wildlife of the Sapinero Ranch.
Investment Choices
If you are looking to invest in land in this area, the winter season is the best time to do so because it is a good seasonal time as well as the best time for market prices. An effective fund analyzer will help you get the most out of your future investment. The tool allows you to compare fund costs, side by side, as well as return amounts over a 20-year time span.
Modern Homes
If you favor a modern touch to your new property or home, there are distinct options in Colorado. A mid-century modern home property in the Grand Junction area that is on sale for $560,000, features a striking modern-style single-level home that comes with 3 bedrooms, 2 bath options, with harmonizing interior and exterior.
The total space is 2,062 square feet, and the interior has glass walls, wood beams, stone fireplace, while the exterior has mature trees, garden beds, a gazebo and privacy fences for convenience.
The Grand Junction location is a top destination for tourists. The location is characterized by long winding roads, mountain peaks, beautiful weather skies, bodies of water and stunning sunsets. It is the 15th most populated city in the state of Colorado and a major commercial transportation connection between the Green River and the Continental divide.
Vacation Homes
If you are looking into Colorado as your next vacation destination, then the lodging in this cozy state will be a breeze. According to the official and trusted trip-planning source "visitgrandjunction.com," the Grand Junction city is a premier vacation spot and your trip to the state is not complete without it. Some popular activities include hiking, skiing, golfing, biking, wineries, group tours, and even special event rentals.
The vacation homes are tailored to make the visitor feel like a local. The homes are fully furnished, and make any guest feel cozy and at home as well as comfortable. The homes are typically family/individually owned and aimed at creating lasting family experiences while developing a real relationship with the guests.
The spaces are large, vast and accompanied by excellent views of the mountains. And as mentioned before, it is no surprise that the winter season is the most popular where everyone can enjoy a warm, cozy fireplace and a mountain feel.
Are you thinking about buying a home in Colorado?