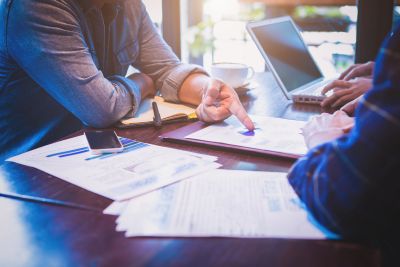 Are you looking to save money in the new year? It's a wise choice.
According to a survey published by financial site Bankrate, almost one in five Americans don't save any of their annual income.
If you're reading this, there's a chance that you're part of that 19%. But there's no reason that 2019 has to be another year of financial hardship.
Get your finances in order with these five tips for creating a financial plan.
Track Your Cash Flow
Cash flow refers to the total income you receive in comparison to your expenditures. Though it's primarily a business term, you can use the same idea to get a grasp on your spending habits.
The first step in DIY financial planning is to see where your current finances stand. Take a look at your last years' worth of bank statements and pay close attention to trends. You'll also want to get a rough estimate on your total net worth.
What were the things you spent the most money on? How much money, if any, were you able to save? What were your total expenses in the past year?
Once you have this information recorded — we recommend using a spreadsheet — start tracking this info each month.
Reframe How You Think of Budgeting
Many people think of budgeting as a means of cutting them off of the things they love.
But being on a budget doesn't mean that you can't treat yourself from time to time. It only means you need to be smarter about how much you spend.
Instead of dreading the idea of saving, think of it as an exercise in goal setting. After a while, sticking to your budget becomes a fun personal challenge.
Start Saving…Now
The sooner you start saving money, the sooner you can benefit from a better financial future. Personal financial plans should always involve a healthy savings strategy.
Even if you can't afford to save much, simply having something in savings can help you build a nice nest egg.
Saving at least 5 to 10% of each paycheck will add up faster than you may think.
Make an Effort To Invest
Most people have the wrong idea about investing. They think that you have to be rich to invest, or that the risk isn't worth the reward.
Neither is true. In fact, penny stock trading is still a great way to get your start.
But many of the world's wealthiest individuals rose to riches through investing, and you can, too.
Begin studying market trends to get a feel for how the market works.
Note the companies that dip less than others. Buying Alibaba stock is a great idea, for instance, as it's been on a steady rise for quite some time now.
Create an Emergency Fund
Finally, make sure you're prepared for a worst case scenario situation.
Most Americans don't have $1,000 in savings, so a simple trip to the hospital could send them into financial ruin.
Set aside an extra 5% of your paycheck for emergency situations. It may hurt now, but you'll be glad you did when it comes time to take a trip to the emergency room or repair your car.
Creating a Financial Plan For Success: Make 2019 Your Best Year Yet
If you're tired of being broke, creating a financial plan is a must. By following these tips, you'll be well on your way to a financially strong new year!
Once you're ready, be sure to check out these great tips on choosing worthwhile investments.