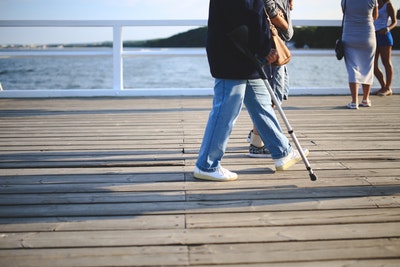 With a personal injury, it's not just the nagging pain nor the high medical bills that can feel overwhelming. There is also the possible loss of employment—simply because you're not well enough to show up for work at the times and for the duration expected of you.
For many people, especially those who thrive on the meaning work gives their lives, the loss of the opportunity to work can feel devastating.
If you've experienced a personal injury for no fault of your own, here are some things you can do to turn your life around again:
File A Lawsuit
While it might seem obvious to you that you need to see a personal injury attorney, you may not feel well enough to make the effort. However, the longer you put it off, the more you risk losing the legal compensation you deserve.
According to the Schwartzapfel law firm, personal injury lawyers in White Plains NY, "… time limits do apply to most personal injury law claims, and if you allow that window to expire, you will forever lose the chance to earn the compensation you're entitled to under the law.
These time limits are strict and should be taken very seriously."
Find New Ways to Work
Although you may get a settlement that takes care of your financial needs, it's still a good idea to look for work. Without it, you'll be bored with finding trivial things to do all day. By finding work that you enjoy, you will not only improve cash flow, but it will also give your days some structure and meaning.
Work also provides a channel to interact with others and to make a social contribution, which is probably one reason millionaires continue to work.
Here, then, are some ideas on how you can continue to work if you have had a personal injury and must spend most of your day at home.
#1 Speak to your employer about telecommuting
After getting a doctor's note, speak to your employer about the possibility of telecommuting. They may be open to retaining your services, especially if you have a high level of professional qualifications and it would be hard to replace you.
Even if the company does not currently have a telecommuting program, it's not that difficult to use collaboration software or some other method to receive assignments and send in send in your work online.
#2 Make money online
Even if you happen to have a job that requires you to be there in person and is not able to accommodate your inability to come to work, you can still make money online. In fact, people have found all sorts of unique ways to make money online.
Here are some ideas on how to make money online:
Work for websites that pay you to get new clients writing pitch emails.
Work for a phone answering service.
Work as a transcriber.
Work for a business that tests websites.
Work for a company that will pay you to take pictures for their blog.
#3 Start selling items online
There are many auction sites, classified ad sites, and other platforms that allow you to sell things online. Comb through your house and find things that you no longer want or need but that are still in good condition.
For instance, you may have some outdated exercise equipment, clever kitchen gadgets, useful gardening tools, and seldom used power tools.
Did you know, for example, that people still sell old-time exercise apparatus like spring chest expanders on auction websites? Many people are eager to buy these because it reminds them of the "good old days."
Once you've exhausted your stock of things, you have two choices: you can both buy used goods or consignment goods and then sell them online at a modest markup or you can make your own arts and crafts and sell them online.
Experiencing a personal injury can alter the trajectory of your life in a dramatic way, even if the injury is temporary, something that you will recover from in a few months with enough rest and recuperation and following doctor's recommendations.
For this reason, it's important to stay on track with your major life goals, and one way to do this is to continue to find ways to earn a living.
So are you suffering a personal injury and looking to earn an extra income from home?  I would love to hear your thoughts on how you are doing this in the comments below.
Cheers!