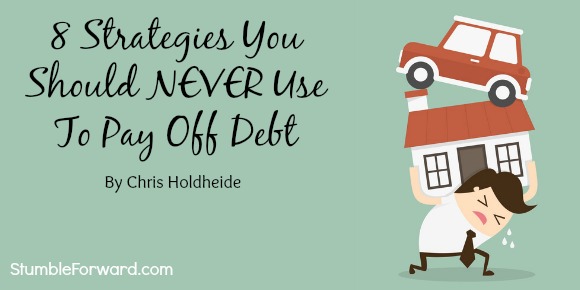 If you're looking for options to pay off your debt faster their are a lot of ways you can go about doing this from selling stuff around your house, adopting the frugal mindset, to setting up the traditional debt snowball plan.
However did you know that their are certain ways you do not want to pay off your debt?  Sometimes we as humans can become very emotional about our debts to the point that we decide we need to do something drastic.
This is when we get desperate and look at the alternatives and think, that could work. The problem is these bad strategies can often put us in a deeper hole and cause more problems.
So in this article I'm going to cover 8 different strategies so you don't fall for these and hurt your finances anymore than they are.
#1 Paying The Minimums
One bad strategy to fall into is paying just the minimums when it comes to your credit cards.  For a lot of us we don't try to pay the minimum payments it just sort of happens.
We get all caught up paying bills and dealing with debt that eventually we decide to pay just the minimum amounts for a little while till we get things back on track, except things don't get back on track.
Before you know it you can't even make the minimum payments and you have to resort to skipping payments.  This is when you know you've really dug yourself a hole.
Side Note: What makes all of this worse is credit card companies use something called declining balances.  This basically means that as you pay down the balance of your debt the payment goes down as well causing you to pay a lot more interest over time.
To wrap up the only time you should use the minimum payment strategy is when you are using an actually debt relief strategy like the debt snowball plan which you can learn more about here.
#2 Using Equity From Your Home
This second strategy is one I actually fell for, wrapping all of my debts in to my home loan to get rid of my credit card debt.  Back several years ago when loan rates were in the 6% to 7%  range they were starting to drop so I decided to refinance to get a lower payment.
However, when I was talking to my loan officer they asked me if I wanted to do a cash out refinance.  This is where you pull out a portion of your home equity if you have it available.
The great part about doing this is that you are taking high interest credit card debt and converting it low interest fixed debt which can also be deducted from your taxes.
The problem comes in when you load up your credit cards all over again.  Now you not only have the equity in your home loan tied up but you've also managed to load up your credit cards again.
This is exactly where I got in trouble with this strategy.  In fact, I really felt the effects of this problem when I went to sell my house.  With very little equity in my house I had to actually take a lose on selling my home.
This was a really painful experience that I don't want to ever live again.
#3 Using One Credit Card To Pay Off Another
Another strategy that you don't want to fall for is using one credit card to pay off another.  This bad strategy can happen for multiple reasons but one big reason is because other credit card offers.
That can sound kind of weird but this happens when you have several credit cards with high interest rates and someone offers you a 0% free interest for 12 months credit card.
The thought behind this is that you can transfer your debt to another card and get free interest payments so you can pay down your debt faster.  This all sounds very attractive until you load up both credit cards full of debt.
This is exactly what credit card companies want you to do.
#4 Robbing From Your Retirement
Strategy number four on the list to avoid is stealing money from your retirement account to pay off your debts.  I've personally never done this but I've talked to other co-workers who have definitely thought about it.
However these are the same people who literally spend every dime that they earn and don't save anything.  Then when things get really bad they dip into their retirement as if it's no big deal.
So if you are contemplating the idea of doing this let me share a few reasons why this may not be such a great idea.
You Won't Compound Your Money.  When you rob money from your retirement you won't be able to compound the money you put in there.  It's this compound effect that really build your retirement over the long term.
You Incur A 10% Tax Penalty.  When you pull money out of your retirement account you will be taxed an extra 10% penalty for just taking it out, and depending on the type of account you have you will likely have to pay ordinary income tax on that money as well.
 You Won't Be Able To Retire.  Finally, the worst thing that could happen from stealing money from your retirement is that you won't be able to retire, and trust me this is not a situation you want to put yourself in.
#5 Burning Up Your Emergency Fund
Another strategy similar to robbing your retirement is to take it from your emergency fund, and just like taking the money from your retirement it can put you in a far worse position if you're not careful.
Now you might be asking, Chris I thoughts that's why I have an emergency fund?
And my answer to that is Hell No!
Loading up on debt and using your emergency fund to get your ass out of trouble is not what it's meant for .  Rather your emergency fund is meant to help you when those uncontrollable moments happen in life and you can't do nothing about it.
For example when you transmission goes out in your car that is an uncontrolled event.  Loading up on credit card debt is not a uncontrolled event, because you can make that choice if you want to take on that debt.
I know for a lot people who read this may not agree with me but you wouldn't be in this problem if you took control of it in the first place.  However when an unexpected medical bill comes up or your fridge goes out you can't control those moments and it's in those times you'll be glad you didn't rob money from your emergency fund.
#6 Skipping Other Payments
Number 6 on the list is to skip payments on other debts such as credit cards.  Skipping payments on debts can cause a whole chain reaction of problems to paying of your debt.
To start missing even just one payment can leave a black mark on your credit.  I often refer to this as the kiss of death to your credit because when you start doing this your name will be mud to any kind of financing you want to get, such as a house, or  a car.
To boot employers are now looking at your credit and financial situation and if you can't handle money well in a job that requires you to manage it why would they trust you.
Skipping payments can also cause interest rates on your credit cards to go up. You might think paying 16% interest on your credit cards isn't bad, well just wait cause they will bump them up to 33% just like that causing you thousands more in interest payments.
Finally, if things get bad enough the credit card companies could push your debts off to collections and this is one nightmare you don't want to deal with.  I've personally never been called by them but I've heard the horror stories.
#7 Borrowing From Others
The seventh bad strategy to paying off your debt is borrowing money from others.  I can personally say this is a really bad idea because I've done it, and it wasn't pleasant to say the least.
In fact I lent $5ooo to my brother and at the time I was young and dumb and he claimed he would have me paid back in no time once he sold a few pieces of farm machinery.
Side Note: Yes, you heard that right I did grow up on a farm.
Long story short, it took me four years to get my money back from my brother.  Most of the reason due to the fact that he had incurable brain cancer, which made it really hard to ask for the money.  He had no job and no income but I did get my money back.
Aside of all the troubles borrowing money from family and friends it can put you in some really bad situation and destroy relationships.  What I've come to realize over the years is you can always get your money back but you can't always do the same with relationships.
#8 Taking A Loan On Your Life Insurance Policy
The final strategy you want to avoid when it come so paying down your debt is to take a loan against your life insurance policy.  However this all depends on the type of life insurance policy you have.
If you have a term life policy you won't be able to do this because it won't have a cash value account tied to it.  If you have a whole life, universal life, variable universal life, or any other type of life insurance policy you will likely be able to do this but I urge you not to.
By taking the money out of your life insurance policy on loan you will be required to pay it back and even though it may even be at a low interest rate it's not a good idea.  Just as in all the other strategies you run the risk of loading up your credit cards and having to pay your loan back as well.
On top of that when you pull money out of your cash value account this will cause your cost of insurance to go up as well.  Why is this?
For example if you have a $100,000 life insurance policy with $80,000 in the cash value account you are only really paying for the remaining $20,000 as your cost of insurance.
However if you pull $60,000 out to pay off debt your cost of insurance will increase because now you will be paying for $80,000 of coverage and not $20,000 of coverage.
Now their still is a way to use your life insurance policy to get rid of debt and I've personally done this myself, and that is to switch from a permanent type of life insurance to term life policy.
By doing this you can free up the cash value and depending on your age and health actually pay less.  If you would like to learn more on how I did this just check out this article.
How Are You Paying Off Your Debt
So have you fallen for any of these bad strategies, or is their a strategy you are considering using to pay off your debt but your just not sure?
Feel free to share your thoughts, comments, or ideas below and I would love to read them and help you out.
Cheers!