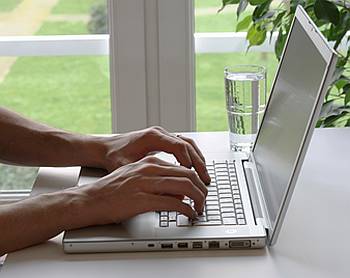 A home office for some is nothing more than sitting down on the couch with your laptop. This may seem like a dream scenario, but it can lead to a highly inefficient work environment.
For one thing, there is no way to have an ergonomic workspace and for another, the couch is too tempting to simply lie down and take a nap.
A lot of thought needs to go into establishing your home office, so you get more done. Here are a few tips to establish an organized office at home.
A Place For Everything
According to Hongkiat, having an ergonomic office is essential. This means everything you need on a constant basis is within reach.
If you have to move to reach papers, or even to adjust the volume on your speakers, your office needs a little tweaking.
Look for anything within your reach you don't need on a constant basis and replace those items with the things you need close to you.
Valuable desk space can be freed up by removing trinkets and pictures. Move pictures to the walls or on shelves and off your desk.
If you have a need for paperwork on a constant basis, make sure you have drawers next to your seat. Keep your desk organized by only having out the papers you need.
As soon as you are finished with something, put it away. The less cluttered your desk is, the less cluttered your mind will be. Consequently, it will also be easier to find your paperwork whenever you need it.
You have already solved the riddle of how to make money at home; getting organized will help you to keep doing so.
Go Minimal with Technology
The temptation when setting up a home office is to buy a gadget for everything you want to do. Your space is limited, so in order to make the most of the space you have, you need to minimize the technology.
PC World suggests using things like an all-in-one printer. These devices allow you to print, copy, scan, and fax (online) with one device. Make sure to get a flat scanner when purchasing this type of machine.
The scans come out a lot better than a top-fed scanner. As you are setting up your all-in-one device, make sure all of the components can be utilized without shelving or computer screens getting in the way.
Those who have small advertising businesses can use A wide format printer which is a cost-effective tool for any small business. Wide format printers can print on a variety of substrates, including paper, vinyl, fabric, and more.
This allows businesses to create custom signage, banners, and marketing materials that are both eye-catching and durable. In addition, wide format printers offer a high degree of customization, allowing businesses to print their logo, contact information, and brand messaging on a wide variety of products.
By using an in-house wide format printer, businesses can save money on printing costs while still getting the high-quality printed materials they need to promote their business.
Set these machines up to your side or behind you when facing your monitor for the best effects.
Maximize Daylight Exposure
Any time you work in an environment for a long period of time without natural light you will feel lethargic. Since you're not working in an office and you can choose where you're going to work within the home, be sure to choose a spot where you can get lots of natural light.
If the temptation to stare out the window all day is too great for you, have the window to your back. If privacy is an issue, opt for frosted glass, or utilize blinds so natural light can get into the room.
If you cannot set up the workspace close to a window, make sure you're at least using energy-efficient, full-spectrum lighting. According to Entrepreneur, the reason why natural light is so good is that it provides a wide array of colors to provide the purest white light available.
The closest thing to this you can find is full-spectrum lighting normally found in energy-efficient bulbs. As a side benefit to using these kinds of bulbs, you will save on your electricity bills, since the bulbs will last on average three times as long as a traditional filament bulb.
Reset Your Mindset
Even with a highly efficient office set up at home, there are going to be times when you simply cannot get anything done in your office. One of the tricks when it comes to learning how to make money at home is to simply get away from your work environment.
Inc. suggests having a backup plan for when you just cannot stay focused in your home office, or you're running into technical issues. If the neighbor severs the cable line for your Internet connection, or you have unexpected houseguests, it may be impossible to work from home until the norm has been restored.
In these cases, it pays to have a backup plan for where you can work. Many suggest working in a coffee shop where a Wi-Fi connection is available to everyone, but you may also consider a shared workspace. These provide a little more privacy and everyone in the workspace is there with the single purpose of work.
These will cost you either a monthly membership fee or a daily rate for using the space. Whatever you choose, make sure it will allow you to stay focused on your work.
Final Thoughts…
When it comes to it if you want to really get things done you just have to minimize distractions and only keep around you want you essentially need.
So what do you do to maximize your office space and get stuff done?