Yup, you read that right another scam is here just in time for the holiday's.  Earlier this week I received a fake email from Apple supposedly claiming I needed to verify that my email billing information is correct with them.
Below is a copy of the Apple phishing scam email they sent me.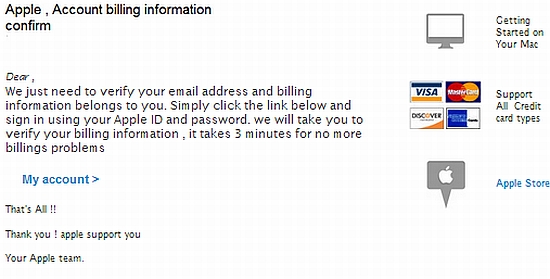 5 Red Flags Why This Is A Scam
When it comes to this email in particular there are several things to me that were dead giveaways as to why this is a phishing email.
Confirm Email.  First they wanted me to confirm my email address.  I've had my apple account for a few years now and only confirmed the account when I set it up.  This is the only time that you will have to confirm your email and you should never have to do that again.
Confirm Billing Information.  Secondly they wanted me confirm my credit card information.  This is literally the oldest scam in the book.  No company will ever ask you to confirm your billing information.
Didn't Use My Name.  Third, they never once used my name.  All legitimate businesses will use your first name when they are talking to you.  As you can see in the email it just says Dear,  with no name associated with it.
The Link Is Wrong.  Next, the link they provided in the email is completely wrong as well.  Now I didn't click on the link for certain reasons but when I hovered over the link the web address that you are being sent to is www.mudanzasrio.com/image/stories/food.  The address that should show up is www.apple.com or some variation of that, not an unknow address.
No Https.  Finally, since I didn't click on the link I can't tell you for sure what the page on the other end looks like but another dead giveaway is if the page does not show an https in the browser.  Having an Https basically means that the page is securely blocked and that no one can access your information.
 What To Do If You Are Not Sure
If you are not sure the email you have is a scam go to Apples website directly and not through any link provided in the email and contact them and ask them if the email is legit.  However if you are seeing all the red flags I pointed out above chances are this is scam and that you should delete the email immediately.
Finally, take the time to share this article with other via social media, email, or even word of mouth.  Nothing is worse than getting nailed by a scam like this during the holidays.
So how about you, have you ever received the Apple phishing email?