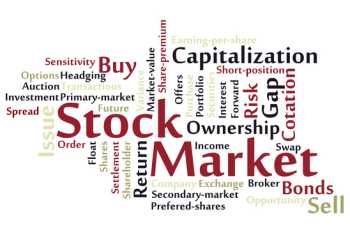 Recently I was reading an article by 1Wealth Trading about how the current markets are on a rebound and it got me thinking about the idea of investing in stocks for my future.
As a result, I've been doing tons of research as to the best way to do this, and what I've learned so far is that things can get really complicated fast if you don't know what you're doing.
Over time I've been able to pick up some great nuggets of information on how to trade stocks and even earn a decent profit on it.  So in this article,
I'm going to share 5 things I've learned so far when it comes to stock investing.  Also, feel free to share your thoughts below.
Stocks Come Last
The first thing to understand when it comes to stock investing for beginners is that stocks come last. Preferred bonds, bonds, and preferred stocks, all get paid before regular stockholders.  This means if you are investing in a company with a lot of debt and high overhead you may not earn very attractive returns.
A good example of this is airline companies.  These companies carry lots of debt and their overhead is typically very high.  In fact, most airlines lose money in a given year which means there isn't much profit for you to be had.
Instead consider companies that have less debt, lower overhead, and even a lot of capital.  A good example of this is Apple.  According to Forbes, they were expected to have around $156 billion in cash by September 2013, which means they are earning some big dollars for their stockholders.
Pick Companies You Know
The next tactic is to pick companies you know and use.  When it comes to picking a stock it's all about trust and knowing that brand.
For example, I shop regularly at Wal-Mart for things like groceries and home goods which make them a pretty good first option.  On top of that, I know Wal-Mart isn't going broke tomorrow.
However if you live in another country you may want to consider going with local companies there.  So if you are stock trading UK then you may want to go with a company local to the UK.
The worst thing you can do is pick a company that you know nothing about.  Picking stocks that are up and coming and are the next big things are known as speculative investments and can be very volatile and risky.
Now I'm not saying you can't pick smaller riskier companies but just know it should be a company you know something about.
Do Your Research
The third tactic for beginners stock investing is to do your research.  If there is one thing I've learned in my research it's that stocks change constantly. One day you might be up big and the next day you could lose it all.
This is why it pays to do your research, and there are a few things you want to constantly know about any company before you invest with them. Here are some basic questions I want to know.
How Do They Make Money?  This the basic function of any business and if you don't under how a particular company even makes money you probably shouldn't be investing in it.
How Much Debt Do They Have? Like I mentioned above you also want to know how much debt a company is carrying around as well.
How Much Cash Do They Have?  Companies with lots of extra cash tend to do better than companies who are deep in debt.  With more debt, they can't expand and grow as fast.
What Does Their Future Look Like?  Finally, what does their future look like for their products and services?  A good example of this is investing in a company that sells dial-up internet versus a company that sells broadband coverage.  The company that is selling the dial-up internet is losing ground and more people are switching to broadband high-speed internet, so it would be wise to stay away from companies that are slowly evolving out because they refuse to change.
Quick Tip:  Most companies will have quarterly conference calls to report earnings and loses.  Consider listening in on these calls to learn more about their stocks.

 
Buy At The Right Price
The fourth tactic is to buy your stocks at the right price. While there are many different ways to value a stock and determine if it is a deal, what you really need to know is that you want to buy when prices are low and sell when prices are high.
This is the basic concept of what you are really trying to do.
The problem is most people get caught up in buying stocks when prices are going up and end up losing money because when they go down they often can't recoup the cost they bought them for.
This is how most people end up getting burned by the stock market, but there is a basic creed you should live by when it comes to stocks.
Bulls Go Up, Bears Go Down, And Pigs Get Slaughtered.
Don't Buy Too Many
Finally, the last tip is to not buy too many different stocks.  Often times we think we need to own 10, 20, or even 30 different stocks, and that's just not true.  Instead, stick to 5 or less at any one time.
With too many stocks you will increase the risk of making a mistake.  Instead, focus on just a few.
On top of that make sure that every stock that you buy is in a different sector.  For example, if you are buying Apple stock, you don't want to buy stock in Google because they are in the same sector.
Instead, maybe you might buy stock in Apple, and Johnson & Johnson because these two companies do not work in the same market.
You also don't want any more than 20% of your money to be invested in any one stock.  This will limit risk and if one stock does happen to take a loss and you won't lose everything.
As a final tip, you don't want to invest more than 20% of your money in speculative stocks either.  Investing in purely speculative stocks is much more volatile and very risky.  Instead, keep 80% or more of your stocks with bigger well-known companies and brands.
Final Thoughts…
As a final thought know that you can still take loose money and returns are not guaranteed.  I should also mention that I am not an investment professional so make sure you consult with the proper professionals before doing anything.
Are you thinking about investing in stocks?