Welcome to the June 2013 budget update, where we will take an indepth look at my personal budget and see just exactly how I'm doing.  My goal here is to be as transparent as possible and show you just what I doing to manage my budget and hopefully help you manage yours better.
I started my budget in April of 2013 using Mint.com, which at this point has only been 3 full months but I've learned a lot in those few months.  I've learned that every penny counts, and that watching your money closely is the best way to ensure financial success.
If you are just getting started with your budget or a long time veteran of budgeting you may want to following along as I share my numbers.  To do that you can sign up to my RSS here or Subscribe to Stumble Forward by Email to get regular updates delivered straight to your inbox.
With that said let's get started.
 June 2013 Budget Overview
With June and gone and over with it's time to reflect and see just how well I did and all I have to say is that I didn't do just to bad.  I'm not going to say the worst is over but I'm getting closer to steadier ground.
Below is an overview of exactly what I spent my money on this month.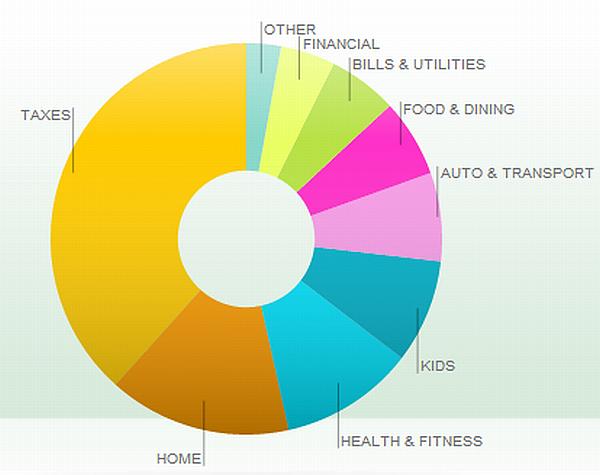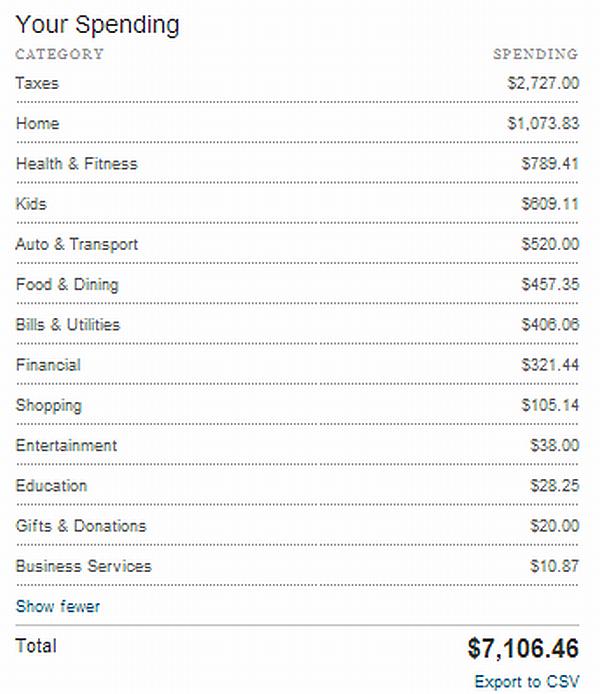 In total I spent $7106.46 but that can be deceiving because I had to pay my quarterly estimated taxes this month which totaled $2,727 for federal and state taxes owed.   What's deceiving about this is that my company reimburses me for the taxes paid.  So when you look at the chart above ignore the taxes I paid.
This month my mortgage takes the top honor for the highest spending category which is really a good thing and the way a typical budget should be.  I also made a few small adjustments to my budget for June by adding a Kid Savings Account budget.  My wife and I have been getting into saving extra cash for kids lately putting a few bucks away here and there.
Overall I came out $209 above my budget which isn't bad but I know I can do far better and  with my recent post about paying off my $6500 credit card debt I know I'm not far from making that happen.
Where I Did Well This Month
As for the month overall I've done very well.  If you may recall from last budget update back in May I ended up $5oo in the red which was a really tough month.  This month did far better as I mentioned above.
Here are a few of the areas I did well in.
Natural Gas Bill – With summer in full swing I only spent $27 on natural gas last month which is great because normally I budget $80 a month here.  
Electric Bill –  The second area I did decent in was my electric bill.  In June I spent $163 which I typically budget $180.  I've actually been spending less on electric this summer since it really hasn't been just too hot for us here in Ohio.
BabySitter – The final area I did really well in June was with the babysitter, since my babysitter was off for a week I spent the week carting the kids around to grandma and grandpa's house which saved me a lot of money.  Typically I spend around $650 a month but in June I only paid $354 which saved me a whopping $296.
Where I Failed This Month
Now that we know where I did well there were still a few bumps in the road.  Below is where I didn't do so well last month.
Fuel Budget – First off we have the fuel budget.  With making payments on my gas card and paying for gas in cash we ended up paying$520 for the month when we typically budget around $500.  However now that this card is paid in full we should be doing a lot better with it in July.  
Grocery Budget – The second area we overspent in was the groceries.  For the month of June we budgeted $400 and ended up spending $457.  It always seems like when we get to the end of the month it's where we really start biting the bullet and end up going over.
Doctor Budget – Finally, the area I went over the worse was with the doctor bills.  I'm still working to pay off my sons tubes for his ears which we did back last December, however I should be making the final payment on that here in September. For the month of June I budgeted $300 in doctor bills and ended up spending $430, a whopping $130 more than I wanted to pay.
Final Thoughts…
When it comes down to it even with overspending on the groceries, fuel, and doctor bills, I still came out ahead which is the important thing, and knowing that makes all the difference in the world.
For now I'm just going to hold steady with my budget until I close on my mortgage for my house here in July, and finish some of the final landscaping tidbits.  I'm still walking on some shaky ground right now and one wrong move could screw it all up, so for now slow and steady is the course.
So how did your budget turn out for June?  Share your thoughts and comments below.