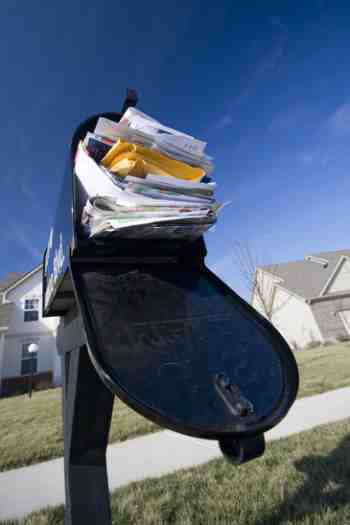 Everyone loves to receive a letter or invitation via old-fashioned mail, but thanks to email and cell phones these pleasures are few and far between for most of us.
Between the drop in popularity of mailed correspondence and the switch to electronic billing on financial accounts, most mail is now junk mail. However, eliminating junk mail is within reach – you just need to know how to stop junk mail using your rights under state and federal law.
There are several reasons why a person would want to stop getting junk mail. First, junk mail represents an enormous waste of environmental resources. According to the New York University School of Law, 44% of junk mail in the US is thrown away unopened, but only 22% of that total is recycled; all in all, 100 million trees a year are cut down to make pulp for junk mail every year.
Additionally, many consumers might not realize that junk mail can invite identity theft, especially junk mail offers containing personal information obtained by affiliates of finance companies with which consumers have business relationships.
Services to Help You Get Rid of Junk Mail
New regulations allow consumers to opt out of junk mail almost entirely. Although it may take an hour or two of your time to put your name on these junk mail removal lists, if you think about the hours you spend sorting through and ultimately destroying junk mail every year, committing the time to stop the waste starts to make sense. Unfortunately, there is no do mail list similar to the national Do Not Call Registry, but you can cover your bases and sign up for no more junk mail using these services:
Opt out with DirectMail.com. As a marketer, DirectMail has relationships with most of the largest mailing list companies in the US, and will forward your preferences as a Do Not Mail consumer to these companies.
Contact the Direct Marketing Association. The Direct Marketing Association is a trade association which counts among its membership most of the direct marketers responsible for coupons, magazine offers, and even sweepstakes. Its Mail Preference Service allows you to get rid of junk mail by requesting to be removed from mailing lists.
Contact the biggest junk mail brokers. The four largest junk mail brokers will remove you from their lists on request. You can email Dun & Bradstreet at

[email protected]

and InfoUSA at

[email protected]

to request removal from their mailing lists. Acxiom provides an online opt-out form. R.L. Polk & Co. requires a snail mail request, which can be sent to:
R. L. Polk & Co./Name Deletion File
List Compilation Development
26955 Northwestern Highway
Southfield, Michigan 48034-4716
Why It's Important to Eliminate Junk Mail
Certain surveys have found that up to 88% of information obtained by identity thieves is collected by going through identity theft victims' trash – including junk mail. Unsolicited offers allow identity thieves to set up accounts in their victims' names and send the mail to a different address, leaving the victim unaware until a black mark shows up on their credit report. Therefore, if you get rid of junk mail, it's important to shred it so that no personally identifying information can be pieced together.
Still, it's better to eliminate junk mail than to deal with the shredding and waste of these unwanted offers. Remove junk mail from your mailbox by following these tricks on how to stop junk mail, and be sure to consider additional layers of protection.