This product is no longer available.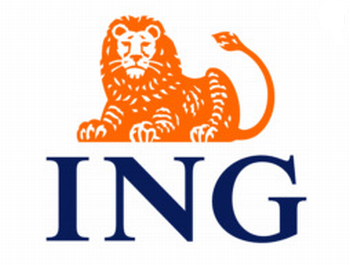 Product: ING Direct High Interest Savings Account.
If you've been around for any amount of time you may have seen me promoting the ING Direct High Interest Savings Account.  To put it honestly I love this program because it has so much to offer, in fact I don't like to recommend any product unless I use it myself.  So in this article I'm going to share my thoughts about this product, some of its pitfalls, and in the end of the article I'm going to walk you through a step by step process of how to set up an ING Direct Savings Account to give you a detailed idea of how simple it really is to open an account.
 What I Like
When it comes down to it their are a lot of things I could cover here that I like about this program.  However, to keep it short I will keep it down to the top few.
High Interest Rate.  What it all comes down to in my opinion with this account is that it gives an incredible rate of return.  At the time of this writing it's currently around 0.80%.  No I know that don't sound like much but when I consider the rates on saving accounts at my local banks they are only doing 0.15%.  My local bank can't even compete on this kind of level.
No Minimums.  On top of that their is no minimum deposit required.  This is a problem I see with almost any other bank.  In fact, I recently went to my local bank to see what their best CD rates were doing and in order to get their top rate of 2%, I had to invest $10,00o over a period a 5 years were I would not be able to touch the funds.
No Fees.  Finally, you don't have to worry about any fees with this program.  In fact, I scanned my account through and through and could not find one fee.  Hows that for honest service.
Concerns And Issues
Now any review of a product wouldn't be right without at least mentioning some of the concerns and issues that I didn't like about this account.  So here are a few that I had.
Delays To Transfer Funds.  First off, one thing I found out quickly in the beginning was that their is a delay to receive funds from your account.  In fact, it will typically take 3 business days in order to transfer money from your ING Direct High Yield Savings Account.    What's more once you open the account you will not be able to pull any of the money out for the first 10 days the account is open.  However when I did some research I found that this was a security measure that was put in place because of a special banking law.
Interest Rates Are Variable.  Second, I also found out that the interest rate can change at any one point and time.  In fact, since opening an account I've seen my ING Direct Saving Account rate drop from 1% to 0.80%.  However, when you look at the big picture it's still a far better rate, but just know that it can change at any time.
Can Only Link To Your Checking Account.  That's right,  in order to open the account, fund it, and transfer money you can only link your checking account.  This means you can't link any other type of account to your ING Direct Orange Savings Account.   However, on a lighter note you can link as many as 3 checking accounts to one ING Savings Account.
Who Should Have This Account
When it comes down to it this account would not be a great account to have for day to day use, however I've found the ING Direct Savings Account to be a great fit for those looking to build up an emergency fund.  In fact, this is exactly what I use my account for.   With the long wait periods of 3 business days I'm not tempted to spend the money.  In fact, if you check out my 8 Step Debt Plan you will see that I recommend this as the perfect tool save for an emergency fund.
However, I've also found this as a great tool to also save for vacations, and Christmas as well.    When it comes down to it this is the best way to save money because I've found that an out of sight out of mind approach with the ING Direct Hight Interest Savings Account  has helped me save far more as a result.
How To Open An ING Direct High Interest Savings Account
Now that I've covered the up's and down's and who would make a great fit for this type of savings account I'm going to show you how easy it is to open one of these accounts. The first thing you need to do is sign up for the  ING DIRECT USA – High Yield Savings with the Orange Savings Account℠. by clicking here.  Once there you should see a page that looks like the one below.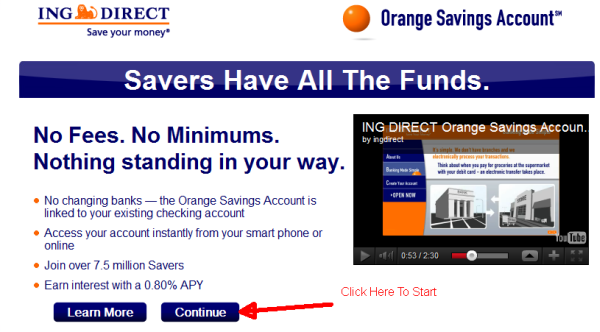 New or Existing User.  Once on this page click the Continue Button to get started.  From here you will go to a page that will ask you if you are new or current member.  For simplicity I'll assume you are a new member so click on the button I Am New To ING DIRECT.  The page should look something like the picture below.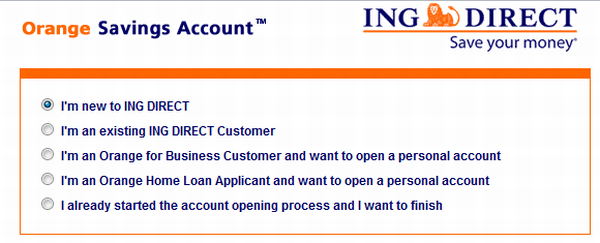 Account Type. From here you will be brought to the application page were you will need to sign up for the account.  This page is broken down into 3 sections.  In the first section you will need to determine the type of account you want to open.  You have the choices between a regular ING Direct Savings Account, a joint account, a living trust account, or a living trust joint account.  I suggest the regular account unless you want to add your spouse to the account. The page should look something like the page below.

Primary Application.  Once this section is completed move on down the page and fill out the necessary account info.  The account form will look something like the one below.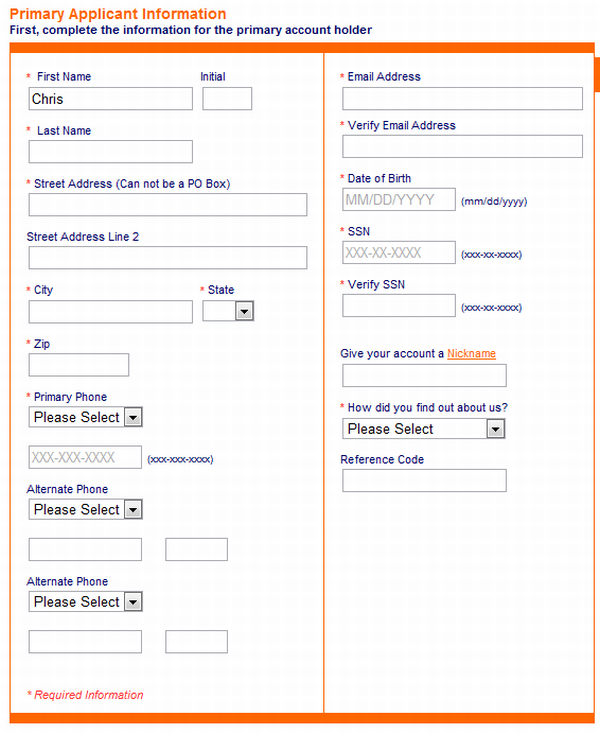 Security Question. Once you have your basic info in place move down to the final section on this page which will ask you to fill out a security question.   Fill this out and click continue,  but don't forget to write down the answer to the security question because you will be asked this in certain occasions.

Create Your PIN Number.  Now that we have the application complete the next step is to create a PIN number to access the account.  To do this type the number and then do it a second time on the keypad aside of the first one.   This will verify your PIN number.  Then click submit.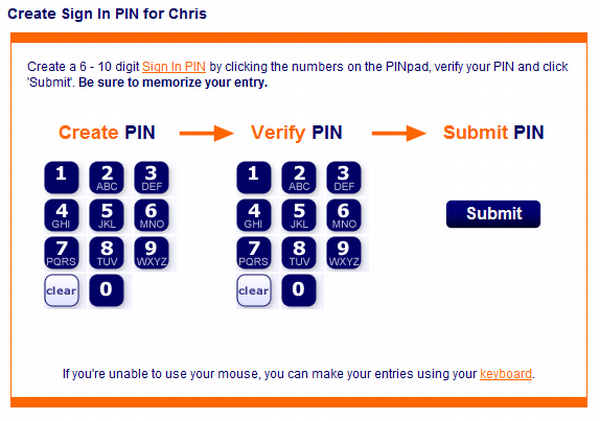 Disclosure Notices.  Next you need to click both check boxes to approve the disclosures put in place by ING Direct.  These discloses basically inform you that they will email your account statement each month.  Once done click continue.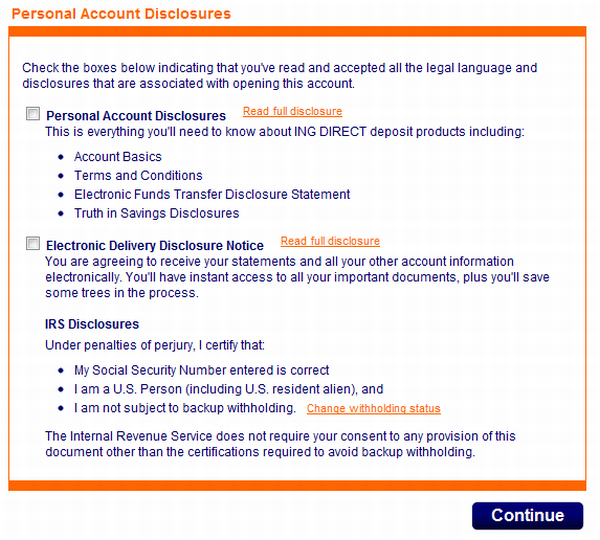 Funding Info.  From here you will need fill out the proper funding info and click continue.  You can also set up your account as an automatic saving plan to make withdrawals from your checking account an a monthly basis if you prefer.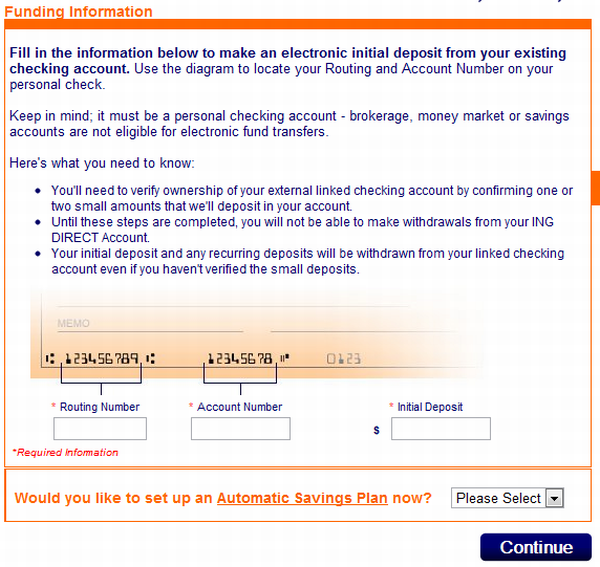 Confirm Your Account.  At this point once you've added your funding detail simply review you account info over and your done.  From here you will need to confirm your checking account within 60 days.  What will happen is ING Direct will send 2 small amounts of money to your account. For example in my case they sent me a small deposit of 5 cents and 2 cents. For there you will have to report these 2 numbers to ING in order to confirm the account.  Once this is done your account will be ready to go.
Call To Action
As a final thought the ING Direct High Interest Savings Account is a great way to save for your future even when you consider the few concerns I've talked about.  On top of that you can even manage this simple account right from your iphone if you want.  So what are you waiting for sign up for a ING DIRECT USA – High Yield Savings with the Orange Savings Account℠.
Do you have an ING Direct Savings Account?  Feel free to share your thoughts, comments, tips, and questions below.
Cheers!