Are you looking for a place to find low cost term life insurance without all the hassles?  In this article I'm going to cover  a simple three step process on how to find the perfect term life insurance policy with Wholesale Insurance.net.  However I'm not picking this company just because I've used them before but rather because their are some specific benefits to using this company that I like.
Benefits
First off Wholesale Insurance lets you compare several different life insurance companies at one time.  This is the benefit of using an online method to shop for life insurance versus going the traditional route.   Here is a list of companies Wholesale Insurance works with.

Second, Whole sale Insurance also shows you who is the best rated companies.  So if you want to have a company that gives the best price and rating you will know instantly.
Third and finally, the biggest benefit about going with Wholesale Insurance is that they don't ask for any major info from you up front like name, phone number, and address in order to just get a quote.  This makes the shopping process feel a bit more comfortable at least for me.
So are you ready start checking out some low cost term life insurance quotes?  Let's get started.
Step 1: Pick Your Amount And Term Period
The first thing you will see once you've made it to the Wholesale Insurance website is the picture below.  At this point to get started just fill in the amount of coverage you will want and the length of your term policy.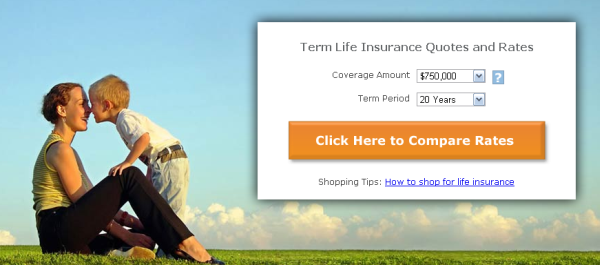 If you don't know how much coverage you need click on the question mark beside the coverage amount spot and it will show you a simple calculator you can use to determine how much coverage you should have.
Next fill in the length of the term policy.  Term periods will be as short as 10 years and as long as 30 years.  However with Wholesale Insurance they also offer a 15 year ROP, 20 year ROP, and 30 year ROP.  ROP stands for return on premium.  This is a rider that will pay a majority of your premiums back to you at the end of term policy minus any related health risk and the cost of any riders on the policy.  To learn more about this option check my article on return of premium life insurance.
Step 2: Fill In Some Additional Info
Next once you've decided on how much coverage you should have and the term period click the big orange button to compare rates.  This will then bring you to a page that will ask for some additional information.  Look at the picture below.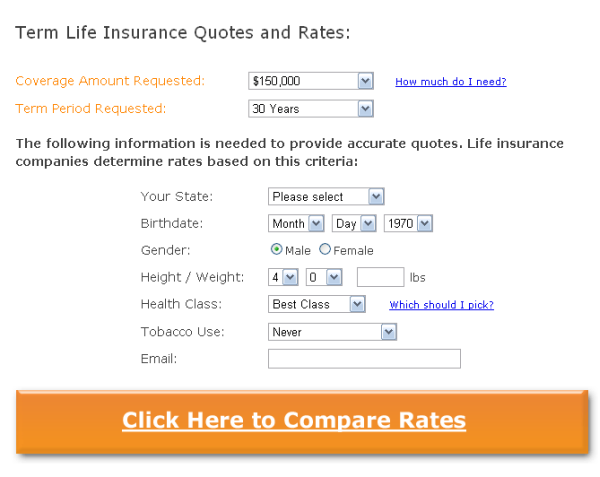 When it comes to searching for a low cost term life insurance policy you will have to give up a few tidbits of info to get an accurate quote.  This will include the state you live in since their are only certain insurance providers in each state, your birth date, height, and weight.
You will also have to pick a health class that you fit in.  I usually go with preferred which is slightly less than the best class but if you have some slight health impairments then you may want to go with standard plus or just standard.  Choosing a  lower health class will raise your rates but picking the right one is vitally important because if you happen to get life insurance for some reason without the company knowing about a certain health risk this could be a breach of contract and the insurance company would not have to pay you the death benefit amount.  If this is going to be an issue for you check out my article on several high risk life insurance companies I recommend.
Step 3: Choose A Company
Finally, the last thing you need to do once you've filled in your additional info is to click on compare rates and you will be brought to a page that will show you several quotes for low cost term life insurance online. Look at the picture below.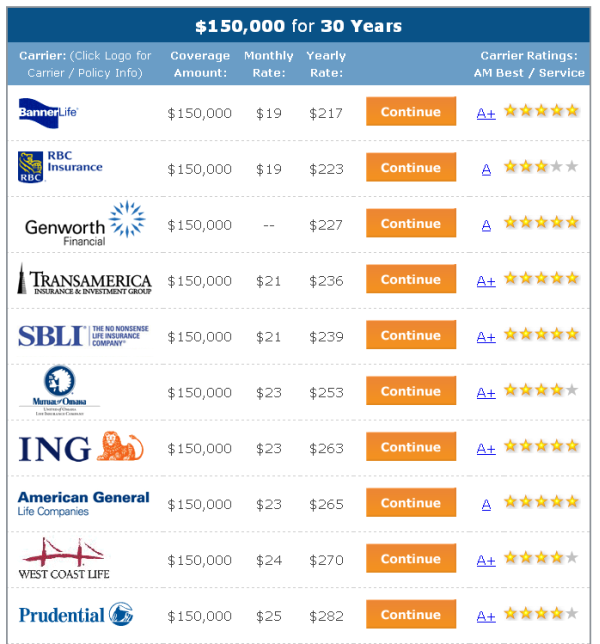 Above is a quote I ran on myself for a $150,000 coverage 30 year term and as you can see those prices are hard to beat.  In fact Banner Life has a policy that runs $19 a month.  In fact this company also carries one of the best rating around as well.
However this isn't the only quote you can run.  I also did a 30 year return on premium quote for a $150,000 and this is what I ended up with.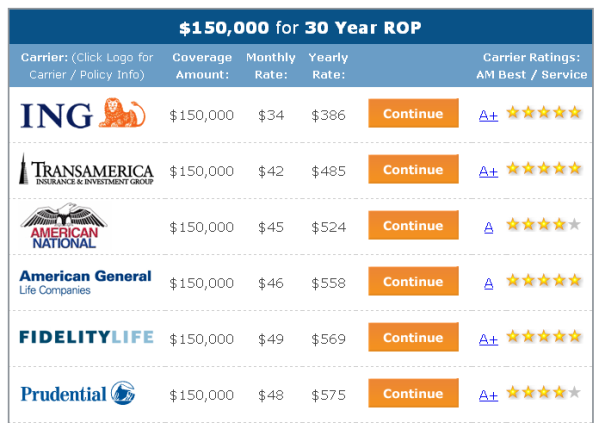 The return of premium benefit would run me an extra $15 a month but in the end I would end up getting most of it back when the policy term is up.  I also ran one more quote to see the cost difference between a 10 year term and a 30 year term with a $150,000 in coverage and the results were staggering.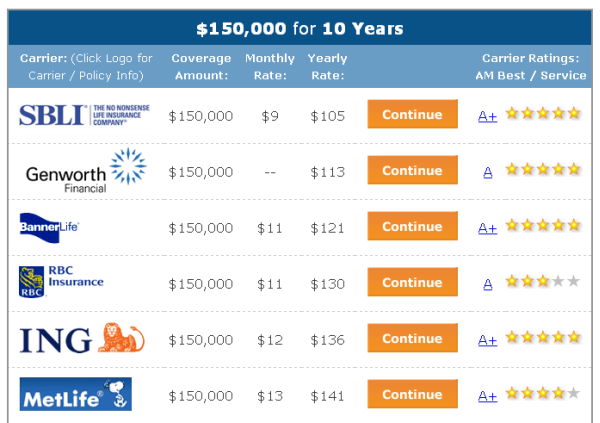 As you can see SBLI has a $150,000 term policy for 10 years for $9 a month.  That's a cost savings of $10 a month over the 30 year term option.  So obviously it pays to take your time to shop around and look at all of your options out there.
Finally, once you've looked at all the options and decided on a plan that best fits your needs hit the continue button.  At this point you will have to fill out some more info such as name, phone number and address.  This info will then be sent on to the insurance provider who will then contact you from their.
That's it!  3 steps to finding the best low cost term life insurance is really that easy so get started today.
Questions or comments?