Finding the cheapest credit score and report these days can be an easy thing to do these days.  However not all online credit sites are the same.  For example, at annual credit report dot com they claim to give you the cheapest credit report however once you sign in you can get your free report from all three credit bureaus however the credit score will cost you.
This seems to be the typical way most credit sites are set up however their is one site that is changing all the rules and that is Credit Karma, and in this article I'm going to cover why they have  the cheapest credit score online and much more.
The Pro's About Credit Karma
The first thing that is so great about Credit Karma is that they don't beat around the bush when it comes to getting your credit score, in fact once you've input all of your information they will show you your credit score immediately.   Below is a screen shot of my credit score.

Now any site can give you a credit score but the best part about this is that they don't just give you the score and the report but they also break things down for you and give you report card based on how well your credit is doing.  As you can see below my average credit report was givena "B".

However they don't just stop their they also break your credit score down and show you where you are excelling at and where you are not.  For example in the picture below of my credit score you can see that I've been given an A in open credit card utilization and an A in the percent of on time payments.  However, I seem to be lacking in the age of my credit and the number of accounts I have.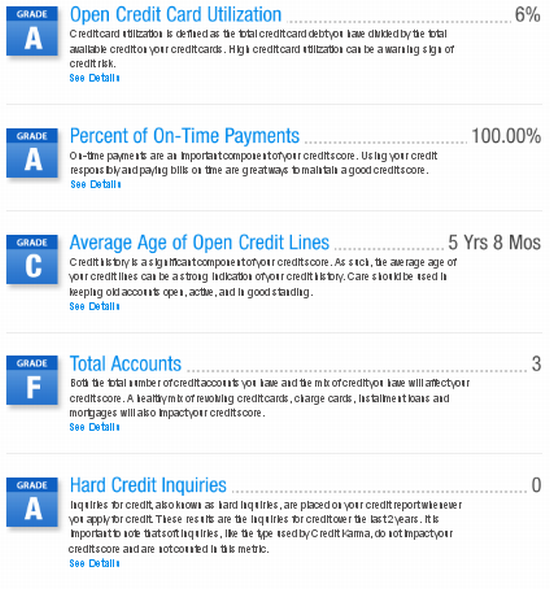 Next another great feature to this site is that they also compare your credit against others to see how you are doing overall.  For example, in my credit report I rank in the top 77% in the Credit Karma community and 79% in my home state of Ohio, and for my age I rank in the top 82%. Not bad at all.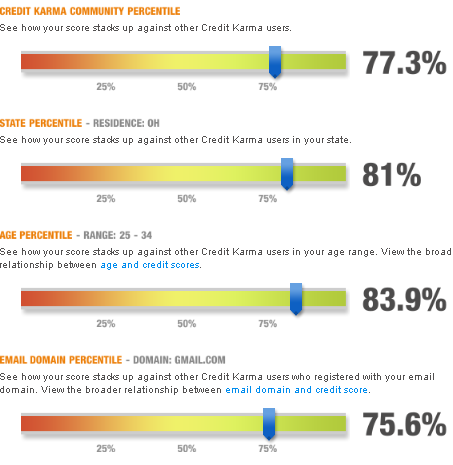 Finally, one of the best things about this site is that they have what it known as a credit simulator.  This is a great tool that can give you a lot of what if answers.  For example, in the picture below I did a simulation where I showed what would happen to my credit score if I would open a credit card with a $5000 limit.  The simulation showed me that my credit score would increase as a result.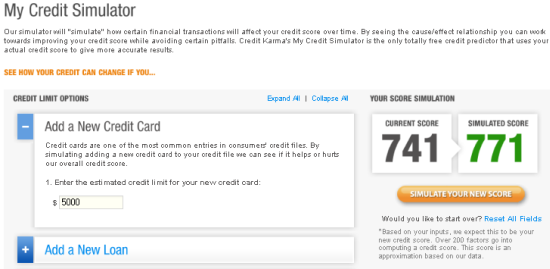 However, you can do more than just that.  You can also see what would happen if you would file for bankruptcy, go into foreclosure, or if you missed payments on your debts.  The simulator may not be exact but it will give you a good idea what will happen to your credit score.
The Con's About Credit Karma
Of all the things that are so great about Credit Karma their is one down sides I should mention to make this a fair and balance review.   The one down side to this site is that they don't show you what credit bureau your score is being pulled from.
Further more they are not showing you all three credit scores either.  The downside to this is that a bank will pull any one of the three scores you have from the credit bureaus and if you happen to have a negative mark on that score it may stop the bank from giving you the loan.
Who Is Credit Karma For
Now that we've covered the pro's and con's you might be wondering who Credit Karma is for.  Their are a few people that fit the type for a site like this.  First off, if you are someone that has bad credit this site is perfect for you since it will show you right were your problem areas lie with your credit and on top of that it allows you to run different simulations to show you how you could improve your credit over time.
This could also benefit you if you are looking to open a credit card, get a car loan, or even refinance your mortgage.  The report that Credit Karma will give you will show you how lenders might react to your report and what kind of rates you might be able to get.
Finally, Credit Karma makes sense for just the average and ordinary consumer who want to protect and build their credit.  If your credit is in danger Credit Karma will let you know and show you ways to protect it.
Call To Action
Is Credit Karma right for you?  You might be wondering what is all this going to cost me?  The answer is nothing, that's right.  It's free to sign up with Credit Karma and get started today.  With the cheapest credit check around you would be crazy not to get signed up today and get your cheap credit score.
To get started go to Credit Karma and sign up for your free account.