Finding good health insurance can be a hard thing to do.  You have to contact your insurance agent.  They have put quotes together on the different companies available to them in the end they still may not have the best or the cheapest deal.
Well what if their was way to comb through hundreds of insurance plans and find the best health insurance insurance companies in a matter of minutes.  This is were eHealth Insurance comes in.  In this article I'm going to walk you through just how to do this.
What They Offer
First off eHealth Insurance offers many different types of health insurance plans.  They have everything from individual health plans, to family plans, short term plans, student plans, HSA accounts, and even vision and dental insurance.
On top of that they also have health insurance plans for small businesses and medicare supplement plans as well.  When it comes to health insurance they have it.  In fact eHealth Insurance was voted the best health insurance website in 2007, 2008, and 2009, by Kiplingers.  They have also received rave reviews from Suzie Orman, Newsweek, and CNN.
The reason I believe they have gotten this much credit is because they have made getting health insurance so much easier.  In fact they can have hundreds of quotes to you in a matter of minutes.
How To Find A Plan
Now that we know what kind of programs are available with eHealth Insurance I'm going to walk you through the process of picking out your own health insurance plan.  The first thing you need to do head on over to eHealth now and you should get something like the picture below.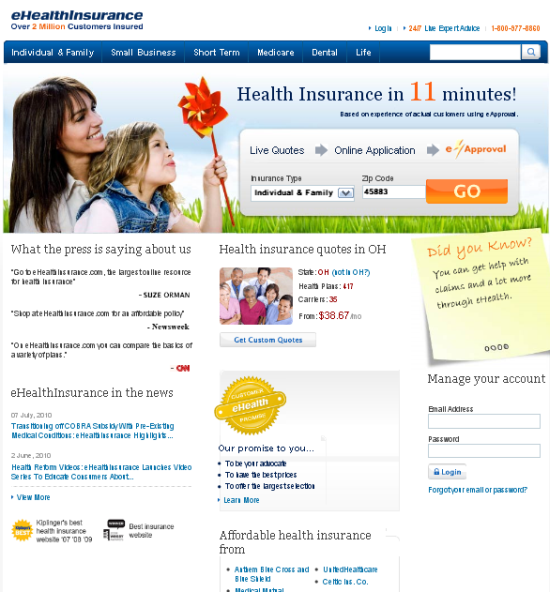 The next thing you want to do is fill in your current zip code of the state you live and select the plan you looking for.  For me I just picked individual and family plans.  Then just hit go to get started.  From here you will go to a page that looks like something below.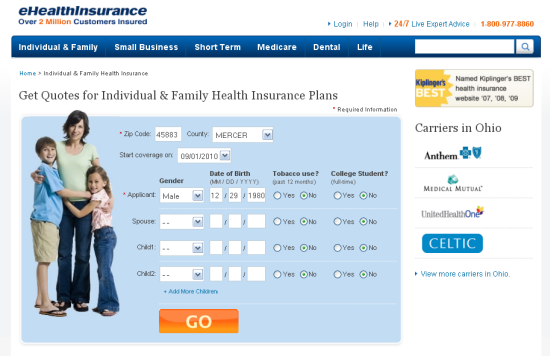 From here just pick the county you live in, the start date and your individual details.  You will not have to input your name or social security number at any point to get a quote either, which is nice for privacy reasons.  Once the info has been entered in click go.
The next thing that will come up is a list of different plans that are available to you.   In fact if you look below you can see that they have found 119 plans and have even pointed out that the cheapest plan I could purchase would only cost me $37.19 a month.  That's cheap!

Now all you have to do is take time to sift through all the plans and see which ones will meet your needs.  To help you out you can pick plans by the best selling ones, best price, by the deductible, best ratings, by company, by the doctor you have, or you can even ask eHealth to help you find the best health insurance company for you.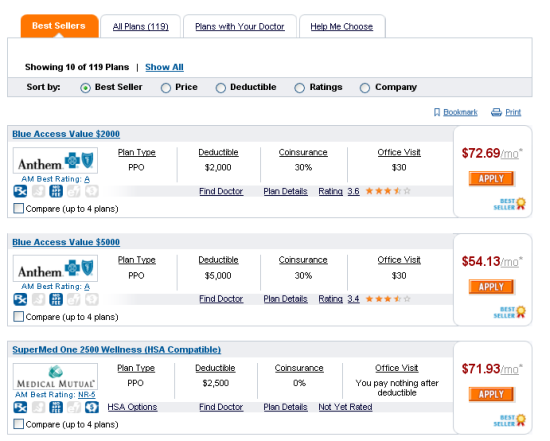 Once you have a plan selected you would like to apply for simply hit the apply button and you can start filling out the online application. Also some companies will have different approval processes than others.
For example some companies will offer a 24 hour approval process and some will have online approvals which means you could get approved in a matter of minutes by your health insurance company and you even be able to print out a temporary medical card as well.
However, I should mention this will not guarantee full coverage though.  They will still have to do a thorough review.  To learn more about this just contact the health insurance company you are applying for and they walk you through this process.
Call To Action
Now that I've walked you through the process of picking out your own health insurance plan and finding the best health insurance companies take some time to take a look now.  If you would like to get started check out eHealth Insurance today and get started.
Chris