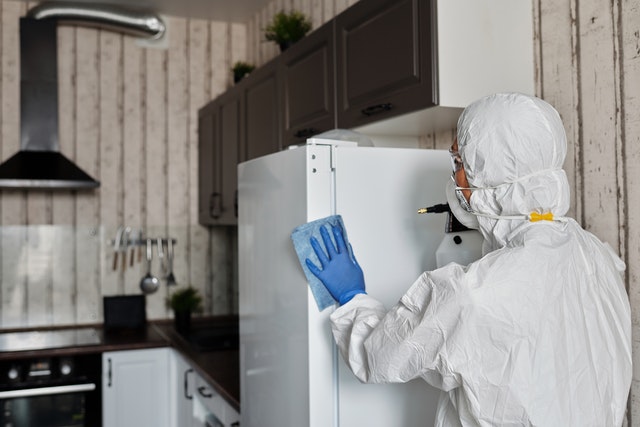 Cleaning is often something we put off, but it's much more important than you think.
Not only will cleaning help keep your workspace or place of business sanitary, but it can also promote a safer and healthier lifestyle for you.
Cleaning and disinfecting are two different things.
While both are helpful, the way that they can help is different. Here are five benefits of proper cleaning and disinfecting.
1. Reduced Risk of Accidents
Cleaning and disinfecting reduce the risk of accidents in homes or workplaces. A thorough cleaning removes dust, dirt, grime, slippery substances that can cause falls or other injuries. Disinfecting helps kill germs that can spread infections or illnesses to people who contact it.
Regular cleaning and disinfection significantly reduce the risk of accidents in homes and workplaces.
2. Preventing Mold Growth 
Proper cleaning will help prevent mold growth by removing dirt and grime from surfaces prone to mold growth.
This can include bathrooms and kitchens with high moisture content in the air due to showers and cooking activities, respectively. Mold can grow in any area that isn't properly cleaned and disinfected.
This type of fungi can lead to serious health problems and cause damage to the building itself. By keeping the area clean, mold won't have a chance to grow. Click here to ensure that your employees or patients are protected from this severe fungus.
3. Property-Wide Mitigation
Properly disinfecting surfaces help prevent many illnesses from spreading from one individual in a building to another. This can be especially beneficial in a commercial setting where numerous people encounter the same objects daily.
For example, in an office environment where co-workers share desks and phones, proper disinfection is essential.
4. Enhanced Productivity
When employees work in a dirty workplace, they may become distracted by the dirt surrounding them. This can negatively impact productivity because there will be less focus on work tasks. A clean workspace is important for maintaining employee productivity because employees won't get distracted by a dirty environment.
They can focus on their tasks without being affected by illnesses that could slow them down or make them less productive. When they are more satisfied with their workspace, they usually take more pride in their work and get more done during their shifts.
While you might think that hiring a cleaning service is an unnecessary expense, the productivity increase alone could make it worth the money. You can just click here for more on that!
5. Better Time Management
When you don't have to worry about cleaning your space, you can focus on more important tasks that will help grow your business. With the right commercial cleaning service, you won't have to worry about wasting time on vacuuming floors or dusting surfaces. They'll take care of that for you.
Bottom Line
Strong cleaning and disinfecting routine help maintain the health of your home, workplace, and community. If you're concerned about the effectiveness of your cleaning regimen, then don't be click here, and you'll know the need for effective cleanliness.
Regular cleaning and disinfecting should go a long way towards protecting your company and its employees. The tips we've shared here can help you get started on the right foot and get the most out of your efforts.