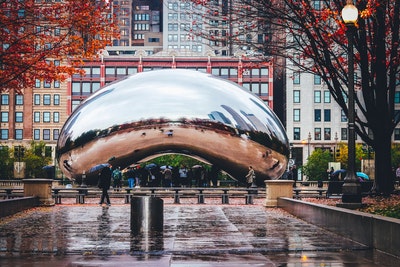 After growing up in a small town, moving to a big city is an exciting but challenging endeavor.
People move for various reasons, such as getting into college, switching jobs, a fresh start, etc.
No doubt that the beginning phase is always challenging.
Whether you're moving alone or with someone else, adjusting to life in the big city takes time.
To ease your journey, we have listed a few significant steps you can take before you bid farewell to your hometown charm and welcome the bright lights of a big city!
1. Pick A Safe Locality
You should visit the neighborhoods you're considering when deciding where to live.
It might be good to survey the area for safety measures and make sure your apartment has a fire escape before signing a lease. You should also consider the proximity of public transportation, supermarkets, and entertainment venues.
After viewing which neighborhoods meet your needs for atmosphere and location, you can search for apartments in those neighborhoods.
2. Speed Up Your Apartment Search
Renting an apartment is a great way to live in the city affordably. To help you find your dream home, we've gathered all our rentals in Chicago and even some locations outside the city!
If you're looking for a place to rent on a budget, then look no further than the budget for rent – Apartment.com Blog and its helpful tips.
You may also want to find out what the neighborhood is like, its general do's and don't, and which local amenities are available. Check out different blogs, internet forums, or social media groups to gather more information.
3. Budget For Big City Expenses
The cost of living in a big city is likely to be higher than in a small town. It won't be rent prices that will go up; day-to-day expenses will also be higher depending on the cost of utilities, taxes, etc.
You can start by researching average prices in your new locality. Also, remember to include your actual moving costs. Your first bill might shock you, but as you get to know the prices in your area, you'll be able to manage your budget.
4. Take Only The Essentials
A little goes a long way, so be smart by only packing the essentials when moving. Your city might be big, but your first living space can be small.
Getting settled in a big city is a great opportunity to declutter and keep your life simple. Take only what you require. You can always add to your belongings later.
When you keep the essentials in mind for your new space, you can adapt faster and won't overcrowd it on the first day. Additionally, with fewer items to move, the moving process will be quicker and cheaper.
5. Save Time And Money On Moving Day
Moving to a large city can be confusing – the narrow streets, little parking, and heavy traffic can be overwhelming for anyone, especially newcomers.
Additionally, if your new apartment only has a stairway and is quite small, you might not know how to load the big furniture in and will need help.  For residential moves like this, you'll need a company that can help you get this done fast and efficiently.
Ensure a seamless move day by starting on the right foot. Hiring professional movers will save you additional stress. Since they are experts, they can help you navigate the city with ease.
6. A Roommate May Be An Interesting Option
Moving alone to a new city is a big step, and you can feel lonely at first. Sharing a room with a roommate may ease the transition.
If you have a roommate, you might be able to meet new people, go on new adventures, or even cut your costs. There just needs to be a lot of caution because a bad roommate could make life extremely difficult.
Be sure to spend plenty of time getting to know a potential roommate before signing a lease.
7. Mingle With The Community
It's best to reach out to the local community when settling in a new city. The best thing about big cities is that they have a lot to offer.
Take part in volunteer groups, join book clubs, get in a gym, or participate in art centers. Find out what works for you, and perhaps you'll meet some helpful people along the way.
8. Build Relationships
People often think they'll make dozens of friends when they get to the big city. Despite the increased number of people in the area, making friends may prove difficult in a new place.
But you can make it easier by following some simple tips. Make plans with coworkers, get in touch with someone from a class you took, or reach out to that friend of a friend.
Don't let plans slip away, and keep your options open. In order to truly feel at home in a city, you need to find your group of people.
9. Wander Around Town
Safely find your way around your new city. The best way to get acclimated to your environment is to switch off your map and explore on your own. Just remember to stay safe.
However, never explore alone at night and stay away from dark areas. The best way to adjust to your new surroundings is to spend the day wandering around in a safe part of town.
10. Set Up A Safe Space
Once you have settled, find a place where you can decompress outside of your house.
The quiet and calming atmosphere of a park, library, or coffee shop can help you feel at home. In your safe space, you should be able to sit comfortably and feel completely at ease.
In addition to helping you through the adjustment period, it will become your favorite place to relax and de-stress in the future.
11. Make The Most Of What Your City Has To Offer
All the perks of living in a big city are the best part. Consider using public transportation, rideshares, and pedestrian walkways to reduce your reliance on a car.
Diversity and new experiences are also abundant in big cities. You can discover things you weren't able to do back home. Change your diet, take a class you didn't think you would like, learn a new hobby, etc.
Plan to spend some extra cash on entertainment before you move there so you can experience the reason you came there in the first place. As a result, you might be happier and confirm your decision.
12. Build A Homey Sense In Your Rental
You are thrown out of your comfort zone when you move to a new place. So, make the interior of your home a cozy and welcoming place to unwind and relax.
Occasionally, even the most experienced city dwellers need to step away from the chaos and be in their own space.
If you're renting an apartment, you can't make major design changes, but you can still make the place your own by decorating it. Add personal touches such as family photographs or mementos from home if you're feeling homesick.
Finally
You encounter a whole new landscape when you move to a city. So, to make things easier, research a bit about the area and its safety before you make the big move.
Consider what you'd like to have nearby. You should be able to access public transportation, grocery stores, restaurants, shops, and entertainment options from your new apartment.
Once you have found your abode, get in touch with people and make connections. Spend some time experiencing all there is to offer in the big city.
It's hard for most people to move to a new city. You will have some good days and some bad days in the beginning. However, it's okay and completely normal for that to happen. Your future self will thank you for your persistence and tell you that it's worth it.