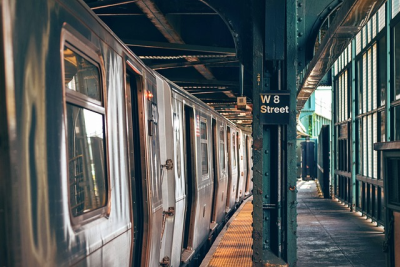 Are you planning a trip to New York and need to know the best way to get around in the big city?
There are several transportation options in the city that never sleeps. While many locals walk or bike wherever they're going, there are several public transportation options available, like tour buses, and taxis.
This brief guide will help you find some of the best ways to see New York without spending a fortune.
Buy a MetroCard
A MetroCard allows you to ride the subway within four of New York's boroughs: Queens, Brooklyn, the Bronx, and Manhattan. The bus system will take passengers to all five boroughs, which includes Staten Island.
You can purchase a Pay-Per-Ride card, or an Unlimited Ride 7- or 30-day pass to travel as often as you like until midnight, seven days a week. However, the subway and bus system are available 24 hours a day.
The Metropolitan Transit Authority charges a $1 to issue a new card, whether it is a pay-per-ride card or an unlimited one. The cards can be bought at a MetroCard vending machine or station booth.
Although you may have heard horror stories about the NYC subway system, over 4.3 million people ride it every day. The subway and buses are safe to ride, although there are minor issues on occasion.
Take a Tour Bus
Another convenient way to travel throughout the city is to take a Hop-on Hop-off double decker tour bus. The tour buses have set routes they follow, which go by or are within a few blocks of most of the attractions in New York.  
The Hop-on Hop-off tours allow you to get off the bus at a stop and explore the city on your own. Then, when you're ready to go back to your hotel or to another destination, you can hop back on a bus at any of their stops.
There are several passes that can be purchased to cover rides on the buses for however long you will be in New York. Most of the tour bus companies sell 24-hour, two, three, or five-day passes that can help you save money as you tour the city.
Depending on the tour company, the passes may include bicycle rentals, tours of museums, tours of New York at night, and other perks.
Traveling Tip: Before setting off on a tour bus, city bus or the subway, make a list of where you want to go and map out the routes that will take you there. This will prevent you from taking the wrong subway or bus and ending up miles away from your intended destination.
Rent a Bicycle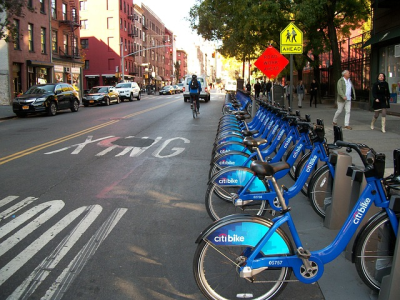 There are several companies that rent bicycles if you prefer to pedal your way through the city. Bikes are also available for rent at public bicycle stations located throughout Queens, Brooklyn, the Bronx, or Manhattan.
Although you can rent a bike for short trips, you can also purchase day passes that include unlimited 30 minute rides throughout the day. Of course, if you really wish to see New York up close and save money, walking is always free.
If you take the time to learn how to ride the public transit system or a tour bus, then you can easily get around New York. You won't need to rent a car, deal with the Big Apple's heavy traffic, and you may find small out of the way places to explore between going to the typical tourist sites.