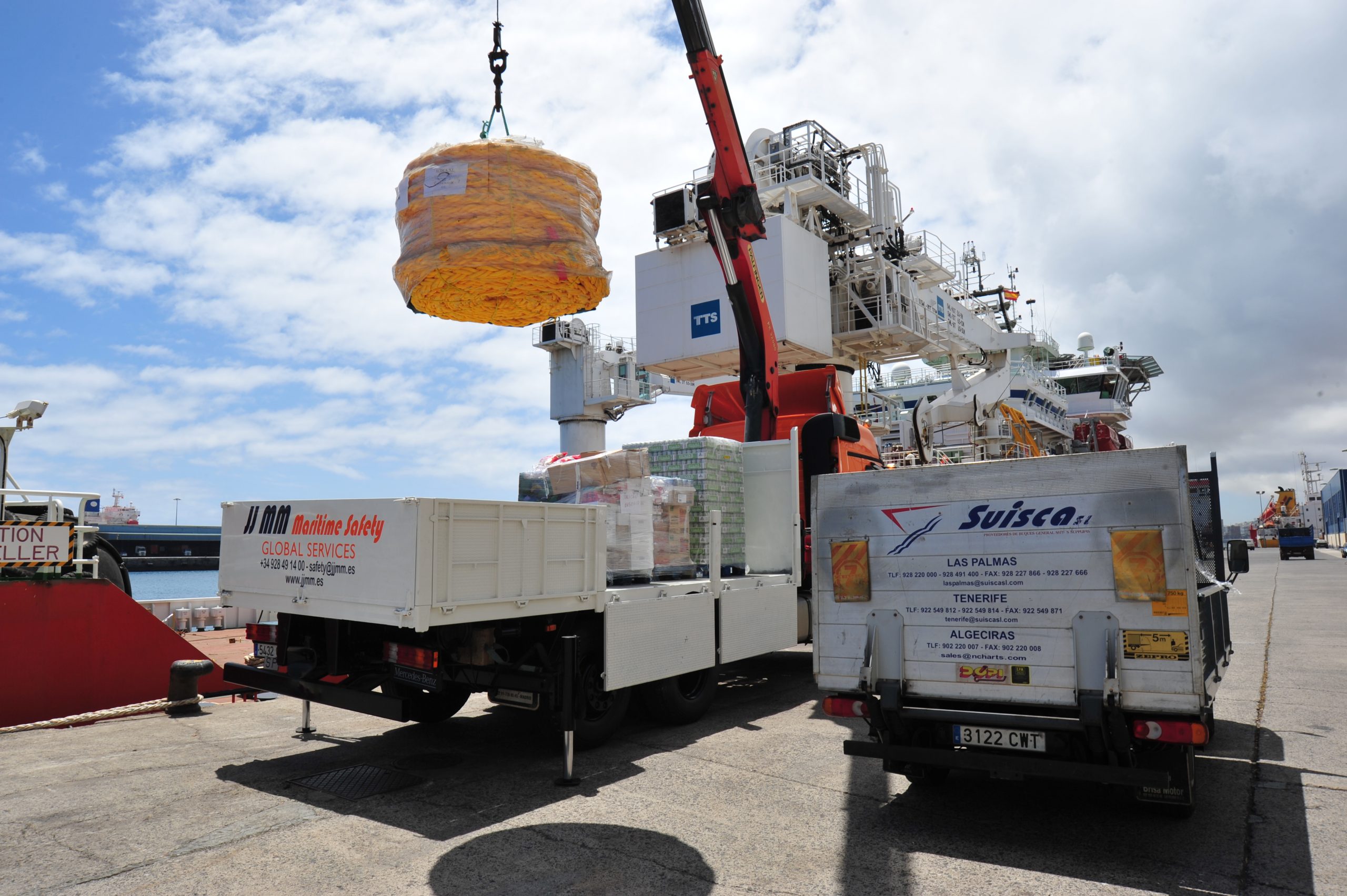 Suisca group are ship suppliers in spain that consist of four companies who specialize in different fields in the maritime sector.
The four companies that makeup Suisca group are; Suisca Projects & Services S.L, Suisca Cables, Suisca Iberia, and Representations & Charts.
Each of the four companies plays distinct roles to provide comprehensive port services.
About Suisca Group
Suisca Projects & Services
This company stocks a wide variety of products to provide the required supplies for ships. Its vast range of products enables it to cover a major percentage of all the supplies a vessel needs.
Suisca Cables
Suisca cables are based in the Canary Islands, and it focuses on the manufacture and installation of vessel wire ropes and lifting equipment, including steel wire ropes, multi-legged chain slings, and polyester slings.
All products manufactured by the company are certified under ISO 9001: 2015 (Quality Management System standard) by Lloyd's Register Quality Assurance. Some products manufactured by Suisca Cables include:
Steel wire ropes: Suisca originally manufactures cables between 2 mm and 36 mm, however, customers can request custom sizes to be manufactured. The cables are available in a variety of versions such as stainless, anti-rotational, and plastic-coated and may include a textile or metalcore.
Steel slings: These are manufactured in-house in compliance with standard 13414-1 and are available with textile or metalcore.
Polyester slings: These are produced in Europe and are entirely made from polyester. They come in a variety of models such as glass slings, lashing straps, closed tubular slings for loads of up to 20 tons, and double belt flat slings for loads weighing up to 10 tons.
Slings and multi-leg chain slings: These products include a quality certificate and are produced in accordance with standard EN 818-4.
Suisca Iberia
Suisca Iberia was created in response to high demand in south mainland Spain and Portugal. It has warehouses situated in Huelva and Algeciras stocking more than 2,000 products.
Therefore, the company is capable of covering up to 90% of any vessel's needs among any fleet in the south of Spain and Portugal. Some varieties of the product offered by Suisca Iberia include:
Food such as fresh, dry, and frozen foods.
Tobacco and drinks
All kinds of naval items for different situations.
Pyrotechnics, including flare parachutes and red hand flares.
The company is an officially recognized member of the IMPA (International Marine Purchasing Association), IMO (International Maritime Organization), and the ISSA (International Ship Suppliers & Services Association).
All products offered at Suisca are protected and guaranteed with all the necessary official accreditations such as the TRACE certification.
Representations & Charts
This company has headquarters in Algeciras and is responsible for the distribution of nautical charts and other specialized publications both on paper and digitally.
It also provides material for correcting nautical charts such ass rulers, flags, photo-luminescent posters, and markers as related products. The types of nautical publications provided by Representation and charts include:
Log books: They are available in Spanish and English languages.
Nautical charts: Both Spanish and British charts are available. The British charts are derived from the UKHO (United Kingdom Hydrographic Office).
Publications: A variety of publications from different organizations that publish maritime and navigation material such as Admiralty, IMO (International Maritime Organization), and Witherby Publishing Group.
Services Offered by Suisca Group
Through its four companies, Suisca Group provides different types of services in the maritime sector. These services are classified into the following four categories:
Ship chandler
Suisca offers ship chandlery services that cover the delivery of all the supplies any vessel requires. The supplies include provisions such as food, drinks, and oils. Technical products such as pyrotechnics, kites and signals, naval items, and technical equipment for ships.
They also provide space to bonded stores and professional port logistics and storage services.
Lifting and safety
Suisca Group manufactures and installs a variety of lifting and safety equipment that can be delivered to any port in the Canary Islands.
They include steel wire ropes of different models such as plastic-coated, steel core, fibre core, stainless and anti-rotational. They also provide different varieties of shackles, chains, and polyester slings that comply with the applicable European regulations.
Nautical charts and publications
The company provides customers with a range of up-to-date nautical charts to help them easily navigate the seas and reach safe harbor. These publications include different kinds of navigation charts and logbooks such as river sketches, cartouche, portolan, coast, route, approach, and general publications.
The available collections include polar, equatorial, horizontal, and bathymetric charts with all types of important information.
Offshore services and surface treatment
Vessels are prone to wear and tear, hence; appropriate maintenance services are a requirement for each vessel. Suisca group provides such services as vessel priming, painting, blasting, and surface treatment to protect vessels from certain external factors
. The company also offers crew manning services to ensure vessels have access to the right team of experts whenever the need arises.