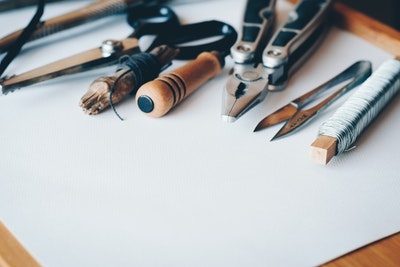 You've been eyeing that laser printer for a while, and now you've got one. Your crafting ideas were overflowing…until you got it unboxed, sat up, and ready to go. Now where to get started?
There are so many fun projects that you can tackle with your new laser engraving machine. Head to https://www.nyccnc.com/we-bought-a-boss-laser/ to see how NYC CNC got started building some decorative but utilitarian structures for use in their shop.
If you're overwhelmed with where to begin and what to make first, consider these favorites.
Wood
Cutting Board -; This was an obvious first choice as it's pretty much the crafting epitome of any laser engraver. The opportunity to make this commonplace kitchen item into one that is personalized makes this project perfect for almost any gift-giving occasion. Really, if you're not planning to make a cutting board with a clever saying or celebrating the family name, are you even a crafter?
Rolling Pin -; This is a fun project that may require some extra accessories since the cylindrical rolling pin will need some additional support of a rotary device. Rolling pins are very affordable, but how nice it is to have a personalized design for rolling onto signature sugar cookies. When it's not being used to make yummy confections, it's a beautiful decorative detail for the kitchen.
Sign -; A close second to the cutting board is the wooden sign. It likely will have a similar look to the cutting board. Signs can be decorative, informative, and functional.
Keychain -; A laser engraver can be used on many keychain projects, so don't get caught up in the fact that it's being presented with the wood materials project.
Wood Cut Puzzles -; There are tons of patterns online to help you select a wooden puzzle project. These puzzles are traditionally for young children, but you can undoubtedly find some projects with complexity for all ages' puzzling enjoyment.
Glass
Etched Wine Glasses -; As a crafter, you've probably tried the project of painting on glass to give the impression of etched glass. Now that you have an engraver, you can make the real thing! Whether it's for a wedding, any other special occasion, or to personalize your home set of wine glasses, the etchings lend to a measure of exquisiteness that a plain wine glass alone can't accomplish.
Spice Jars -; While you're at the task of etching on glass materials, you may as well create your spice jars. The clear glass allows you to see the beauty of the spice inside and the etching on the outside helps to remember which spice it is. You can turn any cleaned, reusable glass jar into a high-end spice holder.
Mirror -; Yes, mirrors are made of glass. For this project, you can take any standard mirror and turn it into personalized home décor. You can incorporate an etched photo, a not of encouragement, or an intricate design.
Paperweight -; Many have used their laser engravers to etch out layered designs to be captured inside a small, weighted glass shape. It can be done in the typical globe style, reminiscent of a snow globe, or any shape you prefer. The real beauty of this project is how the embedded object appears three-dimensional.
Casserole Dish -; At your next potluck, you won't need to slap a piece of tape on your dish with your name sharpied on it. Etch your name into your glass cookware and be sure which one is yours. You'll never lose another dish again.
 Acrylic
Christmas Ornaments -; With acrylic, you can design and create an array of whatever you want to decorate your tree for the holidays. You can certainly do the same with glass, but you'll be glad you chose an acrylic medium within the first day of having the tree up if you kids or cats.
Coasters -; Coasters are a fun place to add some pizzazz. Etch whatever inside joke, witty quip, or name into a coaster, save the furniture and any potential arguments of whose drink it is. The fun thing about a coasters project is you can make as many as you want. They can be all the same or a variety of designs. When you're done, you can use your laser cutter to make a holder for them.
Jewelry -; There are unlimited options when it comes to using your laser engraving to create unique, one-of-a-kind pieces of jewelry. The acrylic will offer the shine and beauty of glass without the fragility.
Plaque -; We've already seen that you make personalized pictures and signs, but the engraving on acrylic will give a project that official look that often goes with receiving a commemorative item at the end of the season, project, or tenure.
Beambox -; A beam box is a piece of glass or acrylic that rests on a light source. As the light shines into the etched piece, the image comes to life with dimensions.
Paper
Invitations -; If you're looking for a way to stand out with an invitation that captures the party theme and is unique, your engraver can help. The level of detail and intricacy of the etchings on the paper is truly remarkable.
Business Cards -; Lasered business cards are a standout. And when you're passing around business cards, you want to make an impression. Use the laser to create detail, interest, and excitement around your business.
Paper Artwork -; One of the significant advantages of using paper with your laser is the array of color options available. You can use the laser to create finely detailed wall art.
Gift Tags -; The next time you have to wrap and tag a gift, do so with an individualized tag. A personalized gift tag will elevate the gift to a whole other level demonstrating the thought behind not only the gift but its packaging as well.
Journals -; Most journals have a hardback material on the front and back to protect the contents. No worry, it can also be engraved for a personal touch.
There is truly no limit to the types of projects you can enjoy creating with your new laser engraving machine. The real question is which one to do first. Hopefully, this list of popular projects will get you started. Your friends and family will love it.