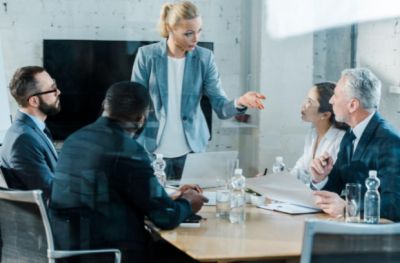 Running a business is complicated, and the complexities are amplified, especially if you are just starting. You may find yourself being pulled in many directions at the same time.
Fortunately, some mentors have already done the work and they can guide you in the right direction. They are generally experts in your industry, and they will help you avoid costly mistakes.
Most of these professional coaches can provide objective feedback and mentor you to improve your skill sets.
Others will redirect you to resources and tools to help you succeed in business.
Reasons Why You Need a Business Coach
No matter how much experience you may have in your field, it never hurts to get expert advice on how to improve your company. The best coaches like Timothy R. Johnson can help you with many essential things, like motivating you when things are not going your way. Others will improve productivity and even save you money in the long run.
They can also share the expertise they have built over time and give you access to valuable connections that might lead to new customers. Here are other reasons why you should consider them:
1. Have More Accountability
Your mentor will help leverage your potential, abilities, and talents, as well as hold you accountable for your actions.
Most of the time, people do better when someone constantly reminds them that they are responsible for their decisions. If you are finding yourself getting sidetracked, you will have someone reminding you of their job and tracking your progress.
2. Create Attainable Goals with You
How do you know if you are successful if you cannot define it in the first place? The best coaches will help you set and visualize goals that are related to your business.
They will show you how you can work on them each day and take baby steps, so they are going to be more realistic and smarter.
The best goal-setting plan will teach you to be patient, and it is generally achievable. This way, you will have the chance to prioritize your work and make sure that you have a work-life balance. See more about goal-setting practices here.
3. About the Organization
Entrepreneurs may find themselves becoming overwhelmed with many tasks that they need to do daily. With a business coach, the organization will be structured so that it can run without too much of your input, just like a well-oiled machine.
The experts will implement structures and maintenance systems that will contribute to the entire company's success.
Most of these systems will be tips, strategies, and time-management plans that will enhance you and your employees' performance.
You do not have to do the work all by yourself as there will be people who are more than willing to help you out when you need them the most.
4. Create a Business Plan
Regardless of the industry that you are currently in, the right coach is going to guide you when it comes to crafting the business plans and implementing them throughout the organization. They would want to define the goals, how to get there, where you are currently at, the action steps to take, and the roles of other people in your company.
A strategic action step will take you very far, especially if you are being taken care of by the right mentor.
5. Craft Effective Marketing Ideas
If you do not have the time to develop marketing ideas yourself or you are not experienced enough to produce a valuable one, the coaches will help you craft them in no time. After all, they are experienced in your industry and already know what's working.
You will learn more about attractive leads, provide more value to your current clients, and make sure that there will be repeat buyers in the future.
6. Unbiased Insights
You will often get feedback, constructive criticism, and unbiased feedback from the mentors. There will be no emotions involved, unlike friends and families' opinions. These people have the insights and experience that others may lack, and this is why they are in the proper role to mentor you.
They can uncover solutions to your problems, which others may overlook when it comes to your business. Get more info about mentors and how to find one here: https://www.businessnewsdaily.com/6248-how-to-find-mentor.html.
7. Gain More Self-Confidence
While you are working towards your goals, you may sometimes feel that the road is long, and it is better to quit when you are tired.
However, if someone encourages you and reminds you how far you have come, you will have the self-confidence and strength to keep going. They will tell you that what you are doing is right, help you overcome problems, and remind you to celebrate small wins.
8. Gain a Fresher Perspective
If you are too busy doing business, you might find it easy to overlook some of the more essential things in life. Coaches will offer you a fresher perspective on how to do things more efficiently so you can save some more time with your loved ones.
These solutions may even be something you have probably never heard or thought of before, but self-awareness helps you see the blind spots. As a result, you can perform at your peak and do your best in your daily business operations.
Finding the Best Ones
As mentioned, there are many reasons why it can be beneficial, and even necessary, to have a business coach. They create a sense of accountability for your business, and you will gain more confidence in the process of self-discovery.
It is easy for people to get lost in their busy days and having someone to keep you on track will help you focus more on the critical aspects of your company.
The best coaches can also help you make progress towards your goals, whether they are personal or professional, and you can even talk to them about literally anything that is going on with your life.
You will learn how to overcome those struggles and emerge to be a victor at the end of the day. You might want to know more about their services by calling one near you.