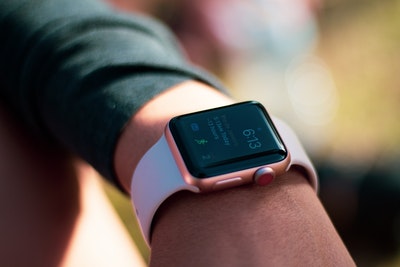 A new Apple Watch Sport band can completely change the look of your device, especially if you are looking to jazz up your stainless steel or aluminum model with something more colorful and sparkly.
You can select a sparkly Apple Watch band from the various available options.
So, choose one that perfectly suits your sense of style, from classic leather options to brightly colored silicone bands in multiple colors and textures.
Here are some great options to help you make your Apple Watch look more stylish than ever.
Beaded Apple Watch Band
Dress up your Apple Watch with this Agate Bead Bracelet Band. This beaded band is handmade and unique, featuring a beautiful blend of colors and patterns that will enhance your watch and personal style.
It's compatible with every Apple Watch model and is great for every occasion.
Glitter Apple Watch Band
This watch band is made with genuine leather, and you can wear it on all Apple Watch models in 38 mm and 42 mm sizes. The back of the band is heavily featured with a ton of silver glitter, making it classy and elegant-looking.
This strap is gorgeous enough to add to your luxury look for holiday parties, nights out at the theater, or any other special occasion. The fit is perfect for all Apple Watches, and the quality is second to none.
Resin Apple Watch Band
The resin Apple Watch band is designed to fit all Apple Watch Series. This band features the same high quality you would expect in any Apple Watch band. These remarkable Apple Watch bands are of the highest quality, lightweight, and durable materials.
All Apple Watch straps feature a seamless design contoured on both sides with no visible screw heads. They come in various colors to create your style and compliment your everyday outfits.
Wood Apple Watch Band
Inspired by the beautiful colors of autumn, this sparkly Apple Watch band is great for those who love nature. The sandalwood material is both solid and lightweight, allowing you to feel as though you're wearing nothing at all.
The unique butterfly clasp buckle design means that you can slip on your watch easily and quickly without fumbling with several different clasps or trying to squeeze your watch into place.
Apple Watch Braided Solo Loop Band
These bands are comfortable, durable, and fashionable. The Braid Solo Loop band is made with elastic braided nylon, which ensures comfort and softness while you're wearing it. The soft braid design is both stylish and modern.
Boasting a unique design that adds visual appeal and durability for everyday use, this Apple Watch Braid collection will inject some style into your life without sacrificing comfort or durability. It's the perfect watch band for everyday wear and makes a great gift.
Tips for Buying Apple Watch Band
Now you are all set to buy an Apple Watch band but don't miss these points before you buy any.
Choose the right size: Find out your wrist size and buy a band that fits you perfectly.
Buy the original Apple Watch band: Only genuine Apple Watch bands are 100% compatible with your Apple Watch, so make sure to get one from a reliable store.
Ensure it is water-resistant: Water-resistant means the material can withstand being submerged in water for 30 minutes or more before getting damaged.
The Bottom Line
Wear what you love. When selecting a watch band, personal style is critical. There's no reason to settle for a cheap watch band with all of these options available.
Fortunately, there are many stylish options, ranging from $10 to $100 or more per band.
If you prefer metal bands over rubber or plastic ones, consider purchasing one from a trusted store for high quality.