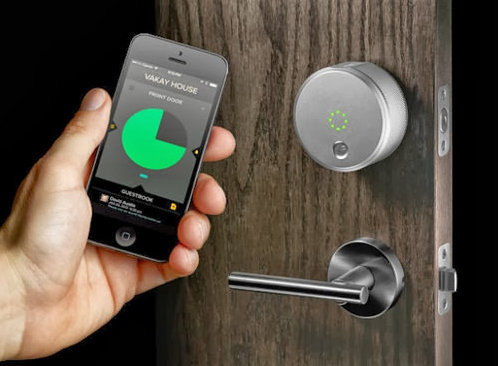 Updating your house with smart technology provides convenience, comfort, and security. A number of options exist for putting your home on the path to the future and alleviating the stress that comes with homeownership.
Here are five ways to give your home a high-tech makeover.
#1 Programmable and Smart Thermostats
Controlling your HVAC system with technology will save you money. Installing and learning how to use a programmable thermostat decreases energy costs by adjusting the temperature when you are away.
No more forgetting to lower the A/C before stepping out. Take it a step further by installing a smart thermostat. Products such as the Nest and ecobee3 learn your habits over time.
Your house will be the perfect temperature when you are home and optimized to save you money when you are away. They are also Wi-Fi connected. If you have a change of plans, you can set the temperature from your smartphone.
#2 Connected Garage Door Controller
Did you close the garage door this morning? This frequent question can lead to a lot of undue stress. Connected garage door openers allow you to close the door or check the status on your phone. Even older model openers can be retrofitted with smart technology.
The Chamberlain MyQ Smart Garage Hub integrates with multiple brands and units going back to 1996. As an added advantage, the Garage Hub can connect with the Nest. When the garage door closes, the thermostat will change to away mode.
#3 Smart Locks
Smart locks allow you to access your house using a phone app or a numbered keypad without a key. Products like the Kwikset Kevo unlock with a touch using a Bluetooth connection between your phone and the deadbolt.
Many locks also allow you to open the door remotely. Depending on the brand, a smart lock either replaces the existing deadbolt or, for easier installation, you can choose one that works with your existing hardware.
#4 Virtual Home Assistant
All the in-home technology can get a bit overwhelming.  An always-on assistant like Amazon Alexa provides voice control for connected systems.
These devices can connect to a thermostat, allow for hands-free internet searches, play music, and schedule meetings. When giving your home a high-tech makeover, a home assistant is the control center.
#5 Wi-Fi Network
Connected devices spread all over your house require internet access. In a large home, you need something more than a single wireless router.
Wi-Fi Mesh networks use nodes to eliminate dead-zones caused by a single source wireless signal. Products such as Google Wi-Fi come with multiple connectivity points to assure consistent internet in large spaces. Better Wi-Fi coverage means better functionality for your smart home.
As you look into new technologies for your home, ask how they will make your life easier. Go for the smart devices that provide a tangible return, saving money and/or time. Focus your high-tech makeover on items that are simple to install and provide immediate benefit. The best pieces of technology make your life easier without effort.
What are you doing to give your home a high tech makeover?