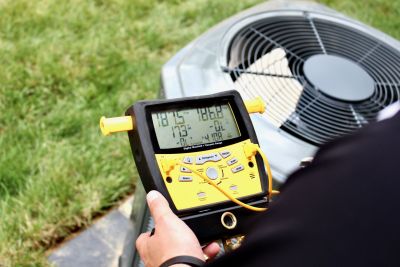 Every business hopes to convert prospects into paying customers, HVAC service providers being no exception.
Providing accurate quotes makes you look more professional, experienced, and trustworthy.
While some will try and cut costs to win business, this is not sustainable in the long-term and only leads to customers feeling frustrated that they were mis-sold something.
Fewer customers in the long term will be willing to deal with a business that can't estimate how much a service will cost them.
In highly-technical industries like HVAC repair and maintenance, quotes are obligatory. Customers are entitled to a detailed account of what work needs doing and how much each part will cost.
Fortunately, there are various specific tools and techniques you can adopt to make this process as straightforward as possible and lead to a high conversion rate:
1. Go beyond pen and paper
For the record, there is always a need for pen and paper – however, when the task involves complex math to draft accurate quotes repeatedly, pen and paper won't cut it. Even a basic calculator can only go so far.
A study showed that around one in five paper business documents goes missing, with approximately 10% lost forever. Most companies don't bother searching for their lost or misplaced papers, as the effort in doing so can cost them up to USD$250 per document. (1)
Modern software like Jobber has developed highly specialized technology for the field service industry, including HVAC, which enables technicians to produce a quote from their fingertips on any smart device immediately after an onsite inspection.
Apps like these have created digital solutions which integrate all the necessary business functions into one mobile platform. Quoting is just one feature along with a multitude of others, such as appointment scheduling, customer communications, and payments all from the same place.
2. Define a good profit margin
No matter the industry, every business needs to make money to operate. So, when quoting, it's essential to ensure that the correct profit margin has been applied to the total.
The ideal profit margin varies by industry and individual company; HVAC companies generally aim for a 12% net profit margin (also known as the bottom line).
The gross profit margin (income minus the cost of goods sold) varies by item. Some businesses aim for a higher gross profit margin on equipment (HVAC equipment can be costly) than labor, typically by 45%. (2)
Profit margins also determine the markup on HVAC parts; a business aiming for a profit margin of close to 20% can set the markup rate at the same rate.
Given the lengthy math involved in this calculation, it pays to use online tools like this free HVAC parts markup calculator. These tools can make crunching numbers more manageable and yield more accurate quotes.
3. Follow up often
Prospects are wise to request a number of different quotes from different providers.
By always following up on the quotes you share, you will be in a stronger position to identify the opportunities for sales and also understand the reason why the business might have been taken elsewhere if this was the case.
This is an important factor in determining how you are perceived in the marketplace.
Don't be discouraged if they decide to go with a cheaper quote; the business may not have been worth your while. If the prospect has yet to decide, you can gently remind them that their business is valued.
Industry experts stress that speed is always of the essence in securing HVAC leads, especially in areas that experience temperature extremes. An HVAC business that responds within the first hour of generating the lead is over 20 times more likely to secure it. (3)
As for the ideal method for following up on open quotes, the industry seems divided between calls and emails. Contacting the lead allows for a more personal approach, but most people don't answer calls from unidentified numbers.
On the other hand, emails are more cost-effective and easier to track, but they can get lost in one's inbox the longer it goes unanswered.
4. Keep it simple
Above all else, the details in the quote should be kept simple. Not everyone knows what a 'dry bulb temperature' or 'condenser' means, and those people depend on the HVAC business to explain such terms. Losing customers in jargon and other technical language is commonly known to put people off.
If using technical terms is unavoidable in a quote, the business should be prepared to explain them to customers by way of a glossary or something similar.
Quotes are all about itemizing the necessary jobs, services, and materials. Companies that are able to craft easy-to-understand quotes are far more likely to get them accepted than ones that can't.
Conclusion
The success of any HVAC business rests on how it can offer its services effectively and cost-efficiently. Quotes are the best way to break them down in complete detail, striking a balance between generating profits and securing consumer trust.