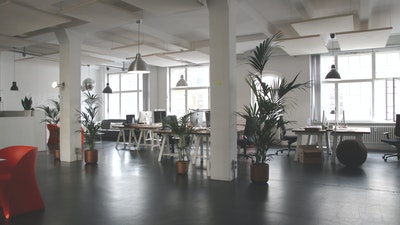 Deciding whether to rent or buy office space is a common dilemma most new business owners face.
While buying an office space gives you more freedom to make specific business decisions and serves as an investment, leasing gives you flexibility.
If you think about it, most billion-dollar companies start from a backyard or garage, yet over time, every business will need a permanent working space to accommodate staff.
That's where you need to decide what's best for your business—leased property or freehold. If you're currently faced with this decision, these few pros and cons can help you decide what's best for your company.
The Pros of Buying an Office Space
When you buy office space, you could build equity over time. Buying or building your own office space could earn you more money as the value of the property increases.
Although the property market fluctuates, if you're patient enough, you'll build equity eventually. This investment is profitable in so many ways. First of all, it can serve as collateral to take out loans to invest more money in your business so it grows at a faster rate.
You could also save it and have it fund your retirement when you're ready. You could sell it when you're sure the market is favorable or allow another company to buy you out. This way, you get back the money you put in, with some interest on top.
Owning commercial property also saves you the stress of building credit over the years to be eligible for a loan. If you're interested in making other investments as a small business owner, taking loans may be a good idea.
Although you'd still need to have a good credit score, owning your own office space gives you more credibility. To build good credit, you would need to get yourself a secured credit card.
If you live in Canada, the American Express Cobalt Card has been ranked the best credit card to have in Canada. This card has an affordable annual fee, juicy bonus points, and a generous welcome bonus.
The best thing about this card is that you can transfer your extra points to any American Express card partners like the Marriott Hotel or Air Canada.
The second pro is you'd own unrestricted commercial space. Owning your own commercial space gives you unrestricted freedom to do with it as you please. You can make structural changes anytime you want and expand if the need arises and with the proper permits.
Since it's your own space, installing security camera systems anywhere on the premises is allowed. That way, you can monitor your business and how it's being run. You can manage all your company's cameras using a mobile app like Verkada.
Check out the Verkada review on the Google Play Store or Apple store. You also have the freedom to sublet sections you aren't using or lease the whole building if your company changes location.
Another upside to owning your own office space is saving money on annual or monthly payments like rent.
The Cons of Buying an Office Space
The main con of buying office space is that the cost of maintenance is relatively high. Since you own the space, funds you could direct toward leasing an office space could be used for other expenses.
The downside is, most of those funds and even more could end up going to maintenance. Since the property is entirely yours, the burden and expenses of technical, structural, and janitorial services now rest on you.
Don't forget office equipment and furniture: You'll need to purchase all of that and pay for repairs when there are damages.