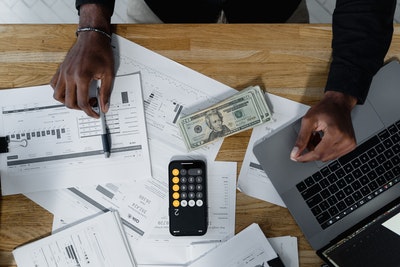 The thought of starting your own business is already a risk itself. There is no guarantee that you will be making enough revenue to support your monthly business expenses.
You can't even tell if you can get your capital back after a few months or years of operation. Still, many brave souls are taking the risk.
When it comes to managing a business, generating income and hitting your target are not your only financial struggles.
There's the fact that you also need to utilize debt to your advantage without letting this ruin your finances. You also need to be careful about your taxes or risk your brand from being scrutinized by the Internal Revenue Service (IRS).
Here are a few tips on better managing the following financial challenges of running a business.
Ensuring Tax Compliance
Keeping up with your business taxes is an excellent way to ensure you don't end up being trailed by the IRS. The problem is, many business owners find it hard to comply with their tax responsibilities. Such a burden can put your business at risk of garnering thousands of dollars in tax debts.
There is no reason for you to wait for the IRS to give you notice before even managing your business tax debts. With proper planning and implementation, you can avoid paying the IRS a considerable amount of cash. This involves hiring the services of tax negotiation experts.
Not many people know that they can negotiate their tax debts with the IRS. You can reduce if not eliminate your tax debt with the right strategy. But why wait for the need to settle your tax debt when you can reduce your business taxes in the first place?
For one, consider hiring a family member. When you hire your children, you can get rid of the tax that comes with paying your kids. You are also not obliged to pay unemployment taxes for hiring your spouse.
When you become a business owner, you no longer have an employer who will match your 401(k). But then, starting a retirement plan can help you gain tax benefits and optimize your retirement savings. Explore your retirement account options so you can start saving for your retirement tax-free.
Separating Business and Personal Finances
One challenge most entrepreneurs are facing is separating their finances for their personal use and business. They use their own money to keep the company afloat. They would instead use their savings than acquire additional debt.
In reality, this is one big no-no in the world of business. From the moment you start your business, you should already have a plan on how to separate personal business finances in mind. This way, you can monitor your cash flow and see if you are making progress or not.
You can start by having a separate checking and savings account for your business. Build an emergency fund for business from your income. Don't use your personal checking or savings account to save revenue or pay business expenses.
Transfer your monthly income from your business checking account to your personal account. Never use your personal credit card for business expenses. Use separate receipts for every affair and make sure you have your own employer identification number (EID).
Staying Competitive Through Marketing
Small business entrepreneurs often lack the budget to market their brands effectively. They want to be able to copy the marketing strategies of large corporations. But without proper planning and enough funding, all efforts can quickly go down the drain.
Outsourcing is an excellent way to improve your marketing efforts without hiring your own team of marketing professionals. But then, not all marketing companies can be a good fit for your business. The trick is to find the right fit without blowing your budget.
When it comes to digital marketing, know that your efforts need to be consistent. Search engine optimization, for instance, is not a one-time affair. You need to find a local company offering such services that understand your goals.
There is also a need to understand that no single formula fits every brand's marketing needs. Simply copying the strategies of your competitor won't be enough. Creativity is required so that you won't be draining your cash reserves while trying to stay on the game.
Numerous financial challenges will test you and your brand's resilience. It only becomes a must that you learn how to handle these challenges beforehand. This way, you already know what steps you can take to prevent these from ruining your finances.