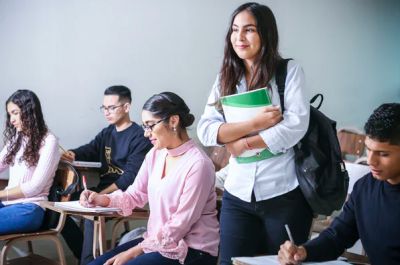 Finding employment as a school leaver can be both exciting and challenging. It's an interesting stage of life that sees major changes.
If school leavers don't decide to go on to further study at TAFE or university, then they'll need to find a job, most likely their first-ever job.
This article is going to focus on some tips and ideas for finding employment after leaving school to help make the task quicker and easier.
#1 – Focus On Businesses That Hire School Leavers
Sometimes, just getting that first job is enough to build confidence and experience, enabling a young person to then step up into a second, more desired role.
One of the fastest and simplest ways to find employment as a school leaver is to focus your attention on businesses that are renowned for hiring juniors and young people. This includes many of the major fast-food chains, such as MacDonald's, KFC, and others.
Fast food outlets may not be the only businesses in your location that hire school leavers. Ask around locally to discover other places that do as well.
#2 – Make Full Use of Internet Job Sites
These days, the most convenient way to browse positions vacant is online, rather than looking through the job ads in a newspaper. The internet has many Australian job boards, where new openings are listed all the time. Sites like Seek, CareerOne, Gumtree, and others are all valuable sources for current job listings.
When you leave school, utilize your free time to start searching for suitable jobs online. Aim to be one of the first people to apply for a new job, as this will give you a better chance of being selected for an interview.
Some sites allow you to set up notifications based on certain criteria. This way, you can be alerted to new job opportunities that fit your criteria as soon as they are listed.
#3 – Social Media Contacts Can Help
Never discount the power of social media and the contacts you have online in your quest to find a job after leaving school. No doubt most school leavers will have a Facebook account at least and have built up a decent amount of online friends and contacts over the years.
Put the word out to your circle of friends online that you're looking for a job and ask if anyone knows of any job openings. If you have a specific type of job in mind, such as an apprenticeship, then specify this. If you don't have a preference for the type of job you're looking for, then finding an opportunity will be easier.
It's all about getting the word out anywhere and in any way you can and social media is made even more powerful by the fact that your contacts also have their own contacts, so somebody is bound to know of something available.
#4 – Create Your Resume
As you're a school leaver, you're not likely going to have any employment history to include in your resume, but what you can include in your school results, list any relevant skills and experience you feel you have, as well as a list of your personal attributes.
Most employers expect to see a resume these days, even from people fresh out of school, so even with no employment history, it's still important to compile a resume. You might also want to get together a couple of personal references from people who know you well, possibly even one of your school teachers.
#5 – Seek Help From a Jobactive Provider
For professional school leaver employment supports, it's a wise idea to team up with a local Jobactive provider. These facilities are a government initiative designed to assist employment seekers from all walks of life find a job.
Your Jobactive provider can help you put your resume together, allow you to use their business equipment and internet, line up job interviews for you and possibly even offer you some free training to improve your chances of getting a job.
Professional assistance can help shortcut the job hunting process and arm you with everything you need to accomplish your goal.
The Wrap
As a school leaver, finding that first job may feel a little daunting, but with determination and putting yourself out there, chances of finding employment fairly quickly are quite high.