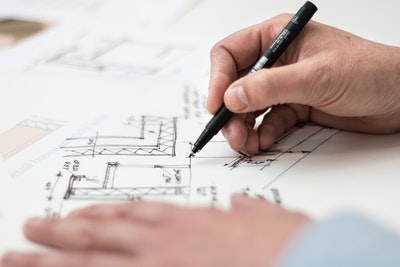 "There's no place like home." While living in a dormitory or far from their hometown, many people find this expression amazingly accurate.
You live with your parents while you're young, and this is what you call "home," but you have to think about your own place to live when you grow older and start your own family.
When people have already found a lucrative job and they have been in a stable relationship for a long time, people generally take the plunge and decide to buy a flat or build a home.
Then what they think of is settling down in their paradise, where at the end of the day they can relax and enjoy each other's company.
But before building your first home, what do you have to know? Is it an easy task, or will you need more help than you thought?
If you're planning on building your dream home, take a look at the tips below to avoid any potential mistakes.
1. What kind of building?
The first thing to remember when designing a house is the type of building. It could be linked to your family's size and the number of people who are going to live there. If your family is made up of just you, your partner, and maybe you're expecting a child, a detached single-family house would be very sufficient.
However, you may need a terraced house if your family is extended. Once you establish that, according to the preferences of your family, you can look around various plots of land, either in the city center or in the suburbs.
Choosing the site, the proximity of facilities such as the school, supermarkets, hospital, post office, and your workplace should be taken into account. Currently, new homes in Chesapeake Va are some of the most sought after when it comes to the high quality of life.
2. Hire some help
Although you can come up with a lot of innovative ideas on your own, you may need the assistance of a professional architect who will create the design for you.
Try to find someone you feel a true bond with and who holds similar visions. Be open to any suggestions, but add your own ideas as well. Only then can the final outcome fully satisfy you.
It's you, after all, who's going to be living your life there. Hiring custom home builders once you've got a vision in mind and settled on a floor plan will help begin the process of building your dream home.
3. Create your interior design in advance
Before building the entire house, why is it so important to construct your interior design? Since your builders need to know how to design your rooms in order to arrange your furniture the way you want it.
Think about the size and height of your kitchen, bedroom, or bathroom furniture you want to bring in. It would be better if you picked some models and booked them in advance in a furniture shop to make sure that once your building is completed, it'll be ready to move right in.
For floors, countertops, backsplashes, soft textures, etc, you should do the same not only to get the best bang for your buck but to save time decorating once you've moved in.
4. Know where you want your outlets
One of the other advantages of designing your interior before your dream home has been built is that you can decide where your electrical outlets are placed.
If you know where you're going to place your TV in the lounge, and your kitchen appliances in your new kitchen, then you'll be able to place outlet points nearby each of these electrical items.
You should also think about other electrical outlet points for irregular use such as plugging in your vacuum, charging your phone or other devices, or even plugging in a bedside table lamp in your bedroom.
Take the time to play around with different placements for your furniture so that you can place outlets in the most convenient spot.
5. Keep the extra materials
In most building sites there are extra materials, and many people choose to discard them!
Ask for a leftover package for future repairs and remodeling of each tile type, carpet, grout, wallpaper, brick, paint and trim. Catalog the exact manufacturer and explanation of each in a document after purchasing each one in case you need more than the remaining quantity or can no longer read the label.
Speak to the builder before the house is completed if it's not clearly labeled. This way, if anything becomes damaged or you'd like to extend in the future, you don't have to remodel your whole house!
6. Give yourself a generous budget
It's no secret that building your own home is going to cost a fair amount of money. However, many people work out their budget and cannot go any further. Instead, work out your absolute limit on expenditures, and then create yourself a lower limit to aim for.
That way, if materials or labour cost more than anticipated, you've got a safety net to fall back on. Try and only do this towards the end of construction, as you could end up spending way more than you can afford on the build of your dream home.
On the flip side, if you don't use your safety net budget, you can keep it for a rainy day or put it into savings!
7. Oversee the construction!
You won't be able to help yourself when the build of your home begins, as you'll literally be able to see your dream home being built before your eyes. But, there's another advantage of overseeing the construction too.
Knowing where sewage points are and how to access them – along with many other things – means that if there are any problems in the future with your home, you know how and where to access them.
As you can see, there's a lot to think about when building your own home. However, with careful planning, smart budgeting, and a lot of patience, your dream home is a step closer than you may think!