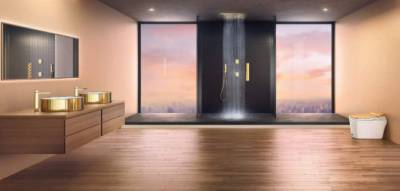 From dingy tiny cubicles in the home to elaborate, beautified ones, the bathroom has metamorphosed and how. In present times, bathrooms are becoming the central focus of the home.
All thanks to luxury bathroom fittings, a touch of flamboyance, is being added to this space, making it look more opulent than ever before.
Just like good furniture creates a well-designed, eye-catching room; good quality bathroom products can give your old bathroom a complete makeover.
Here are 9 alternatives to your traditional bathroom products:
Queo brings to you the amalgamation of brilliant designs and ergonomic functionality which will add an elegant touch to your luxury bathroom.
Plus, there are various designs to choose from. These water closets will make your bathroom look grand. The F-auto mode is an exceptional feature that is nothing less than a master's in technology.
It provides the best-in-class one-touch rear cleansing, adjustable water pressure, and direction, personalized temperature feature along with an oscillating function.
#2 Showers:
Showers, as we all know, hold great importance in every modern-day bathroom. You can select from ceiling showers or hand showers.
Just make sure to read your ceiling and handheld shower head reviews to avoid getting stuck with a lemon. That way, your bathroom is sure to be an absolute delight.
Your bathing experience is going to change forever when you install these luxury shower fittings in your bathing space. Your bathing experience will be very indulgent.
Just step into the shower after a long day of work and these luxury showerheads will rejuvenate your senses.
#3 Concealed cisterns:
One of the most important things to consider when it comes to luxury bathrooms is that less is more. The more space the bathroom has, the more luxurious will it appear.
Concealed cisterns add a touch of elegance to the bathroom space, and makes it look bigger. They save a lot area, making the surroundings look spacious.
Plus, their concealed appearance does not take away from their functionality, so you do not have to worry about the hygiene part.
#4 Basins:
Now while basins might be the most basic part of a bathroom set up; in a luxury bathroom, even the basin needs to look flamboyant.
Opting for a sleek and sophisticated basin will add a touch of class and elegance to space. Basins are available in many forms, like a countertop, over the counter, and under the counter basins.
They come in a plethora of designs and sizes, so you might find yourself spoilt for choice.
So when you are designing a luxury bathroom, you should have an eye for elegant, yet ergonomic pieces.
Even something as basic as faucets need to be of the best kind if you want your bathroom space to stand out.
An impeccably designed faucet will add a finishing touch to the bathroom while enhancing its overall opulent theme. Such faucets are designed to be practical yet classy.
#6 Bathtubs:
No luxury bathroom is complete without a bathtub. Who doesn't enjoy immersing their bodies in warm water after a long day of work?
Your bathing experience will enhance manifolds when you draw a bath in your luxurious bathroom. Luxury bathtubs, create a comfortable and luxurious ambiance.
They offer a blend of technology, design, and elegance, so most of these bathtubs come with unique features to make your bathing experience very comfortable.
Personal I like walk-in bathtubs the best because it gives me the best of both worlds.  You can learn more about them here https://walkintubreport.com
#7 Bidets:
Apart from being a very functional piece in your bathroom, bidets also act as an ornamental accessory which embellishes your bathroom space.
It is an excellent place to freshen up early in the morning. A luxury bathroom can completely change the course of your day, by making you feel comfortable and relaxed.
#8 Urinals:
When it comes to a luxury bathroom, ordinary urinals, just look hideous against the rest of the décor. A sleek urinal will be the perfect design fit for your bathroom space.
It happens to be an integral part of your bathroom, and it should be designed keeping cleanliness and hygiene paramount.
#9 Bathroom accessories:
Often ignored, but bathroom accessories play a crucial role in adding a touch of perfection to the surroundings. When you are designing a luxury bathroom, even the smallest parts matter so that the entire space looks cohesive.
When all the pieces come together, your bathroom will look luxurious immaculate! Luxuriously designed faucets and wall unions can make the space look super classy.
One of the most important rooms in your house is your bathroom. It is a place where you get to spend some quality time with yourself, therefore, investing in a luxury bathroom, is certainly going to upgrade the quality of your day.